10 Keys for the Florida Gators Football Team to Return to National Prominence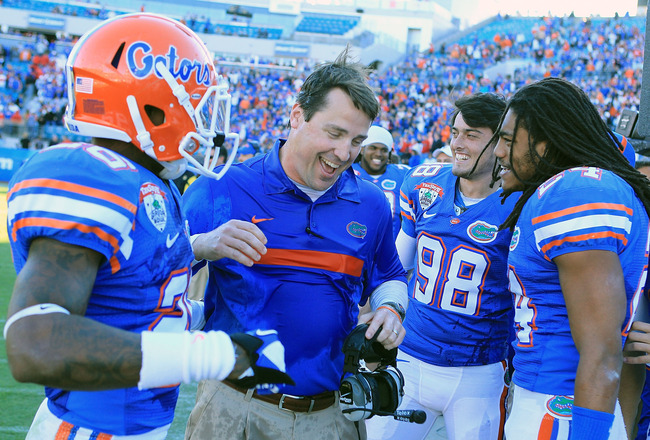 Happy times were few and far between last year for Will Muschamp and Florida. Can the Gators change that?
Scott Halleran/Getty Images
Something wasn't quite right with the Gator football team over the past two years, especially last year. More specifically, eight things went horribly wrong, teaming up to send the once high and mighty Florida Gators spiraling down the food chain from raging, carnivorous monsters to lowly lizards that your kid sister wouldn't be afraid of. Two other parts of the team were good, but needed to be even better.
It takes more than one big issue for a team to drop so far so quickly. The Gators had a laundry list of them. Some problems were more rampant, others were more untimely. All of them, however, equally contributed to the Gators' fall to doom in their own inimitable way.
Let's count them down, in order of importance.
10: Invade the Backfield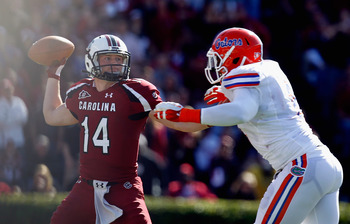 Dominique Easley, (hopefully) future sack artist
Streeter Lecka/Getty Images
True, the Gators' defense did make some big sacks and third and short stops in 2011. But nothing destroys a team's carefully executed game plan like a front 7 that lives in their opponent's backfield all day, as opposed to just workday hours.
The key for Florida is finding a replacement for Ronald Powell to start the season. Even if Powell returns as early as the rumors say (Game two against Texas A&M), it's nice to have another fresh, equally competent monster off the edge to rotate to keep everybody fresh.
Last year, this was an area of "strength", but the Gators as a team were horrendous, meaning it didn't do any good. The rest of the team let the front 7 down, and it's a shame, especially when you see that the Gators were 8th in the nation in yards per game allowed. So a strength on a bad team doesn't really mean a whole lot—it's like a homeless man who can play an instrument. OK, great, he can play the guitar, now how is that going to help him straighten himself out? It's not...unless his musical ability is phenomenal, even when compared to the great musicians in the world.
Hopefully you can see where I'm headed. The Gators were good, not great, in 2011 at blowing up plays behind the line of scrimmage. If the Gators get to be frighteningly adept at shooting the A-gap and smothering the QB/RB before he can even look at his tackler, there's a certain other issue that I'm positive Gator fans are thinking of that will almost certainly be fixed.
Don't worry, it's coming up later in the slideshow. Let's just say that camping out in teams' backfields for an entire game could force teams to make stupid decisions that benefit the Gators—like a bad pass from a QB, a missed blocking assignment by a lineman or a tailback simply dropping the football.
And if you haven't guessed it by now, believe me, the turnovers will come.
Homesteading the field behind the line of scrimmage is the best way to force them.
9: Special Teams Must Be Special
Caleb Sturgis, right, has a chance to become Florida's best kicker ever with a solid 2012 season
Al Messerschmidt/Getty Images
Urban Meyer and Will Muschamp have perhaps two of the most polar opposite football philosophies ever created. Yet they share one passion—stressing an importance on special teams.
In 2008, en route to a BCS Championship, Brandon James returned a pair of punts for TD's and had a few other mind-blowing returns of 25+ yards. The Gators blocked a staggering nine kicks, and just in case the offense failed, Chas Henry was always there to pin opponents deep with a booming punt and rarely allowed anybody to return one. In addition, Jonathan Phillips and Caleb Sturgis, when needed, made the clutch field goals in big situations and executed deep kickoffs. The one game special teams let the Gators down, a blocked PAT cost Florida at least a chance of overtime against Mississippi.
Muschamp hasn't had the chance to generate those stats yet, but his first year wasn't bad as the Gators blocked three punts. Caleb Sturgis was pretty reliable and though Kyle Christy was only a freshman, he didn't do badly at all in the punting game.
There's a reason special teams comes third in the hierarchy of offense, defense and special teams. Offenses and defenses are on the field for roughly 75 plays each per game. Special teams are on the field for maybe 20.
However, those 20 plays could make or break Florida's season. They certainly helped salvage what could have been a complete disaster last year. Without Caleb Sturgis' four field goals and Chris Rainey's blocked punt, would Florida have beaten Tennessee? Without Andre Debose's kick return TD and another Chris Rainey blocked punt, would Florida have beaten Ohio State?
The answer to both is probably not, so without the special teams units against Tennessee, Florida would have been 5-7, and bowl ineligible, and if they hadn't saved Florida against Ohio State, Florida would have been 6-7, both of which are far worse than anything Ron Zook has ever done.
Let that sink in for a minute.
The good news is the Gators have the pieces to be dominant once again in the kicking game. Sturgis and Christy both return to keep opponents deep on kickoffs and punts. Sturgis has had trouble with accuracy, but never count him out on any field goal within 60 yards. Eight of Florida's 11 punt block team starters return (Chris Rainey, Jaye Howard and William Green are gone) and all of them are either quick enough to get to the edge or strong enough to crash the middle and allow somebody else to sneak through. And then there's Andre Debose, who has returned three kicks for TD's in his career, with three others of 50+ yards.
On paper, the Gators should dominate once again on special teams and with their front 7. I'm not worried about either. These simply must remain dominant. It's the other eight issues that must improve to get the Gators back to the top.
8: Win the Turnover Battle on Both Sides of the Ball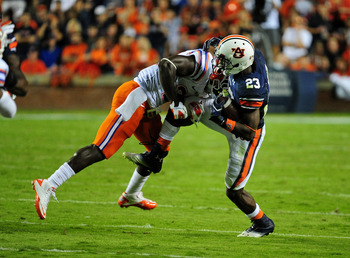 Matt Elam is going to have rip errant footballs away from receivers
Scott Cunningham/Getty Images
The defense in 2011 was great. One thing was missing though that could have made the defense phenomenal. That, my friends, would be turnovers. The Gators just couldn't get them, and it frustrated Will Muschamp to no end.
But it's not just the defense. This goes both ways. Florida's offense coughed it up much more than a typical Nick Saban offense would, and therefore more than any Will Muschamp offense would. Muschamp's basic formula for winning is: nasty defense, dynamite special teams, a methodical, chain moving offense that can always be counted on to give the defense a rest and a QB that plays smart football, manages the game well and can make a big play or two per game...and winning the turnover battle 2-1.
If you can do all five, it's going to be really hard to beat you. Even with three out of five, you're in the game, as long as one of the three keys is the turnover battle. Your QB can throw a pick, and your running back can lose a fumble, but if your defense gets four turnovers, it's going to be very difficult to beat you unless both of your turnovers give the other team the ball inside your 20 and your four turnovers are in your own red zone.
So how do the Gators do this?
It's much easier to do offensively. All you need is a great offensive line, which Muschamp claims the Gators have (though I'll believe it when I see it against SEC teams in the fall), reliable running backs and that smart, game managing QB I talked about. Only about two percent of fumbles come from every other position, so the Gators should be set here. I trust that Brissett and Driskel, at the very least, will not make stupid decisions and throw fluttering passes into triple coverage more than once or twice all season. As long as the offensive line gives the QB time to throw, he shouldn't be blindsided and fumble.
Forcing turnovers defensively is much trickier. A flying safety jumping a deep route could mean a sensational interception if he can get there...or it could mean a busted coverage and a walk-in TD. A linebacker tackling the football, not the carrier, could mean a fumble, or a broken tackle and a huge gain. While it's certainly important to force turnovers, the key is don't try too hard. I would much rather a 12-yard completion on third and 10 every time than an interception every ten times and a 50-yard gain nine times.
That said, the Gators were really bad last year in that department. I mean really bad. Easy picks were dropped, they couldn't jump on fumbles and they just couldn't force anything. More turnovers have to be generated this year if the Gators want to be a force on the national stage. A dominant defense that can't force turnovers becomes a gassed defense, and a gassed defense give up big plays. Without turnovers, the Gators' defense won't get a much-needed rest that could mean the difference on a huge play later on.
All in all, it comes down to the offense NOT committing turnovers and the defense forcing them when they can. I love an aggressive defense, and I'm all for gang tackling-strips, jumping bad throws for easy picks, and strip sacks, but in this case, it's better to be safe than sorry, but best to be successful yet careful.
7: Dominant Tight End Play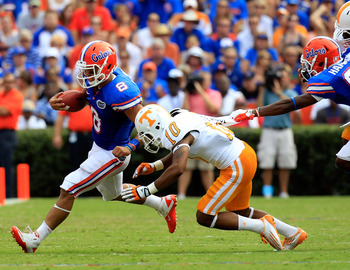 Getting production out of Trey Burton is crucial
Sam Greenwood/Getty Images
Last year, the New England Patriots unveiled a wacky dual tight end aerial attack featuring Rob Gronkowski and Florida's own, Aaron Hernandez. Having two tight ends that could block well enough and be receivers in every other facet of the game proved to create mismatches that Tom Brady could take advantage of time and again—and he did.
Florida can take it a step further. There are five positions on offense in Brent Pease's new scheme: lineman, quarterback, receiver, power running back...and anything else. The "anything else" players include Jordan Reed, Trey Burton and Omarious Hines who are three guys that can run up the gut like running backs, catch and break tackles like wide receivers, and block like linemen (OK, that last one is a stretch, but you get it).
Officially, Gerald Christian and Jordan Reed are UF's tight ends. But that doesn't mean anything come game time. These three guys (plus Christian, who is more of a prototypical tight end) will be key for Florida's success on offense. Put a linebacker on them, and they can run a deep pattern and the linebacker has no chance to stay with them. Put a cornerback on them, and another deep receiver is wide open. Play zone, and it's just another guy to watch, which can get confusing, especially on zone blitzes where the defense could be out manned.
You can't play these three guys like they're playing for one position. Teams tried that with Percy Harvin and he made a habit of burning them. While none of these guys are as explosive as Harvin, they do share the talent of being difficult to tackle. Hines in particular is very hard to bring down in space because of his power and elusiveness. This creates mismatch nightmares for defensive coordinators who don't have the defensive equivalent to stop the "tight ends" regardless of what they do or where they line up.
Reed, Burton and Hines have all proven to be solid targets. But for the young wideouts to step up, these three upperclassmen need to make plays in the short game to give Brissett or Driskel the chance to warm up in the game and give either, or both, some confidence.
6: Open Up the Play-Calling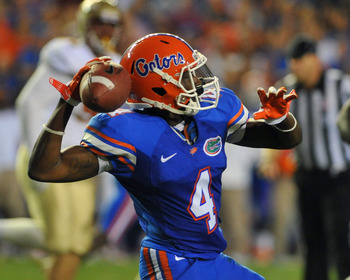 Andre Debose throwing the ball could really cause confusion among defenses
Al Messerschmidt/Getty Images
Brent Pease comes in from Boise State, and he brings his exciting offense with him. Trick plays, misdirection, and lots of deep bombs should be what makes the offense really tick, while the power running game should just be to keep defenses honest.
Since the Gators close their practices, I don't really know what to expect. You can't use the spring game to determine what the Gators will do in the fall, for obvious reasons.
What I would like to see is Brent Pease just let it out. Open his bag of tricks. Take deep shots. Call plays that defenses don't expect.
The last truly great play-caller in Gainesville was Steve Spurrier. Dan Mullen had lots of success, but then he also had Tebow, who can make even the worst coaches look decent (namely John Fox). So it's been a while since we've had a true offensive genius. I'm not saying Pease is the next Spurrier, but I am saying that he has a chance to become the next Spurrier. Look what he did with Kellen Moore last year.
Pease didn't invent all the tricks associated with the name Boise State, but he tinkered with and perfected them. And that's the best possible quality Florida could want in their offensive coordinator—he can adjust and play with his inventions in order to perfect them.
I'm not saying Florida has to run end-arounds or reverses five times a game, but Pease needs to use a trick or two once a game, in odd situations, to keep the defenses on their toes. This could get into opposing players' heads, which is what you really want as a play-caller. Perhaps the most important play-call a coach can face, aside from obviously fourth and goal with the game on the line, is the play that comes just after a hugely successful trick play. You've just gained 50 yards with a double reverse, the crowd has settled down, now what?
That play needs to be successful as well to keep momentum going, or else the other team can jump right back on the momentum train and run away with it if you get too cute with it. Lose yardage, and the defense has their confidence back.
Keep right on driving, however, and keep them on their toes all day so they won't know what to expect next, which will lead them to start guessing, instead of reacting, which is a great sign and can lead to a busted tackle and another huge gain.
Which could be the difference late in a tight game.
5: Convert 90 Percent of 3rd and Short Situations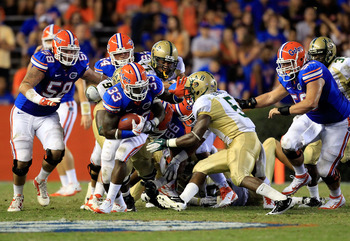 Mack Brown bulls forward for a third down conversion
Sam Greenwood/Getty Images
No, this is not the key that hammers away at the "soft" offensive line. That will come later.
As a team, Florida needs to be much better at converting third downs. In order to convert third downs, Florida must get it to third and short. To set up a third and short, Florida must "stay on schedule" on first and second downs and gain a minimum of three yards for each down.
Now pause for a second. By no means am I suggesting that Florida go back to the old Steve Addazio offense. No way, no how. However, the Gators do need to get at least four yards a play- not exactly four, and not every snap, so the defense doesn't stack the box and dare Florida to go deep, turning the 4-yard play into a 1-yard play.
So how do you do this?
You play the percentages. Three out of four sets of downs, you try to get about four yards on first and second downs, and the other time, you try to get 40 yards on either first or second down. Keep the defense honest.
But on most plays, say 85 percent of the snaps, four yards sounds ideal. Power running game. Big offensive line. Smash mouth football. Sounds good to me. And maybe Mack Brown or Mike Gillislee or maybe even Chris Johnson will bust a big one for a 40-yard gain anyway. The other 15 percent of the plays, you just go for it. This is where Brent Pease and his brilliant play-calling comes into effect.
But back to staying on the scheduled topic. Once the Gators give themselves a third and short, they have to convert it. It's the only way they will be able to beat the top teams on their schedule. They need to keep the defense off the field as long as possible, because again, a dominant defense that has to play a lot gets tired, and a tired defense, no matter how talented and well-disciplined, can get burned for a big play.
Converting third downs also helps Florida control the game by keeping the ball in the hands of the offense as long as possible. The clock becomes Florida's friend, barring a horrendous defensive performance that leads to a 28-17 fourth quarter deficit. And this is all Muschamp can really ask for of his offense, aside from not turning it over.
You try a trick play and it fails once in a while, fine. The left tackle misses a block once in a while and the run gets stuffed, fine. You throw a deep ball and it's batted down, fine. But nine out of 10 times, the Gators must convert 3rd and less than four. It's the surefire way to control the game, and to win.
4: Better Production out of Receivers
Andre Debose is by far Florida's most proven deep threat, and by Florida standards, he's inconsistent
Sam Greenwood/Getty Images
We all know what Andre Debose is capable of. We've seen it in both the kick return game and the deep ball game. But he's also been inconsistent. There have been games where he has been completely shut down as well as games where he's caught a 60+ yard TD pass.
Sadly, he is without a question Florida's best and most proven deep threat. What makes this so frustrating is that by trade, he's a slot receiver. The reason he invoked so many Percy Harvin comparisons is because he played the same position in high school. The Gators were so desperate for a deep ball playmaker that they turned to him, a smaller version of Victor Cruz, to haul in the long bombs. Cruz isn't a deep ball threat. He's an explosive short passing game playmaker, who catches most of his passes between 5-15 yards beyond the line of scrimmage. Sure, he can catch a deep one every now and then; all receivers have to be able to, to keep defenses honest with their coverages. But it's not his bread and butter.
So without question, Florida needs more guys who can win a jump ball on an end zone fade route. They need more guys who can run fly patterns and make diving catches. They need more reliable wide receivers, point blank.
In 2011, Frankie Hammond and Omarious Hines were supposed to make huge contributions. It never translated to Brantley's numbers. Quentin Dunbar was supposed to be that guy last year to help Debose, but he never lived up to that hype. Deonte Thompson was supposed to have the kind of senior year where it all comes together, and three years of frustration was supposed to end with a record-breaking senior year.
Well, to be fair, that did happen. Sort of. He caught a touchdown pass against Ohio State, tallying up more touchdown receptions in that one game than he'd caught over his entire career from John Brantley. So much for helping your struggling quarterback.
So this year, the questions should sound familiar. Who's going to step up in the deep game? Will it be Hammond? Dunbar? Freshman LaTroy Pittman?
Honestly, I'm tired of these questions, and I don't care who it is, but somebody has to step it up. Somebody has to help whoever is playing QB and catch a deep ball. Somebody has to make that critical third and 13 miracle catch. This isn't directed at tight ends. I've already covered that position. The "tight ends" will be the possession receivers.
A second deep threat also takes pressure and coverage off of Debose, freeing him up for one-on-one coverage, which could come in handy late in a game.
3: Smart QB Play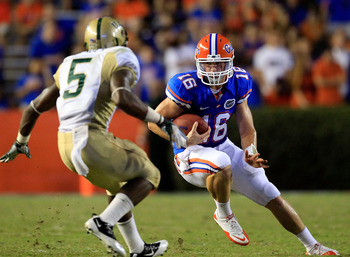 Jeff Driskel, the supposed second coming of Tim Tebow
Sam Greenwood/Getty Images
We as Gator fans have to let go of the image of a Tim Tebow chain of QB's, myself included. The days of having a fullback playing QB, and extremely successfully, are over. Neither Jeff Driskel nor Jacoby Brissett are the next Tim Tebow.
That said, we can still have a QB that can win games for us, much like Tebow does in the NFL. Hopefully with more completions but very much in the same manner—smart, doesn't make mistakes often and can make a big play with his arm and his legs when necessary, except without the dramatic comeback every week.
Brissett and Driskel are locked in a starting QB duel that should go into mid-summer. Brissett's physical strengths include: a big arm, a powerful body and above average footwork and quickness. Driskel's strengths are: excellent footwork and quickness, an accurate arm, and a powerful body.
If I have to guess who will win the battle, I would say Driskel because he can escape pressure better than Brissett.
But does it really even matter?
Seriously, if Will Muschamp truly believes deep down that he can win with both QB's, and isn't just saying that to the media, does it even matter?
No, because no Muschamp team will ever be caught dead relying on its QB to win the game every week. That responsibility lies with the defense.
The only things a Will Muschamp-coached QB must do are: avoid sacks, not turn the ball over, and make a big play or two every game. It's simple. Anything after that is a luxury. This is what AJ McCarron did last year for Alabama, and how did it work out for the Crimson Tide?
Whoever wins the QB job next year will just be counted on to do those three things. Just play smart, control the ball, and when your time to shine comes, make the big play.
2: 4th Quarter Dominance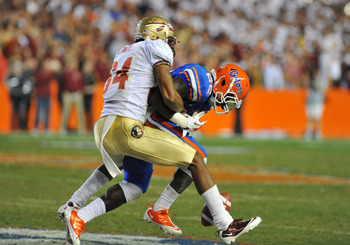 The Gators may very well need a 4th quarter pick to save the day
Al Messerschmidt/Getty Images
One thing Florida fans cannot ever say about Urban Meyer's teams is that they choked late. In every year he coached, Mickey Marrotti was his strength and conditioning coordinator. And every year Marrotti ran the offseason program under Meyer, the Gators blew their opponents away in the fourth quarter. Yes, even in 2010, the Gators finished third in the SEC in the combined fourth quarter score. They always finished strong, even in losses.
Last year...not so much. The Gators flopped in the second half against South Carolina, Georgia and Auburn. The FSU game was a complete mess, worse than the other three close losses combined. And of course, the Alabama and LSU games were the worst of all, though give the Gators a pass against Alabama because all the wind was taken out of them when John Brantley, in the middle of one his best performances ever, got knocked out. That's at least understandable.
The Gators, as Will Muschamp would say, were soft. Aside from quitting, that's the worst thing an athlete can have on his reputation, and this goes double for the violent and passionate game of football.
This has got to change. The Gators lost four games last year by an average of 8.5 points. With a disciplined, mentally tough team, these four losses could easily have been four wins. The Gators would then be 10-2, and in the SEC Championship Game. That's how close Florida was last year.
This year, the Gators should be back, certainly in the SEC East and maybe in the entire SEC. But in order to really get there, and not just say they will like every fan base says their team will, they absolutely must undergo a transformation from green horned rookies to grizzled veterans in this offseason under new strength coach, Jeff Dillman. The Gators will certainly be faced with a close game against a tough team, a game that would really help the winner get to where they want to be in the SEC. If the Gators are as tough as Muschamp wants them to be, they will win that game and many more.
1: Offensive Line Must Improve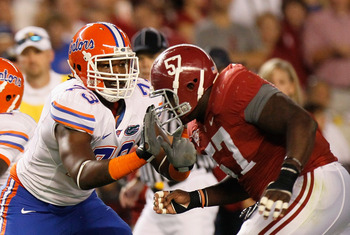 Xavier Nixon, the lone senior offensive lineman
Kevin C. Cox/Getty Images
Simply put, the 2011 Florida Gators offensive line was the worst I have ever seen at any level of football.
Never before have I seen such a helpless collection of athletes fail to block even the slowest defenders.
Never before have I seen a QB, a struggling one at that, get such nonsupport from his blockers that it almost appears that they're trying to let defenders through.
Never before have I seen unblocked defenders come through and knock out the quarterback four times in one season.
And never before have I seen a single defender (Jarvis Jones, Georgia) shoot through every gap in existence and record a sack through each one- all in the same game.
There's no other way to say it- the offensive line was soft.
According to Muschamp (via Tampa Bay Times), however, it's by far the most improved unit on the team throughout the spring. It better be if Brissett and Driskel want to keep all their teeth throughout the year. Incoming freshmen Jessamen Dunker, DJ Humphries and Omari Phillips have stepped in and apparently shown the upperclassmen how to make a simple block. Now this offensive line is a strength, says Muschamp.
It really needs to be, because as we saw last year, a horrible offensive line kills the whole offense. Chris Rainey and Jeff Demps, two of the most explosive players in Gators history, saw nowhere to go against the better teams. The QBs didn't have time to let the receivers' routes develop and hit them where they wanted to.
Gator fans blame this on Charlie Weis, but was it really his fault that nobody up front could block a doorway? Maybe a little, but more of that blame lies on Addazio and Meyer for not developing them, or even trying to. Not that I blame them, of course. No, no. They had more important matters to attend to—Meyer had his naps to worry about and Addazio was too busy figuring out creative ways to block the edge rushers and have Demps slam it up the gut without looking like the moron that we know he was.
But the larger point is this: regardless of who is to blame for 2011's offensive line failure, it is immaterial. It needs to be fixed, no matter who you want to pin the blame on.
The offensive line will give the QB time to throw, the receivers time to run their routes and get open, the running backs a place to go and a chance to break a tackle and the offense a chance to be special, because we know what this offense is capable of talent-wise.
If the offensive line is the strength that Will Muschamp claims it has become, the Gators will become national title contenders very soon, maybe even this season.
Overview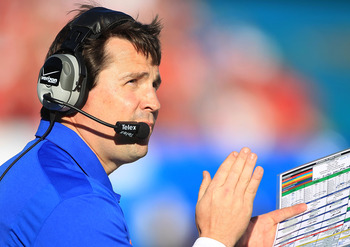 There's hope on the horizon for Will Muschamp
Scott Halleran/Getty Images
Looking at all 10 keys, you may think that a lot of them go hand in hand. Well, you're right. All of them are connected to each other in some way or another. That's what builds a true complete team—something affecting everything else.
I do believe the Gators are close to breaking back onto the national stage. But it may not be this year, unless each key here gets a check. There is definitely a lot of room for improvement on this team, and I don't think the Gators can simply snap back to national prominence in one year if only because LSU and Alabama inhabit the same conference.
I do know that this is a better team than what we saw last year. Either that or Muschamp's going to be on the hot seat in 2013. I will get into specifics in my season preview, a game by game breakdown complete with scouting reports and predictions, when I publish it later this month.
One thing is for sure. I cannot wait to find out when the 2012 edition of Gator football rolls around.
Keep Reading

Florida Gators Football: Like this team?