25 Under-the-Radar Sports Hotties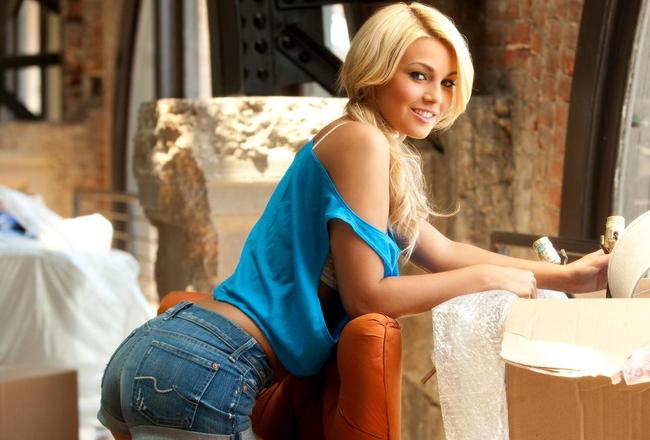 Image via bostondrunks.com

A sports hottie is any female athlete, journalist, announcer, reporter, WAG or fan that has a connection with sports to go along with their insane beauty.
We are so used to seeing articles featuring Danica Patrick, Maria Sharapova, Gisele, Irina Shayk and Jenn Brown that I thought it was time for a change.
It's time for a look at some of those same women who get no love from the media. The women that are there, but who we know little about.
Those women are known as under-the-radar sports hotties. Enjoy the show.
25. Hayley Sams: Ring Girl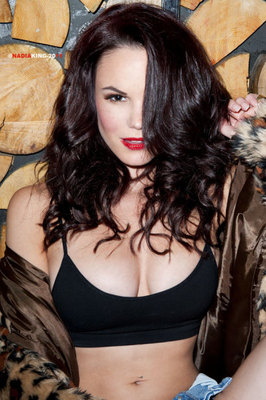 Image via thenextgreatfighter.com
Hayley Sams is an English glamour model and MMA ring girl. She works for the BAMMA promotion in the UK.
If there is one thing I admire about the English, it is their lovely accents, and boy does she have one.
The English accent is probably one of the sexiest in the world.
24. Mieke Buchan: Sports Reporter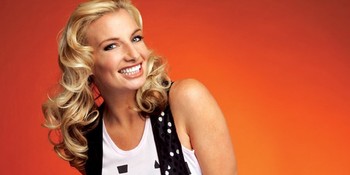 Image via melbournesbiggestchristmaslunch.com.au
I stand corrected.
I forgot about my mates from down under. Mieke Buchan hails from a little place called Sydney, Australia. Ever heard of it?
She has covered everything from the Olympics to the US Open—the one thing that has remained is that beautiful smile.
23. Kristina Akra: Sports Reporter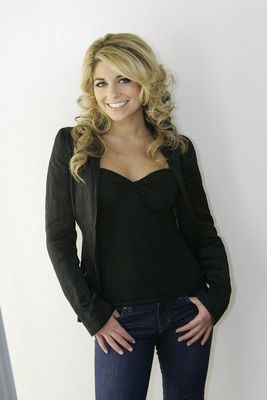 Image via mikedyess.info
Kristina Akra has been doing this for a few years now. She has been working for Fox Sports South, Cox Sports, Big East Network and even in Boston covering the Patriots for Kraft Sports Productions. Her resume speaks for itself.
However, the one thing that gets left off her resume is the four years she spent dancing for the University of Florida dazzler dance team.
That is where that perfect body came from, if you were curious.
22. Jennifer Hale: Sports Journalist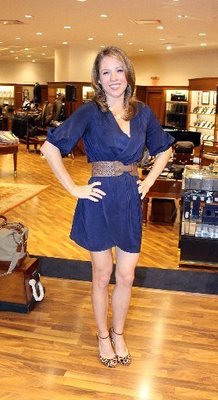 Image via photos.nola.com
I had the pleasure of watching Jennifer Hale on WVUE Fox-8 in New Orleans on a weekly basis.
She was an anchor for almost three years, but has recently been tossed into the Fox Sports world, where she began covering NFL games as a sideline reporter.
Jennifer might be a bit overqualified to be on the sidelines, but we aren't complaining. We love watching her on Sundays.
21. Sara Goller: Beach Volleyball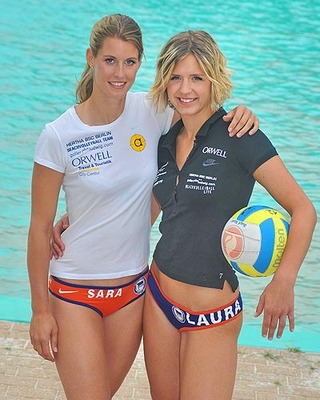 Image via girlswithmuscle.com
As I was browsing through the channels on my tiny flatscreen TV, I came across a women's beach volleyball tournament.
After two hours, I realized that I was wasting my day away watching beautiful women in bikini's play volleyball. That's when Sara Goller, with her teammate Laura Ludwig (pictured on the right), arrived for their match.
I knew I had no choice but to share this woman with the rest of you guys. She is the hottest unknown volleyball star I have ever seen.
20. Aubrey McCormick: Golfer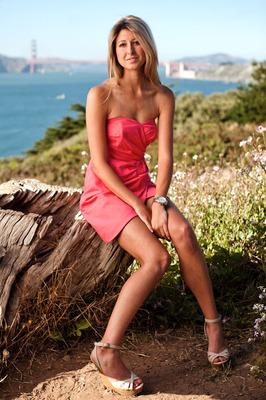 Image via thecasualgolfer.webs.com
If you haven't watched the Golf Channel's reality show, The Big Break, you are missing out.
This show has brought us Hall of Fame beauties like Blair O'Neal and Sophie Sandolo.
I now bring you Aubrey McCormick, one of the contestants from the 2012 season.
Besides golf, you might have seen Aubrey volunteering for Green America. Well, probably not.
19. Brittany Langdon: WAG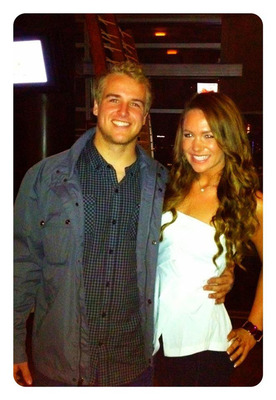 Image via bustedcoverage.com
Matt Barkley will become the next great NFL quarterback. Not too many people will agree with me, but I think this guy is going to be better than Andrew Luck.
It's only a guess, but I imagine Barkley will retire with more Super Bowls than the 2012 first overall pick.
As for his personal life, he is also having a pretty good run. His girlfriend, Brittany Langdon, is more than just a pretty face. Although, that is the main reason we enjoy her presence.
18. Paige Brendel: WAG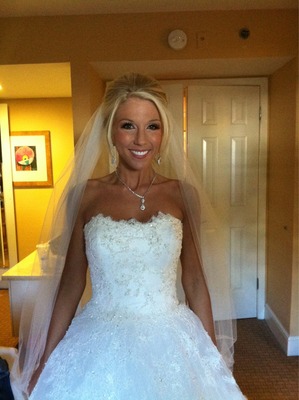 Image via bustedcoverage.com
Who is Brett Lawrie? I know who he is, because I'm a baseball nut.
You know who he is because he slammed his helmet to the ground following an objectionable call from an umpire, which then bounced straight into the ump.
That is pretty bad luck, if you ask me.
At least he got to enjoy his suspension with his beautiful wife Paige Brendel.
17. Bar Refaeli: WAG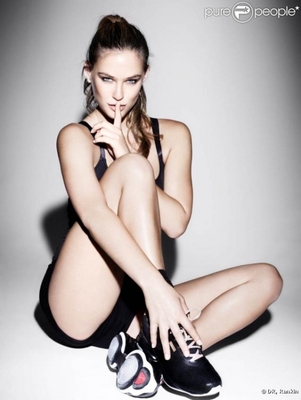 Image via listal.com
No, this isn't the first time you have seen Bar Refaeli. In fact, everyone remembers her as the hot swimsuit/lingerie model that dated Leonardo DiCaprio back in the day.
So, why include her on this list?
Refaeli is just now becoming a WAG thanks to Shaun White, and the sports world needs to notice.
16. Samara Felippo: WAG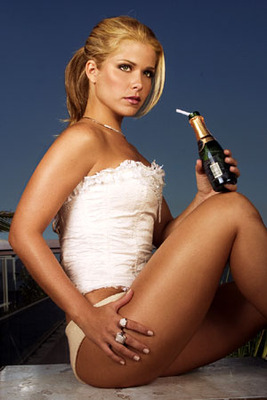 Image via listal.com
Leandro Barbosa is a former winner of the NBA's Sixth Man of the Year award and current guard with the Indiana Pacers. He averages better than 10 points per game and is a 39-percent three-point shooter for his career.
None of those stats compare to his lovely wife, Samara Felippo. How did I miss her in the past?
15. Kendra Andrews: DNA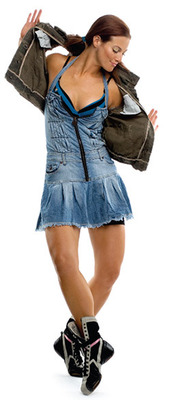 Image via bustedcoverage.com
If ever there was a woman that we should all pay attention to, it would be Kendra Andrews, sister of ESPN queen Erin Andrews.
She might have little to do with sports, besides being related to the biggest female name in sports reporting, but Kendra is a beautiful individual that gets no love.
Here is some love.
14. Katherine Akra: Dancer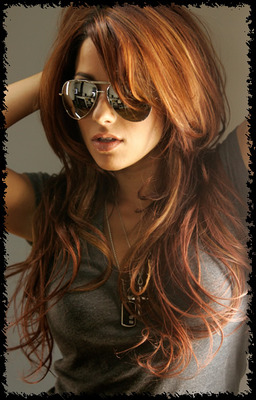 Image via katherineakra.com
Earlier in the show, I mentioned a woman with the name Kristina Akra. I did not mention, however, that her sister was a smokebomb of sex appeal and beauty.
Katherine was a former Miami Heat dancer and is currently an actress. Whether she moves into sports or not, she has managed to get my attention.
13. Caroline Portugal: MMA Fighter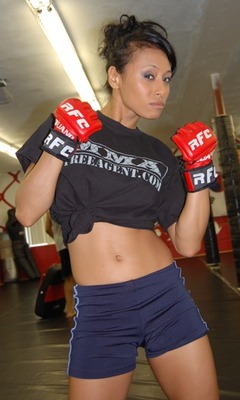 Image via cltampa.com
At 36 years young, Caroline Portugal dominates the MMA world with her multi-faceted talents.
She can do it all. She is a fighter, lover, designer, trainer, writer and karate guru.
She is known better by her nickname, Rare Ninja.
12. Meghan Hardin: Golfer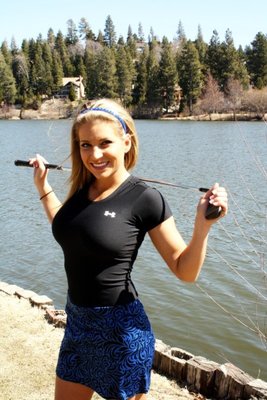 Image via golf.about.com
Yes, Meghan Hardin is a contestant on the Golf Channel reality show The Big Break.
What did I tell you earlier about The Big Break?
Why isn't anyone watching this show? It's full of hotties that are new to you.
11. Missy Coles: WAG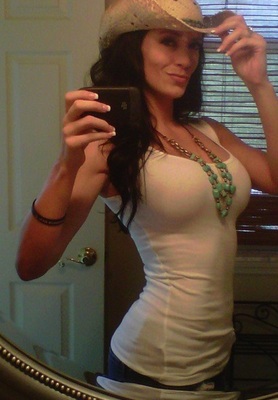 Image via juegodebolas.wordpress.com
I am a self-proclaimed baseball guru, but even I had no idea who Michael Schwimer was. I had to do a Google search to find out if this guy was still even active.
In the meantime, I did come across his girlfriend, Missy Coles. Whether he becomes an All-Star or not, at least he dates all-stars.
10. Jessica Harbour: Ring Girl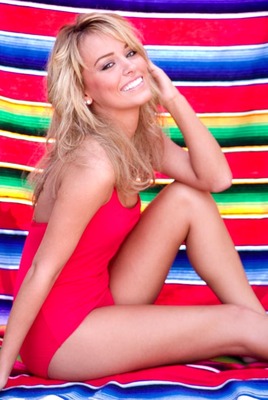 Image via sherdog.net
Where else would a 21-year-old, green-eyed blond with an amazingly perfect body hail from?
San Diego, of course.
Aside from being a great city, San Diego is home to more beautiful women than an episode of The Bachelor. It is a landfill of hotties. You should visit sometime. It is well worth it.
9. Dallas Latos: WAG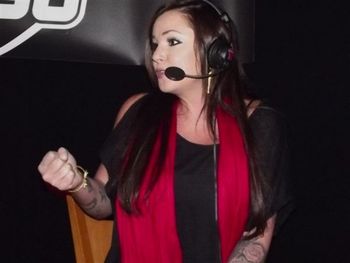 Image via dallaslatos.mlblogs.com
How have you not heard of Dallas Latos? She is one of the funniest personalities on Twitter and her husband, the beastly Mat Latos, pitches for NL Central leading Cincinnati Reds.
If you don't follow her, don't be shy. Go say hi. She will gladly respond. She might even rip you if you say something stupid.
8. Jordan Fish: WAG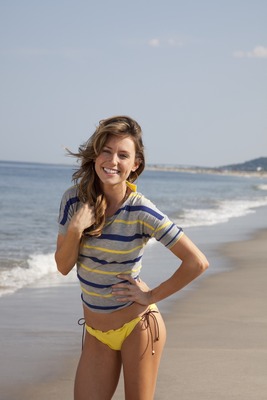 Image via fitnessmagazine.com
I really hope this is not the first time you have met Jordan Fish. The former Charlotte Bobcats dancer and current girlfriend of Denny Hamlin has been making her way through Bleacher Report for the past two years.
The fact that I have to mention her as an under-the-radar type saddens me. We need more coverage.
7. Abigail Klein: WAG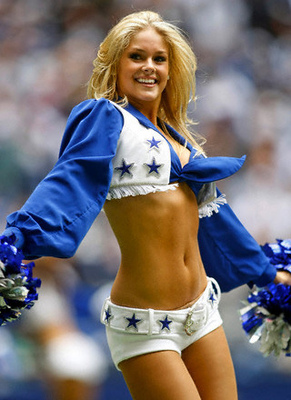 Image via flickr.com
Troy, Troy, Troy. Oh, that sneaky Troy Aikman.
The formerly married Dallas Cowboys legend is now single and ready to mingle, but why go further than your hometown?
He's found Abigail Klein, a former Dallas Cowboys cheerleader and current actress/model.
This man doesn't get older, he gets wiser.
6. Georgia Graham: Ring Girl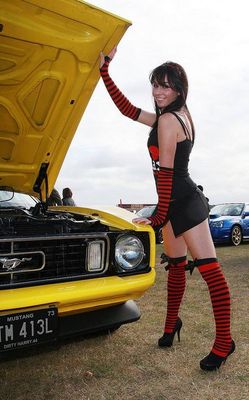 Image via modifiedcars.com
BAMMA is my new favorite MMA promotion. They are based in England, but they have some of the world's sexiest women at their helm.
Georgia Graham is one more of those women. She is an easy 14 on a 1-10 scale. Easy!
5. Jace Williams: Softball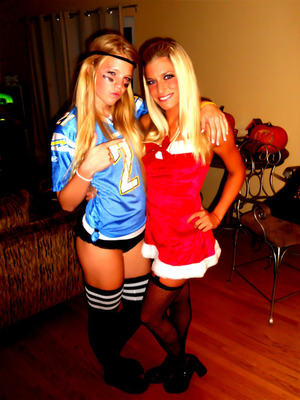 Image via bearinsider.com
With the NCAA D-1 softball tournament nearing its end, we get to take this moment to introduce many of you to the hottest of the hot, Jace Williams.
She is the sexiest female softball player in the world today. Don't believe me? Go look her up and compare. It's not even close.
Did I mention she plays infield for one of the nation's best softball organizations, Cal? She's a career .336 hitter, too.
4. Ciara Price: WAG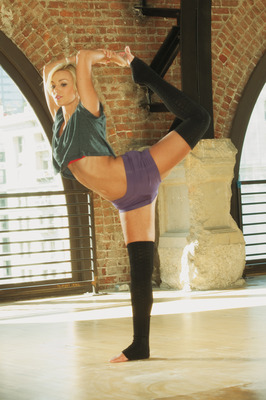 Image via nyc.barstoolsports.com
Thank you, Tyler Seguin! Thank you very much.
You see, he is dating the incredible Ciara Price, a former Playboy playmate.
Now we get to talk about her all the time. Thanks, man.
3. Marta Menegatti: Beach Volleyball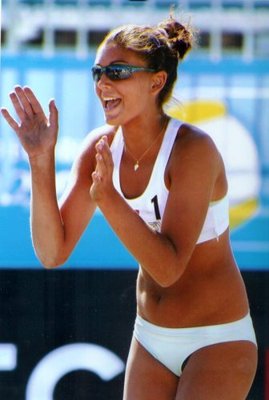 Image via poleinesport.it
I am not immune to missing hot athletes. I missed Marta Menegatti for quite some time now.
It might be time for everyone to be included in the Marta madness before she blows up in London and the entire world knows her name.
This is a sneak peek. Enjoy it.
2. Carrie Milbank: Reporter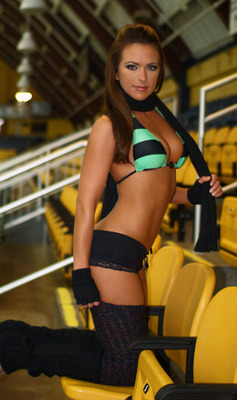 Image via listal.com
Enough is enough. How is Carrie Milbank not featured on billboards across America? What is going on with the US?
This isn't the first time and it won't be the last that I mention her beautiful face. Carrie belongs in the discussion for the hottest woman in sports.
I just think some of you guys are forgetting about her.
1. Lauren Tannehill: WAG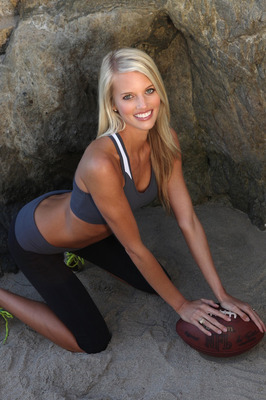 Image via thevictoryformation.com
It is way too early to anoint Ryan Tannehill as the best QB to hit Miami since Dan Marino.
However, we can talk about his beautiful wife, Lauren Tannehill. I always knew there was a reason she was standing next to him at the draft, right in the way of all the cameras.
Keep Reading