How Josh Beckett Is Killing the Boston Red Sox
June 3, 2012

Jim Rogash/Getty Images
Josh Beckett drew the brunt of the Red Sox Nation's ire for the 2011 collapse amidst the "beer-and-chicken wings" controversy.
But instead of revisiting that, I am more interested in focusing on an overlooked weakness in Beckett's game—one that he and should addressed already: his inability to hold runners.
It is a problem that is costing his team games, and now it is time for management to step in with a program to help him to correct the issue.
Think that "costing his team games" is an exaggeration?
In Beckett's most recent start, he allowed Detroit's 27-year-old rookie outfielder Quintin Berry to steal second base and score the lead run in the third inning. The same thing happened in the fifth inning, when Detroit took 4-3 lead, on their way to a 7-3 victory.
This is not a problem isolated to his starts in 2012.
In last September 26th's 6-3 loss to Baltimore—which dropped the Red Sox into a tie in the standings with Tampa Bay—the most crucial play of the game involved Beckett allowing 36-year-old Vladimir Guerrero to steal second base (only his second steal of the season). Guerrero proceeded to score the go-ahead run in that game.
Beckett's start before that one was also marred by a critical stolen base. Robert Andino stole second and scored to help the Orioles rally to a 6-4 win over Boston.
This season, the issue has only become more pronounced; Beckett has allowed 29 consecutive stolen bases since June 9, 2011. That streak includes steals in each of his last six starts.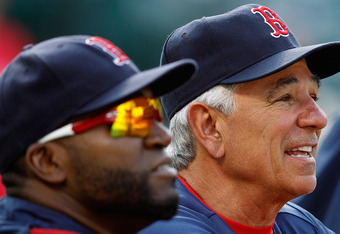 Rob Carr/Getty Images
Now before one jumps to the conclusion that Beckett has been "handicapped" by having an aging Jason Varitek and a defensively challenged Jarrod Saltalamacchia behind the plate, you should realize that these stolen-base woes have plagued the veteran right-hander for years—all the while costing the Red Sox dearly.
Since 2009, only eight of 80 attempted (10 percent) base stealers have been caught while Beckett has been on the mound.
By comparison, 18 of 28—or 64 percent—base stealers have been caught against St. Louis' Chris Carpenter, and Carpenter was good at holding base runners long before Cardinals catcher Yadier Molina came along.
Zack Greinke is another right-handed starter excellent at deterring the running game. 53 percent of base stealers have been caught stealing with Greinke pitching since 2009, spanning his years with Milwaukee and Kansas City.
Lower than Carpenter and Greinke—but still light years beyond Beckett's 10-percent rate—are Tim Hudson and Chad Billingsley at 44 percent, Justin Verlander at 41 percent. Tim Lincecum, Matt Cain, Josh Johnson, Felix Hernandez and Roy Halladay, among others, are all at or above 25 percent.
Back to those critical games in which Beckett's futility proved costly: in Game 2 of the 2009 AL Division Series, the Los Angeles Angels Howie Kendrick stole second and scored on a Macier Izturis hit to break a 1-1 tie in the seventh-inning. Izturis then stole second and scored an insurance run in the Angels' 4-1 victory.
Beckett was victimized by a Texas double steal in a July 2009 loss, by a Carl Crawford steal in an April 2010 extra-inning defeat and by a Juan Pierre swipe to setup the tying run in a game the Red Sox ultimately lost to the Chicago White Sox the 7-5 in September 2010.
Beckett can improve. Jered Weaver progressed from a 23 percent caught-stealing rate in 2009 and 2010 to 52 percent in 2011 and 2012.
Even Beckett's Red Sox teammate Clay Buchholz has evolved from one who allowed base runners to steal six bags in six attempts in 2009 to a now commendable 39 percent caught-stealing rate in 2010-2012.
Up through 2007, the Red Sox could tolerate Beckett's weakness. He was overpowering enough to overcome the majority of stolen bases against him. That and former Sox manager Terry Francona and former Sox pitching coach John Farrell were not advocates of the "slide-step" delivery, which helps pitchers thwart potential base stealers from getting big jumps.
Even if Beckett lost a game per year, his team was assured of winning its 93 or more games in a division that included perennial patsies Baltimore and Tampa Bay. Qualifying for the wild card was nearly assured.
But now Tampa Bay is more than competitive, and the Angels, Rangers and Tigers are always now in contention for at least the AL wild card. Beckett's own NESN commercials, which advertise that "every game, every pitch matters" is especially true in today's American League.
As for dealing with pitchers who have issues holding base runners, Boston manager Bobby Valentine is no novice.
Valentine managed Bobby Witt in Texas. Witt was awful at holding runners in 1986 and 1987, posting only a seven percent caught-stealing rate (seven out of 97). Witt somehow improved to 22 percent in his next five seasons.
Can Valentine and his pitching coach Bob McClure effect a change?
McClure is left-handed, so perhaps demonstrating the mechanics will be up to others. McClure, however, can share his own success story with Beckett: In 1986 and 1987, McClure appeared in 117 games (with the Montreal Expos), and surrendered a total of five stolen bases.
Beckett surrendered six in a single six-inning start versus Tampa last September.
So watch in the coming weeks to determine whether this issue has finally been addressed. Make no mistake about it, seasoned veteran opposition managers such as Jim Leyland, Buck Showalter, Ozzie Guillen, Joe Girardi, Joe Maddon and Mike Scioscia are well aware of this flaw in Beckett's game and are poised to exploit it in critical situations.
Hopefully for Boston fans, the loss in Beckett's most recent outing does not prove costly to the team's postseason hopes.