San Antonio Spurs vs. Oklahoma City Thunder: 7 Bold Predictions for Game 4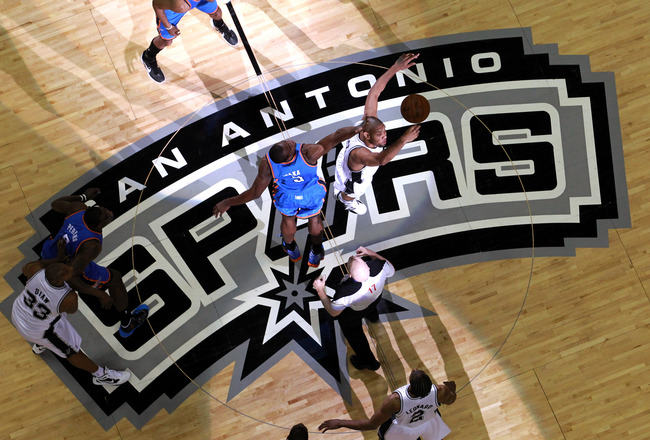 Ronald Martinez/Getty Images
After Game 3 of the NBA Western Conference Finals, the turnout of this series has fogged up even more.
In the first two games, the San Antonio Spurs proved why they hadn't lost a game throughout the postseason. However, when the series came to Oklahoma City, the tables turned. The Thunder ended up blowing San Antonio out of OKC with a 102-82 victory over the Spurs.
In that game, Kevin Durant was Oklahoma City's top scorer, with 22 points, accompanied by six rebounds, five assists and one steal. Thabo Sefolosha also had a great game, scoring 19 points, and recorded 6 steals.
For San Antonio, Tony Parker and Stephen Jackson scored 16 points each in the game. Tim Duncan had an 11-point game along with five blocks.
So with Game 3 in the books, what could happen in Game 4? Will the Thunder come back to tie up the series? Or will the Spurs come one step closer to advancing to the finals?
With this in mind, I will be presenting seven predictions for Game 4 of the Western Conference finals.
Tony Parker Will Come Shy of a Triple-Double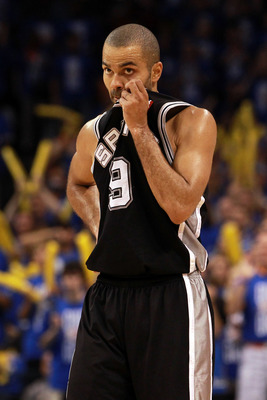 Ronald Martinez/Getty Images
Tony Parker has been playing pretty well this season. He has managed to score in good numbers (18 points in Game 1, 34 points in Game 2 and 16 points in Game 3). So I wouldn't be surprised if he put up similar numbers in Game 4.
In terms of assists, he has been dishing out a good amount; however, he has never dished out more than 10 assists in any game this series. The largest amount of assists he has in this series so far is 8 assists in Game 2. But that doesn't mean he can't have 15 assists in Game 4.
In terms of rebounding, he hasn't gotten more than 10 either. He had eight rebounds in Game 1, so he could definitely get around 10. But this is the area that will make him fall short of a triple-double in Game 4.
Kevin Durant Will Have a 35-Point Game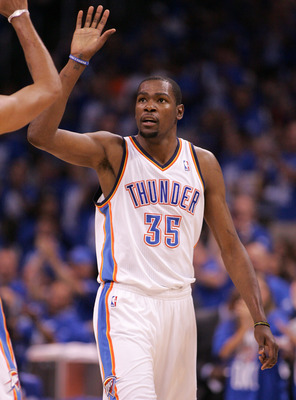 Brett Deering/Getty Images
Kevin Durant has enjoyed this series in terms of scoring. In Game 1 he scored 27 big points. In Game 2 he scored 31 points. In Game 3 he descended to 22 points, but I feel he is really going to demolish the Spurs defense in Game 4. So don't be surprised if he is suddenly scoring at will.
James Harden Will Have a 20-Point Game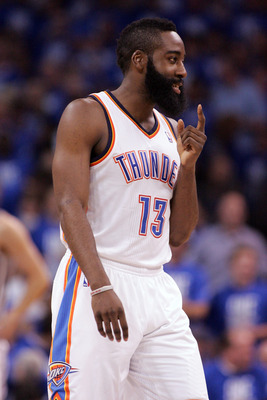 Brett Deering/Getty Images
James Harden has had a tough beginning to this series. Game 1 was a bit tough for him to get his groove going, but in Game 2 he put that aside and managed to net 30 points. In Game 3 he put in a 15-point effort to help his team to a victory.
He proved that he can score in this series, so I predict a usual night for the beard-man.
Tim Duncan Will Have a Double-Double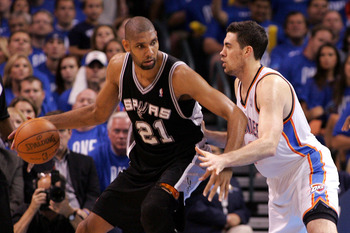 Brett Deering/Getty Images
Tim Duncan. He can score, rebound, block. He has the arsenal of attacking utilities to make a defense flustered. I feel that in Game 4 he will score at least 15 points and will put up roughly 12 rebounds.
In Game 2 he had 11 points and 12 rebounds, and in Game 3 he scored 11 points and had two rebounds along with five blocks.
With these kinds of stats in the series up to now, expect him to get another double-double.
Manu Ginobili Will Have a 20-Point Game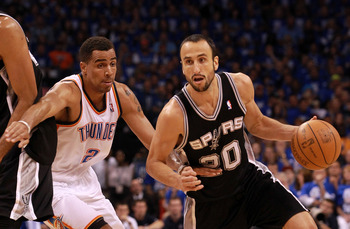 Ronald Martinez/Getty Images
Manu Ginobili should be proud of his performance in this series up to this point. He had a great Game 1, putting up 26 massive points, a good 20-point Game 2 and an eight-point Game 3. That eight-point game was obviously below expectations, but I am sure that Manu will put up better numbers in Game 4 along with the thought of vengeance on his shoulder.
Serge Ibaka Will Have 6 Blocks, and Thabo Sefolosha Will Have 7 Steals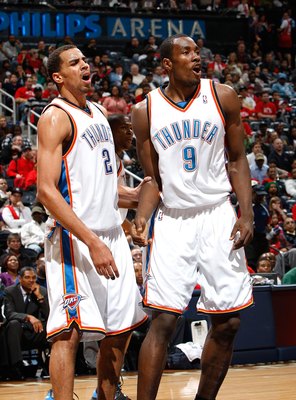 Kevin C. Cox/Getty Images
Thabo Sefolosha and Serge Ibaka are the Thunder's go-to guys in terms of defense. Kendrick Perkins is also a good defender, but he can get into foul trouble a bit too often.
In Game 1, Sefolosha had four steals, and Ibaka had two blocks. In Game 2, Sefolosha didn't have any steals, while Ibaka had four blocks. In Game 3, Sefolosha had six steals, and Ibaka had three blocks.
After those great defensive performances, I feel that Sefolosha and Ibaka will truly find their way, in terms of guarding some of the Spurs players, and will have more steals and blocks than in Game 1, 2 or 3.
Oklahoma City Wins the Game by a 15+ Point Margin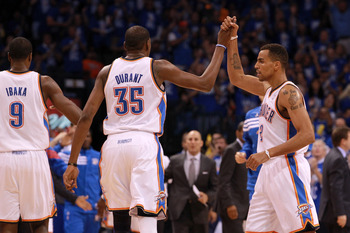 Ronald Martinez/Getty Images
After all those other predictions, it comes down to this. After a huge 20-point win for the Thunder in Oklahoma City, I feel that their momentum will be too strong to be stopped and that this momentum will push into Game 4. I predict that the Spurs will come close to the Thunder at some point, but I feel that the Thunder will push away like they did in Game 3.
Keep Reading