French Open 2012: Top Contenders Left in Women's Bracket
June 3, 2012

Mike Hewitt/Getty Images
The Women's bracket at the 2012 French Open has seen United States stars Venus and Serena Williams bounced early at Roland Garros, leaving these three women as the top contenders for the title.
Na hasn't been winning many tournaments as of late, but she did finish runner-up to Kim Clijsters at the 2011 Australian Open and is the defending French Open champion.
China's top women's tennis player finds herself in the round of 16 at Roland Garros and has looked impressive through the early rounds. What could trip up Na, though, is if she finds herself sharing a court with Maria Sharapova anytime during this tournament.
Na was defeated by the 2004 WTA Player of the Year in the Sony Ericsson Miami Open quarterfinals and the finals of the Italian Open this year.
Varvara Lepchenko
Lepchenko may be the biggest of long shots of the women listed here, but whenever you battle back and defeat the 2010 French Open champion, you certainly have momentum on your side.
The Uzbek-American defeated Francesca Schiavone in what would be best described as a see-saw affair on the clay of Roland Garros.
Lepchenko is currently ranked No. 438 in the world, so I may be a bit crazy by putting her on this list. That being said, this French Open could be accurately described as crazy, so I give the 26-year-old lefty a puncher's chance.
Maria Sharapova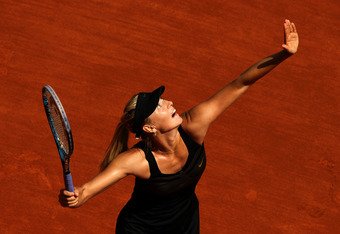 Matthew Stockman/Getty Images
The odds-on favorite in my book, Sharapova is just playing with such a drive and determination that reemerged back in 2010.
Sharapova is battling to secure her first victory at the French Open, and if she does, she'll be one of two active WTA players to have accomplished the feat of a career grand slam.
I just don't think there's a woman left that Sharapova could face and be considered the underdog. She has yet to play more than two sets in this tournament and is defeating her opponents in about an hour's time so far.
Clay wasn't one of Sharapova's strong suits earlier in her career, but she enters this tournament fresh off her second consecutive Italian Open championship and two recent victories over Na, who defeated her in the French semifinals last year.
While Lepchenko and Na are talented and have a shot in my book, Sharapova is my pick to take home the big fancy title and achieve her greatest career milestone to date.