Insurance Policies: Ranking the NFC East's Backup Quarterbacks
June 4, 2012

Doug Pensinger/Getty Images
We've spent quite some time on this blog analyzing the NFC East's four starting quarterbacks. Makes sense, because quarterbacks are sort of important in this league and this division contains four of the best (or at least most popular) signal-callers in football.
But only 14 No. 1 quarterbacks started all 16 games last season, and only 12 the year before that. In this division, the Dallas Cowboys lost Tony Romo for a large chunk of the 2010 season and the Philadelphia Eagles have seen Michael Vick go down for parts of the last two seasons.
So there's a very good chance that at least one of these teams will have to rely on a backup quarterback this season. And when you consider how tight the NFC East is shaping up and how short the season is, the performances those teams get from their backup quarterbacks could be the difference between a successful season and an unsuccessful one.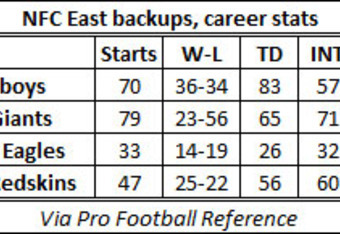 Here's how I view the backup situations in Dallas, New York, Philadelphia and Washington, ranked from best to least best (worst).
1. Dallas Cowboys: Kyle Orton / Stephen McGee
Before falling victim to Tim Tebow's wrath last year, Orton was the starter in Denver for three straight seasons, posting a 59-to-33 touchdown-to-interception ratio and a not-so-terrible 20-23 win-loss record. He struggled last year in Denver and Kansas City, but the 29-year-old will enter his first season in Dallas as one of the best backup quarterbacks in the league. 
And if things really go wrong, at least McGee has never thrown an interception in 82 career pass attempts.
2. New York Giants: David Carr
Carr is actually an ideal backup quarterback. He's experienced, he's comfortable in his role, he's very familiar with the offense and he has a strong relationship with the starter. All that said, it's tough to get a read on him since he didn't take a single snap in 2011 and has only thrown 13 passes since 2009.
The good news is that Eli Manning hasn't had to miss a game since taking over as starter in his rookie season. The bad news is that we said the same thing about his brother Peyton at this very point last year.
3. Philadelphia Eagles: Mike Kafka / Trent Edwards / Nick Foles
The rookie third-round pick Foles is sure to make the roster but unlikely to be counted on as a No. 2 quarterback early, which probably means Kafka and Edwards are battling for the backup job in camp. Kafka—a fourth-round pick in 2010—has a clear early edge despite a lack of experience. Edwards has 23 career starts to his name and a 2,600-yard season under his belt, and he's only 28, but he's not getting any reps in organized team activities.
I'd feel best about their quarterback depth if Edwards and Foles both beat out Kafka, but I have a feeling that's not how things will play out.
4. Washington Redskins: Rex Grossman / Kirk Cousins
I like that Grossman has recent starting experience. What I don't like is that he's a turnover machine, and I'm not so sure he's an ideal mentor for Robert Griffin III. Grossman is an all-or-nothing kind of quarterback. Can he step in and manage games if Griffin gets hurt? I'm not so sure.
But beyond that, it's just Cousins and Jonathan Crompton, neither of whom have thrown an NFL pass.