Anderson Silva: How Many Fights Does the Greatest of All Time Have Left?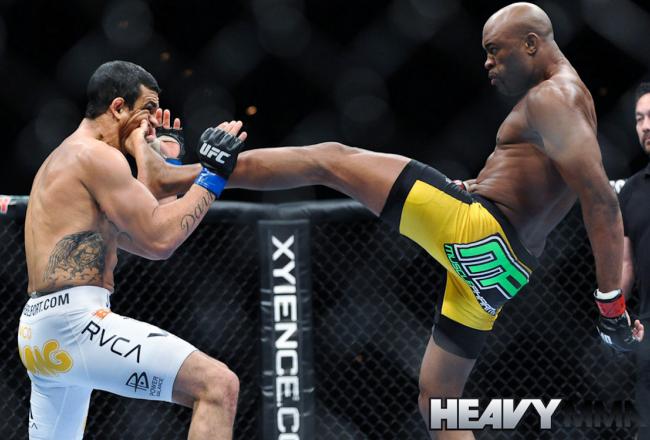 photo from heavy.com

In Mixed Martial Arts, as with any sport, you have the discussion about who is the best of the best. While many times this is a subjective topic and one that can't ever be proven fully, fans love to have an organized list and to debate who is the best athlete of the time, and of all time.
In the sport of MMA, there is a slightly different dynamic. Most sports are team based, and while fighters do have their camps, they are individual athletes once they step in the cage. Rankings shift, fighters get sick or injured and the rankings shift some more. While the Top 10 pound-for-pound list for MMA fighters has constantly morphed, one man has remained steadfast in his position on top of the hill.
That man, is Anderson Silva.
The best Middleweight to ever grace the Octagon and MMA—and arguably the best fighter ever— Anderson "The Spider" Silva has formed a legacy that will not soon be forgotten. While fans may view the likes of Georges St. Pierre, Fedor Emelianenko or Jon Jones as better candidates for the GOAT title, there is no denying that Silva has been the most dominant champion and deserves credit toward his athleticism and abilities.
Silva is on a reign that has lasted since 2006; 2005 if you don't count the disqualification from the Okami fight. However, the Brazilian superstar has also been fighting professionally since 1997. Silva turned 37 this year; a number not many fighters have continued to find success in, and one that has never been reached by many before retiring.
While Silva still shows creative dominance and an unprecedented fighting prowess, one must wonder, how much longer does he have left?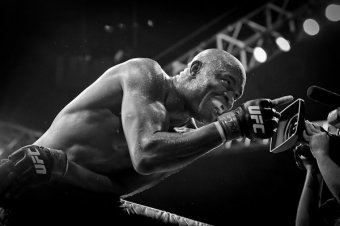 photo from edmulholland.com
Silva's manager in recent past has mentioned Silva has only a handful of fights left, but no one can get a read on what he plans to do. Some feel he might retire after his upcoming rematch with Chael Sonnen, and some feel he will move up in weight. Some think he needs to fight a few more times at Middleweight, or at least until he loses.
It is hard to get a read on Silva because he continues to put on astounding performances. He has shown very little sign of wear and tear, and physically you would never realize he is a professional fighter at all. Being very elusive with great head movement, Silva has also avoided trauma to the head, certainly giving him some longevity in his career.
According to CompuStrike, in his fight with Chael Sonnen, Sonnen hit Silva close to 300 times, while in his first 11 UFC fights totaled up, he was only hit around 200 times. Sonnen showed dominance in his fight with Silva, but the BJJ black belt showed that even from the brink of defeat, he will find a way to win. The Sonnen fight was not a sign of a down-slide, but just reiterated the fact that Silva has some issues with wrestling. TRT and broken rib aside, Silva has never been a great wrestler.
If he decides to keep fighting, he has the winner of Munoz vs. Weidman to keep in mind, as well as Alan Belcher. Many fans want to skip all of that and see Silva face the winner of Brian Stann vs. Hector Lombard. There are still great fights for him at Middleweight, but what Silva ultimately decides to do is only known to him.
While in the cage he hasn't shown wear and tear like others his age, he is starting to be plagued by injury more often. From his ribs to his shoulders to his knees, Silva is showing these acute signs of a possible down slope. Injuries happen all the time, but when it happens at his age, people start to wonder what state his body is in.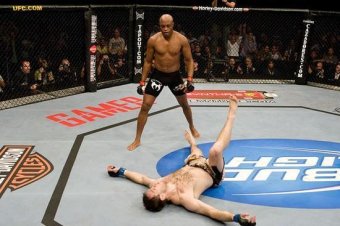 photo from cagepotato.com
With each fight, Silva breaks records, and with each fight, we are closer to seeing the end of an astounding legacy. Silva could retire tomorrow and still go down in the hall of fame as one of the best fighters to ever live.
While we all have been fortunate to have watched "The Spider" climb up the spout, the water will come one day; whether from his own decision or at the hands of another. If Sonnen beats Silva come July 7th, it will be the burning question if Silva will climb up the spout again. Regardless of when he hangs up the gloves, he will still be remembered as one of the greatest of all time.
Join the MMA Facebook Page and follow the @FightersCreed on Twitter!
This article is
What is the duplicate article?
Why is this article offensive?
Where is this article plagiarized from?
Why is this article poorly edited?