Triple Crown 2012: Breaking Down I'll Have Another's Belmont Odds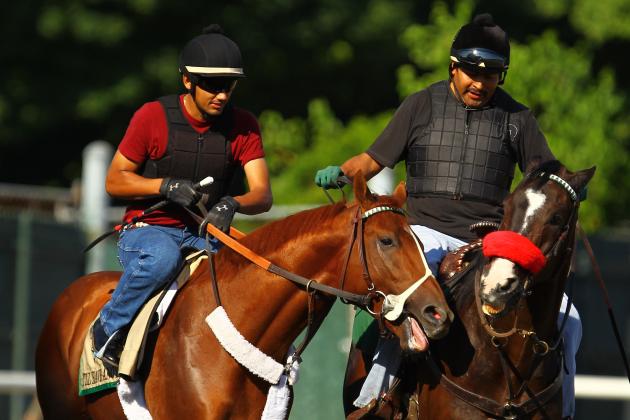 Al Bello/Getty Images

I'll Have Another will run on this Saturday's Belmont Stakes (G1) looking to become only the 12th horse in history to have won racing's Triple Crown.
It looks like it is his race to lose as it has been the case with all other 11 horses that have tried to sweep the Triple Crown since Affirmed did it 34 years ago.
Unless Dullahan, Union Rags, Paynter or Street Life can spring the upset, we will be cheering for the horse that will make it a magnificent dozen winners of horse racing's Triple Crown.
I'll Have Another makes a strong case to become the 12th Triple Crown winner. He has the tools, tactical speed and a great ability to accelerate on the home stretch, which validates his chances to win on Saturday.
Like the case for all horses, whether he can get to the 1.5 miles distance seems to be the only question to be answered.
He will finally be the favorite in a race and should do so at odds around the 6-5 range. He will not post bettors odds but should be the favorite nonetheless.
Let's take a look at the factors that weigh-in on his odds this upcoming Saturday.
Begin Slideshow

»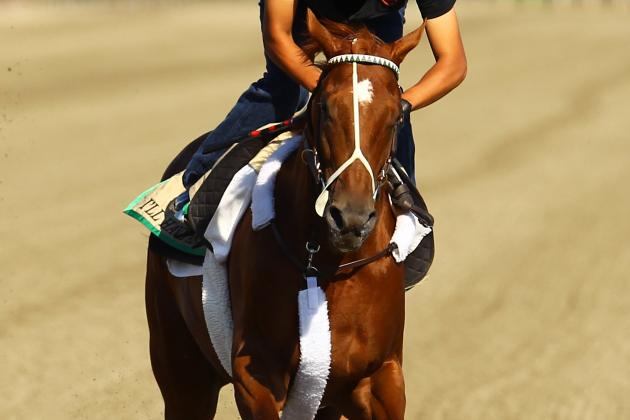 Al Bello/Getty Images

I'll Have Another has the best career Beyer figure (109) of all the participants in the Belmont.
He not only has the best, but he has been improving them on his last three races. His last two have been three-digit Beyers, and the only contender to do so is Paynter with 106 and 100 in his last two.
The average Beyer in the Triple Crown races is 110, and I'll Have Another looks like he could go over that here if he keeps his improving path.
Here is a look at all the possibles and their best career Beyers.
| | | | |
| --- | --- | --- | --- |
| Horse | Trainer | Race | Beyer |
| Atigun | Kenny McPeek | CD Allowance | 89 |
| Dullahan | Dale Romans | Kentucky Derby | 98 |
| Five Sixteen | Dominic Schettino | AQU Allowance | 78 |
| Guyana Star Dweej | Doodnauth Shivmangal | Belmont Allowance | 70 |
| Optimizer | D. Wayne Lucas | Preakness Stakes | 85 |
| I'll Have Another | Doug O'Neill | Preakness Stakes | 109 |
| Paynter | Bob Baffert | Pim Allowance | 106 |
| Ravelo's Boy | Manuel Azpurua | TB Derby | 78 |
| Street Life | Chad Brown | Peter Pan Stakes | 93 |
| Union Rags | Michael Matz | Kentucky Derby | 90 |
| Unstoppable U | Kenny McPeek | Belmont Allowance | 82 |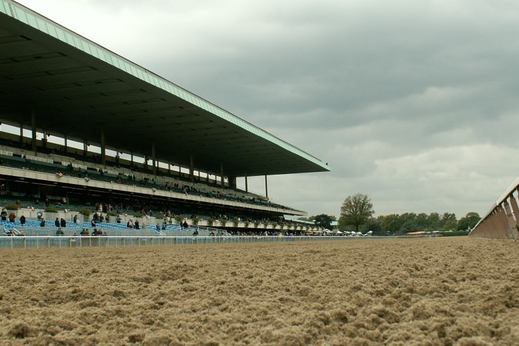 (photo via ponybox.com)
Located in Elmont, New York, on Long Island, it has a 1.5 mile track, offering the largest dirt track in all of thoroughbred racing.
It opened for business in May of 1905, and while this is not the oldest horse racing track in the United States, it's home to the Belmont Stakes, which is part of one of the oldest traditions in racing, The Triple Crown.
And that is what I'll Have Another aims to achieve this Saturday.
The race is called the 'Test of the Champion,' because the winner will have to run the farthest that they have ever run, trained or were bred for.
The track is also know as 'The Big Sandy' thanks to its particular dirt track which resembles a sand track.
The track might not be as much an issue as much as the distance, which is the first time all horses here will run it. But it will be important that I'll Have Another feels right at home on the track.
Many Triple Crown hopes have been dashed thanks to mistakes made by the jockeys, as sometimes they tend to make early moves, and the horses end up empty in the stretch.
Not only is the home stretch longer than any other in racing, but the turns are longer as well. Any miscalculation and the hopes and dreams of I'll Have Another winning the Triple Crown will come down the drain.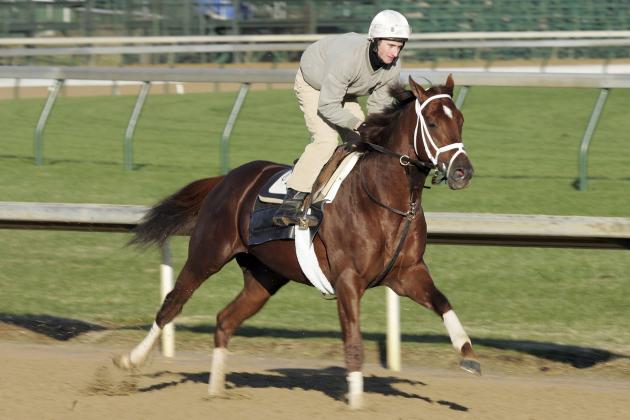 Andy Lyons/Getty Images
Flower Alley, the sire of I'll Have Another, as he prepared for the 2005 Breeders' Cup Classic
No, it's not I'll Have Another on the picture on this slide; that is his sire, Flower Alley.
I'll Have Another is the son of Flower Alley out of the Arch mare Arch's Gal Edith. This is a cross that would secure that I'll Have Another would handle the Derby distance, but there is little to specify he will handle 1.5 miles.
As a matter of fact, horses are just not bred to run 1.5 miles. We can make some educated guesses based on their pedigree on whether they will be able to handle the distance or not.
Flower Alley was a great pace-stalker who earned over $2.5 million and won the G1 Travers Stakes in 2005 and was second on the Breeders' Cup Classic the same year.
But before I'll Have Another, he had produced only two other graded stakes winners in the USA, Bouquet Booth (G3 Princess Stakes) and Lilacs and Lace (G1 Ashland Stakes).
Both are fillies that have I'll Have Another's pace-stalking style, but none have won beyond 8.5 furlongs.
His mare raced only once and won at six furlongs after stalking the pace early on. She is by Arch, whose most famous offspring is Blame, winner of the 2010 Breeders' Cup Classic.
So if you were to take an educated guess, his pedigree suggests he might make it to the 1.5 miles, and he gets the stamina and tactical speed from both sides.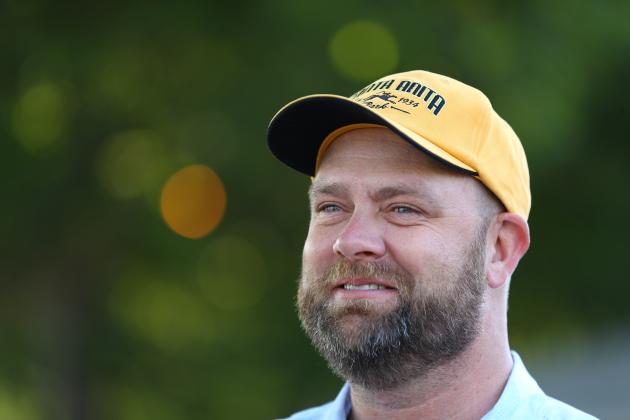 Al Bello/Getty Images

Doug O'Neill has a career total of 1,632 wins from 9,853 starts and a total career earnings of $77,701,690, good for 21st all time.
He has has been on the news a lot lately.
Mostly because of being the trainer for I'll Have Another, but also for being fined after an incident where a horse he trains registered high levels of TCO2 in 2010.
He is no stranger to champion horses. Before there was I'll Have Another, O'Neill's claim to fame came with literally horse racing's most famous claim, Lava Man.
He claimed Lava Man for $50,000 and won a record $5,180,678 off the claim. Now, Lava Man is a stable pony and the horse that has accompanied I'll Have Another to the gate in both the Derby and the Preakness.
He also has won three Breeder's Cup races. Stevie Wonderboy won the 2005 Juvenile, Thor's Echo the 2006 Sprint and Maryfield the 2007 Filly and Mare Sprint.
O'Neill's experience with those other high-profile horses seem to have helped him as he has kept things business as usual with I'll Have Another.
Whether it becomes an issue that a workout was necessary for I'll Have Another before the Belmont or not, he kept the same routine with the horse, and that seems to have worked out thus far.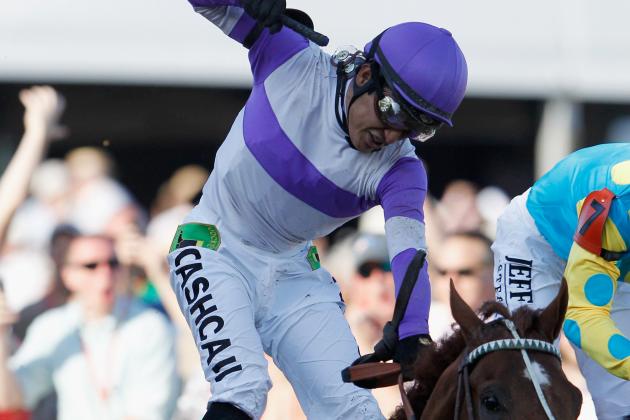 Rob Carr/Getty Images

Mario Gutierrez's rise to fame has been meteoric.
Since moving to Southern California in October 2011, he has totaled 180 mounts, 20 wins and purse earnings of $3,363,653—$2,693,600 with I'll Have Another.
The calm, cool and collected young rider seems to have ice on his veins as he has ridden I'll Have Another through four flawless wins this year.
Before his wins with I'll Have Another, his biggest wins had come at the G3 Wilshire Handicap in Hollywood Park this year and the 2009 G3 Ballerina and 2007 G3 Premiers, both at Hastings.
He will be the main factor to I'll Have Another's chances during the race—will the pressure ever get to him?
He looks to be human after all, so he must be feeling some pressure and should rise as the race draws closer.
But all he needs to do is follow O'Neill's example and keep things business as usual, and he should get the historic win come Saturday.
Easier said than done, right?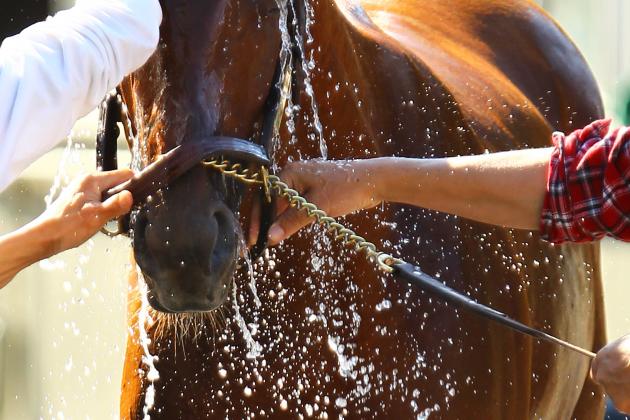 Al Bello/Getty Images

This horse seems to have many strengths and no obvious weaknesses.
The horse has been able to run on synthetic and dirt and win. The only bad race on his resume came on a sloppy track at the tough Saratoga track, but you could say that the bad start was a factor as well.
He has been able to win wire-to-wire and from a pace-stalking position, showing a great late kick on the stretch.
It seems like with having a target upfront, he makes his best effort; he should be able to do so in this race.
His only weaknesses might come related to things outside of his control. It remains to be seen whether he can make it to the 1.5 miles, but that remains true for everyone on the race.
And the fact that his jockey will once again be facing two Hall of Fame jockeys and the nation's leading rider aboard his three main rivals.
This is the once-in-a-lifetime chance to win the Triple Crown, and you can bet your bottom dollar every jockey would love to see history being made. But this is a competition, and they will make Gutierrez earn it—it will not be handed to him.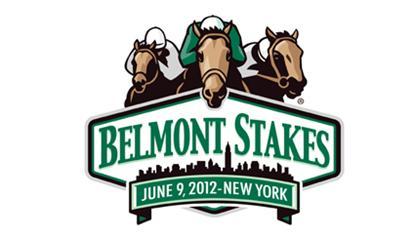 (image via BelmontStakes.com)
The race setting seems to favor I'll Have Another's chances to win.
If all goes as expected, he might settle second or third behind Unstoppable U—provided he runs—and Paynter.
Union Rags with John Velazquez should be closer this time and quite possibly to his outside. Velazquez will look to replicate his victory with Rags to Riches over Curlin, where he ran a step ahead and kept him in check all the time.
Dullahan with Javier Castellano will come flying at the end. Castellano knows this track and the distance here very well, so it will be key that I'll Have Another has enough left during Belmont's long home stretch to hold on to win.
Paynter's strategy will be key to this race. His Hall of Fame connections, trainer Bob Baffert and jockey Mike Smith—both winners here before—will make sure they have a plan to win the race.
The horse could go to the lead if Unstoppable U finally doesn't run or press the issue with I'll Have Another. They've tried twice with Bodemeister, so they have first-hand knowledge of I'll Have Another;s capabilities; he is a dangerous horse.
I'll Have Another should not press the issue and go back to what has succeeded for him thus far—stalk the pace and stay on the clear. If he does, he is the horse to beat.