Kim English: Highlights, Analysis and Pro Projections
June 23, 2012

Ed Zurga/Getty Images
Kim English is a pure shooter and not much else, it would appear, but he has great leadership qualities that make him an intriguing NBA prospect. English was one of the main contributors to a Missouri Tigers team that won the Big 12 tournament but was upset in the first round of the NCAA tournament.
English has overcome a severe speech impediment and constant teasing as a kid. He always met the challenges head on, and now he not only speaks clearly, he is perhaps the most eloquent collegiate athlete I've ever seen.
ESPN's Dana O'Neil wrote this of English:
It's impossible to believe now. After all, Kim English is the unofficial bard of basketball, able to quote John Wooden and Rudyard Kipling with equal ease.

Make a list of most likely to boot ESPN's Dan Shulman from his chair, and English's name is at the top.

Yet not too long ago, as recently as English's freshman season at Missouri, all of the words in his brain -- the intriguing insight and strong opinions that make English one of the better interviews in the game -- got stuck on his tongue. They'd come out in a rush, a stuttering mumble jumble of tangled speech sometimes impossible to decipher.
It is truly inspiring to hear him speak, and a testament to English's inner strength. Check out this post-game interview from English:
This kid is impressive.
On the court he is a 6'6", 200-pound bomber from the outside. He is a bit streaky, but he has no conscience. It's a rare trait that true shooters have and that is what English is.
Draft Express has him ranked 30th among seniors in the draft, but I'd disagree. English has some skills and qualities that will make him a success in the NBA.
Here is a scouting report on English that highlights his strengths and weaknesses.
(Height, weight and stats per statsheet.com.)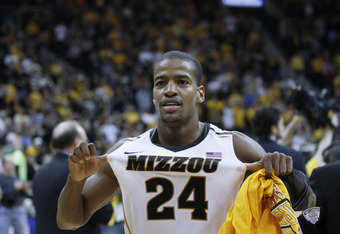 Ed Zurga/Getty Images
Profile
Height: 6'6" 
Weight: 200 pounds 
School: Missouri
Date of Birth: September 24, 1988
Best NBA Position: Shooting Guard
College Stats: (Key Stats Underlined) 14.5 PPG, 33.6 MPG, 52.1 FG%, 45.9 3FG%, 72.5 FT%, 4.2 APG, 4.2 RPG, 0.3 BPG, 1.3 SPG
Skill Grades
Athleticism - B
Size - A
Intangibles - A+
Rebounding - A-
Ball Handling - C+
Defense - A-
Shooting - A 
Passing - B
Post Game - C+
Basketball IQ - A
Upside - B-
Strengths
English is a three-point assassin. He's cold-blooded and has unlimited confidence in this aspect of his game. Because he makes a good percentage of the shots he takes from deep he has to be accounted for.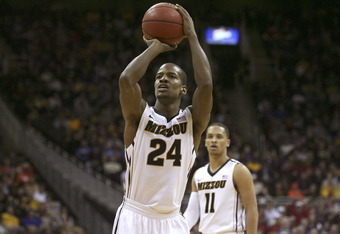 Ed Zurga/Getty Images
Something tells me he'll measure at about 6'5" in shoes and 195 pounds. That's still a decent size for the shooting guard position. He needs to be lean as much of his offensive game will call for him to run through screens to open up his jump shot. English is a winner with high-character, and a great motor.
He's smart, knows his game and plays within himself. English competes on defense, and this will help to separate him from other three-point bombers. Many that play that role are so athletically inadequate that they are defensive liabilities. This isn't English, he gets after it on defense and is better-than-average on that end of the floor.
English rebounds fairly well from the guard spot as well, as he isn't afraid to go to the boards.
English is a cold-blooded, long range bomber. Take a look at his shooting ability in this video:
Weaknesses
English is not a freakish athlete, and he doesn't have outstanding size for the position. That said, neither of those two things will cripple his overall effectiveness.
He doesn't handle the ball all that well to create his own shot, he's strictly catch-and-shoot. This limits the ways he can be effective offensively. English isn't a great passer, but he understands the game well enough to be efficient in this area. 
By simply playing to his strengths, competing hard and leading his team, English can be a solid addition to any team.
NBA Player Comparison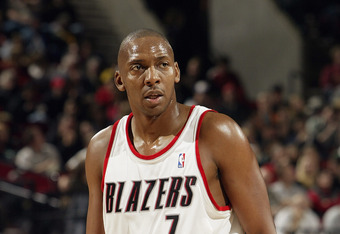 Jonathan Ferrey/Getty Images
Wesley Person With Better Defense and Great Intangibles
Wesley Person was a pure shooter, but not much else. He averaged 11 points per game while shooting 41 percent from three-point range in his 11-year career. Person was never much of a defender, but his shot kept him in the league. He is 6'6", 195, which is very close to English's measurements.
English can easily duplicate this type of production, but his motor and leadership gives him an even higher ceiling. He can be a vocal leader and an extension of his coach on the floor.
English will have a nice career in the NBA, but when it's over he'll likely be a head coach on some level.
Draft Projection:
Mid Second Round
Follow Brian Mazique and Franchiseplay.net for reactions, analysis and news from the world of sports and sports Video Games