Where Does Rajon Rondo Rank Among the Boston Celtics All-Time Great Point Guards
June 2, 2012
Jim Rogash/Getty Images
Boston Celtics point guard Rajon Rondo has been on an amazing run since the All-Star break, averaging 12.6 points, 12.9 assists and 5.9 rebounds (including playoffs) since March 2.
Rondo has certainly made his claim as one of the top point guards in the NBA today, but where does he rank among the top floor in Celtics history?
As good as Rondo is, he has a lot of competition for the top spot, as the great Celtics point guards of the past reads like a who's who list of great NBA guards.
Rondo has put together a fantastic six year career so far that includes a championship, but where does that put him among the Boston greats?
Maybe a little higher than you would think.
6. Nate Archibald
Archibald came to Boston in 1978 and spent five years in a Celtics uniform that saw him win a title and the honor of an All-Star Game MVP in 1981.
He was a pure creator and had averages of 12.5 points and 7.1 assists per game in his five seasons as a Celtic.
He currently ranks 11th on the Celtics all-time assists list with 2,563.
5. K.C. Jones
Jones was a great guard and a winner, contributing to eight championship teams in his nine seasons in the league.
He finished in the top three in assists three times, and while his career averages of 7.4 points and 4.3 assists per game aren't outstanding, Jones was a winner and an outstanding defensive point guard.
Jones currently ranks ninth on the Celtics career assists list with 2,908.
4. Jo-Jo White
White helped lead the Celtics to titles in 1974 and 1976 and ranks sixth in Boston history in assists (3,686) and 10th in scoring (13,188)
He was named NBA Finals MVP in 1976 and was a seven-time All-Star.
As a Celtic, White averaged 18.4 points and 5.1 assists per game.
3. Rajon Rondo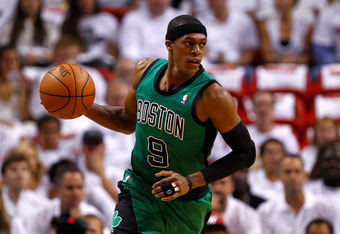 Mike Ehrmann/Getty Images
Rondo ranks just behind White in assists, but while White recorded 3,686 dimes in 717 games, Rondo has recorded 3,523 in only 437 contests.
Rondo is also the Celtics all-time leader in assists per game at 8.1.
He may not be the best shooter from behind the arc, but Rondo is a career 48 percent shooter from the floor.
He is a playmaker and an All-Star, and also one of the top defensive guards in the NBA. He is truly an all-around brilliant point guard.
2. Dennis Johnson
Johnson was a great floor general for the Celtics in the 1980's, averaging 12.6 points and 6.4 assists over 541 games with Boston—manning the point for two championship teams in Beantown.
He currently ranks eight on the Celtics all-time assist list with 3,486 and was also a fantastic defender being named to the NBA All-Defensive First Team once and the Second Team three times.
1. Bob Cousy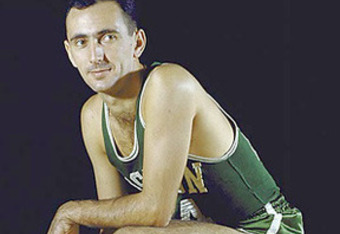 Cousy brought  flair, speed and ball control which gave the Celtics the premier backcourt of the 1950's.
He became one of the greatest playmakers in the history of the game, leading the Celtics' offensive attack in the franchise's first six NBA Championships.
Cousy led the NBA in assists eight straight times from 1952-53 to 1959-60. He still owns the Celtics' franchise record with 6,945 assists.
Named the league's MVP in 1957 and earning an All-Star MVP honors twice, he was an All-Star every year that he wore the Celtics green and white.
Quite simply, Cousy was a pioneer when the NBA needed one the most. Before he entered the league, had anyone even heard of the behind-the-back pass?
Cousy really hasn't played a game since 1963 (other than seven games with Cincinnati in 1970), and still remains one of the greatest point guards in NBA history.