NBA Draft 2012: Comparing Anthony Davis to Previous Big Men Taken No. 1 Overall
Ronald Martinez/Getty Images
Anthony Davis is expected to join a large group of big men who were drafted with the No. 1 overall pick in the NBA draft later this month. He will be under immense pressure to avoid being a bust, which many of the big men drafted first went on to become.
For every successful big man drafted No. 1 overall, such as Hakeem Olajuwon, there were players who never realized their potential, including Pervis Ellison, LaRue Martin, Michael Olowokandi and Kwame Brown.
Let's look at how Anthony Davis compares to every power forward and center taken No. 1 overall in the NBA draft since 2000.
Blake Griffin, Los Angeles Clippers, 2009
Who will have a better NBA career?
Davis and Griffin do have some similarities. Both players are very athletic, and both use this ability to make up for their lack of a fundamentally strong low-post offensive game.
Davis, however, is a much better defender than Griffin, and he will be a better shot-blocker than the Clippers star from the moment he steps onto an NBA court.
Davis has the potential to be a more complete player than Griffin in just a few years' time.
Greg Oden, Portland Trail Blazers, 2007
Ohio State star Greg Oden was supposed to be a Bill Russell-type center who dominated defensively and was a once-in-a-generation talent.
We never got to see how good he could have been because injuries continue to prevent him from being able to play a healthy season.
Davis' defensive skills are pretty similar to Oden, but the Kentucky star has much more athleticism and runs the floor better. It's hard to compare the two given Oden's injuries, however.
Andrea Bargnani, Toronto Raptors, 2006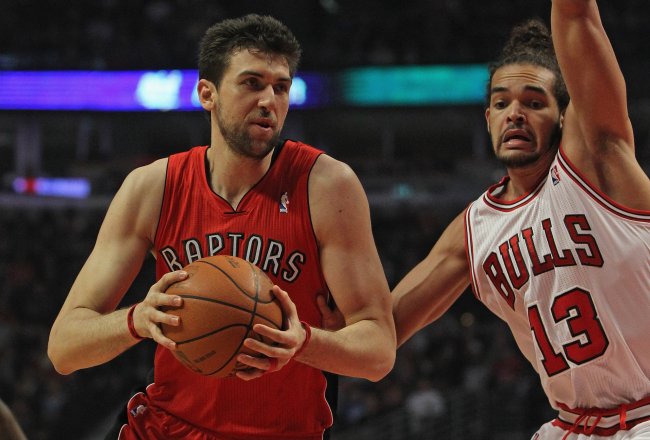 Jonathan Daniel/Getty Images
One of the reasons why the Toronto Raptors are awful right now is because they made a poor No. 1 selection in 2006 by drafting Andrea Bargnani from Italy to be a power forward in the NBA. While he shoots well from the outside, Bargnani doesn't have a good post game and does not rebound well enough. His defense is also average.
Other than shooting, Davis is a much better prospect than Bargnani in nearly every facet of the game.
Andrew Bogut, Milwaukee Bucks, 2005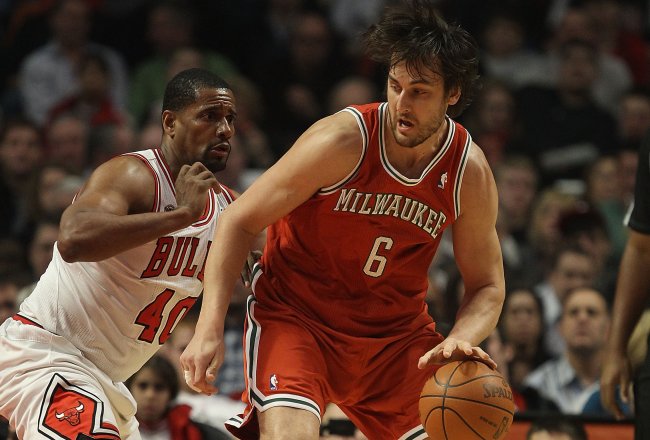 Jonathan Daniel/Getty Images
Andrew Bogut is a good player, but he isn't the dominating center that the Milwaukee Bucks thought they were drafting in 2005.
He's capable of giving you a double-double on most nights, but he won't shine offensively like some of the other high-scoring big men. His defensive ability, however, is pretty solid. He was traded to the Golden State Warriors earlier this season.
Davis doesn't have the size Bogut does, but he's a more athletic defender and will probably be a better scorer in the NBA as well.
Dwight Howard, Orlando Magic, 2004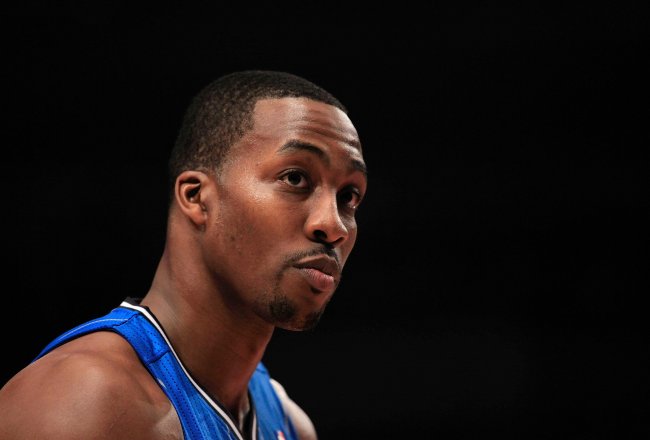 Chris Trotman/Getty Images
The Orlando Magic struck gold when they drafted Dwight Howard No. 1 overall instead of UConn star Emeka Okafor. Howard is what every team drafting someone like Davis No. 1 overall hopes he turns out to be.
Davis has the great athleticism to be able to dominate defensively like Howard in a few years, but he will need to improve if he wants to be the offensive threat that Howard is. He has the potential to be a superstar like Howard, but he will have to continue to develop his skills and add strength for that to happen.
Yao Ming, Houston Rockets, 2002
Yao Ming was a much different player than Davis. At 7'5" tall, Ming was an intimidating center who was very strong at both ends of the floor. He played a different role than what Davis will play during his career.
Davis would be smart to watch footage of Ming's low-post scoring skills so he can work on his own offensive ability.
Kwame Brown, Washington Wizards, 2001
Doug Pensinger/Getty Images
Kwame Brown was one of the worst No. 1 picks in NBA draft history, and he was one of the reasons why not allowing high school players to come directly to the NBA was a good decision.
Brown simply wasn't ready for the NBA right out of high school. But had he spent a year in college, he might have been a phenomenal pro player.
Davis will certainly end up having a better NBA career than Brown.
Kenyon Martin, New Jersey Nets, 2000
Kenyon Martin has enjoyed a good NBA career, but he hasn't been a superstar player at any point. He's been a reliable scorer and a solid rebounder, but he doesn't dominate in any facet of the game.
Davis certainly has a strong chance to have a better career than Martin and becoming a legitimate star. Davis' defensive abilities are far better than Martin's were when he came into the NBA from Cincinnati.
This article is
What is the duplicate article?
Why is this article offensive?
Where is this article plagiarized from?
Why is this article poorly edited?