NBA Playoffs 2012: Why Boston Celtics Will Come Back Against Miami
June 2, 2012

Jim Rogash/Getty Images
How would the aging Boston Celtics, seemingly on their last legs, respond after exuding every ounce of energy they had in a demoralizing overtime defeat?
Many thought their last shot of making the Eastern Conference finals a competitive series went away when they came up short in Game 2. Kevin Garnett played his most minutes ever in a Celtics uniform, Ray Allen went 40-plus minutes on an injured ankle and Rajon Rondo played the entire game.
However, the Celtics did what champions do. They faced adversity head-on and took Game 3 in convincing fashion.
Many things transpired during the game that should give Celtics fans great confidence going forward.
Kevin Garnett had a monster game. His rejuvenation continued in a 24-point, 11-rebound performance in which he also played stellar defense and did not show any fatigue.
The Celtics really focused on getting Garnett involved, unlike in Game 2. They fed him in the post all game long and he came through with a great night.
The Miami Heat have no one who can cover Garnett. He's taller, longer and more athletic than any Heat big man, and when LeBron James covers Garnett like he did at times last night, KG can just post up and shoot right over him.
Garnett needs to continue posting up and getting easy shots in the paint. Prior to Game 3, he strayed away from the basket too many times. He needs to realize that he is one of the huge advantages the Celtics have, and keep looking for his own shot. If he keeps aggressively attacking the paint, the Celtics have a great shot of coming back.
The play of Ray Allen has also been a great sign for the team. Allen has started hitting shots after playing very poorly in Game 1 of the series.
After shooting just 1-for-7 from the field in Game 1, Allen has picked it up, making five of 11 shots in Game 2 and four of eight shots in Game 3.
The Heat had started playing off of Allen early on in the series because he was clearly struggling with his shot. This allowed the Heat to clog the lane defensively and prevent Celtics penetration.
Now that Allen has started to hit the shots he usually makes, the Heat are forced to tightly defend him. This creates great spacing for the Celtics offense, and now driving lanes become clearer for players like Rondo and Pierce to get into the paint.
The Celtics' role players have faced much criticism during the postseason. After Avery Bradley's season-ending surgery, the Celtics have needed their bench to step up and produce.
In the first two games of the series, they didn't answer the call. Game 3 was a completely different story.
You always hear NBA analysts say that role players come alive on their home court. Well, that's exactly what happened for the Celtics last night.
The Celtics bench scored 19 points in Game 3. It wasn't just their scoring that helped the team, but also their defense and energy.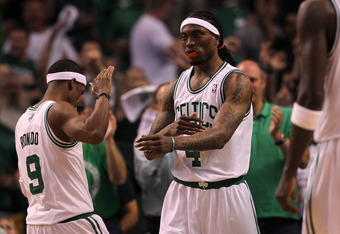 Jim Rogash/Getty Images
Keyon Dooling played tough-nosed defense on Heat star Dwyane Wade. He was a pest and an annoyance and, for one night, made Celtics fans forget about Avery Bradley's absence.
The big play for Dooling came when he blocked LeBron James and took the ball coast to coast for an easy layup.
Another role player who stepped up was Marquis Daniels. After being a non-factor in the playoffs to this point, Daniels finally came alive in last night's game.
He grabbed big offensive rebounds, made savvy cuts to the basket resulting in easy layups and played very well defensively.
If role players like Dooling and Daniels keep stepping up, the Celitcs will have a great opportunity to come back and win the series. The key will be for them to play as well as they did last night when the series returns to Miami.
The Celtics' overall effort and energy were the most encouraging signs in their Game 3 performance. No one thought the team would have much left after spewing all their energy in Game 2. The way it played last night proves that, despite its age, it will bring everything it has to every game, whether it's tired or not.
The Celtics showed their resilience in Game 3 of the Eastern Conference finals. The play of Kevin Garnett, Ray Allen and numerous role players, along with the team's high energy level, are encouraging signs that the Celtics will come back and win the series.