Kings vs. Devils: Live Score, Highlights & Analysis of Stanley Cup Final Game 2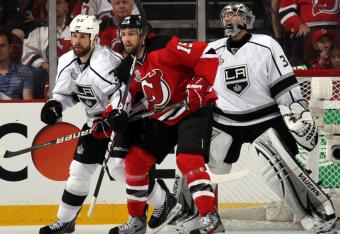 The Los Angeles Kings beat the New Jersey Devils on an overtime goal by Jeff Carter to take a 2-0 Lead in the Stanley Cup Finals.
Game 3 is set for Monday night in Los Angeles.
Scroll down for updates from throughout Saturday night's game.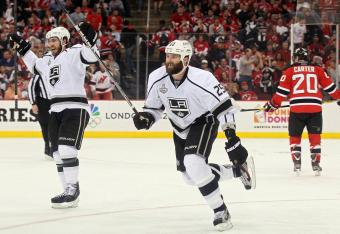 Game 3 will be played in Los Angeles, Monday night at 8:00 PM ET, 5:00 PM PT. Kings lead the series 2-0.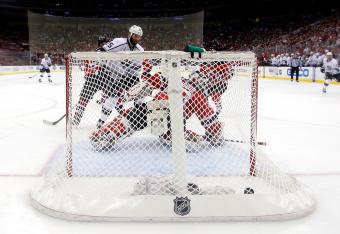 Kings now 4-0 in overtime in the playoffs this year. Devils fall to 4-3.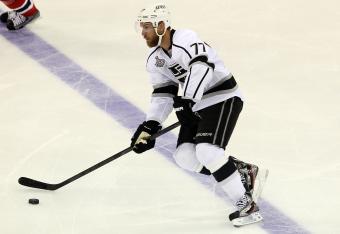 Here are the official three stars of the game as voted on by the media at "The Rock":
3. Martin Brodeur, New Jersey
2. Jonathan Quick, Los Angeles
1. Jeff Carter, Los Angeles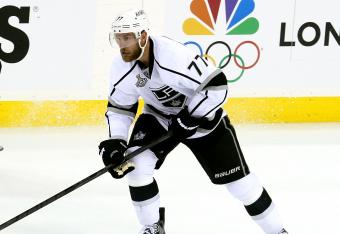 Time of the game winning goal was 13:42 of overtime. The Devils really outplayed the Kings for most of the extra session but after they scraped the ice, New Jersey seemed to lose their momentum and the Kings took advantage. Big goal for Jeff Carter. Devils now need to win four of the next five games to win the Stanley Cup and three of those games would have to be in Los Angeles.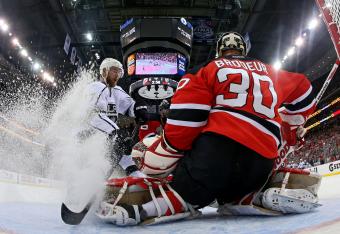 Kings 2, Devils 1 Final in OT
Kings improve to 10-0 on the road on a great goal by Jeff Carter who stayed with the puck, took a shot, circled around to regain possession and beat Brodeur. The Kings lead the series 2-0.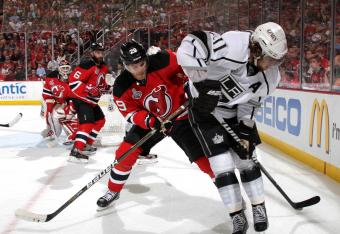 Good shift for the Kings. Kopitar was out of gas but made a good play on the forecheck to keep the puck in the Devils zone.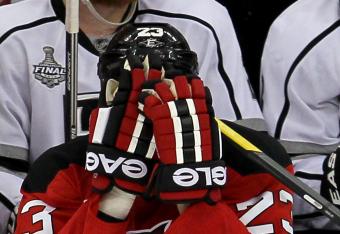 The longer overtime goes on, the less likely it is that the game ends on a pretty scoring play and the more likely it is that a goal is scored on a deflection, bad bounce or mistake.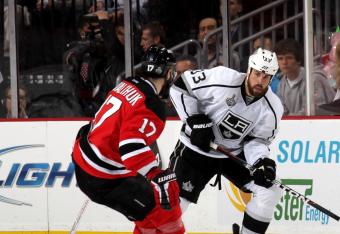 Devils top line getting good pressure as both Kovalchuk and Parise have quality chances but cannot convert. Devils have outplayed the Kings for the past five minutes of the OT. We are almost eight minutes in to the extra session.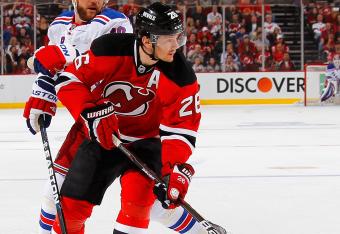 Elias with a hard shot that nearly beat Quick but the goalie just got a piece of it. Good pressure by the Devils the past two minutes.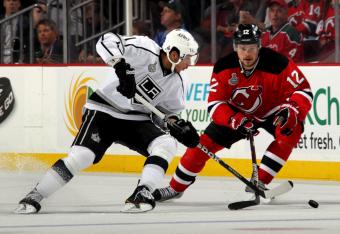 Brodeur stops Nolan from in close. Both teams have had quality scoring chances in the opening four minutes of OT. Los Angeles has had a few more so far.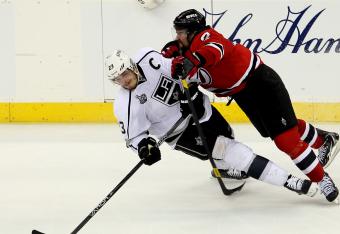 Brodeur stopped a shot from the point by Doughty. He looked behind him and wasn't sure he had it, but he did indeed make the save. Fairly wide open play early on in OT. Zidlicky had a good chance that Quick stopped.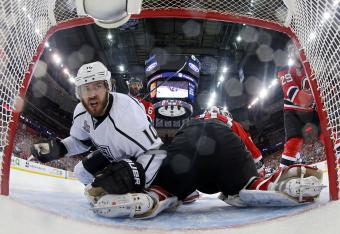 Brodeur with a pair of good saves, the second one robs Mike Richards after a turnover by Kovalchuk gave the Kings a scoring chance.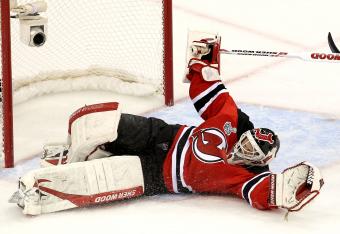 First overtime is under way in New Jersey. We have the long change in this period.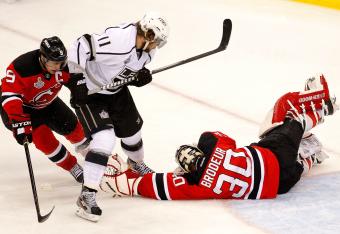 OK, readers, who do you think nets the game winner tonight? Kopitar did it in Game 1. And do you think this is over quickly like it was Wednesday or are we in for a late evening?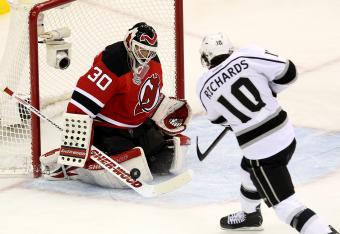 Devils 1, Kings 1 3rd Intermission
Notes and Stats:
Devils outshooting the Kings 30-21
Hits 30-28 Devils
Kings still haven't given up the puck--no giveaways after 60 minutes
Kings leaders:

Shots: Mike Richards with 4
Hits: Matt Greene and Jarret Stoll with 4 each
Blocks: Willie Mitchell with 4
Ice Time: Drew Doughty 26:28
Devils Leaders:
Shots: Zach Parise with 4
Hits: Stephen Gionta with 4
Blocks: Bryce Salvador with 3
Ice Time: Marek Zidlicky 23:17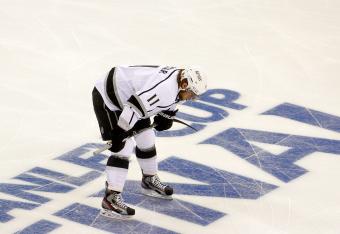 We are heading to overtime again folks. Been more than 50 years since the first two games of the Stanley Cup final went to OT.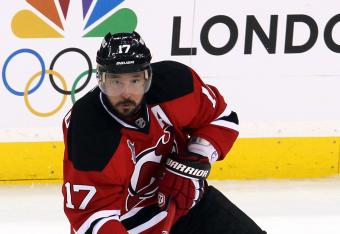 Devils power play a last chance to end the game in regulation time.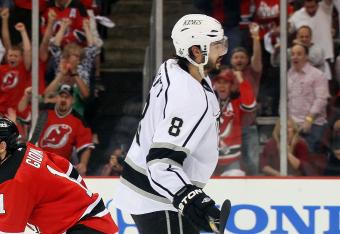 Make-up call against Doughty and now it's 4-on-4. Surprised the officials are calling it tightly in the final minutes of regulation.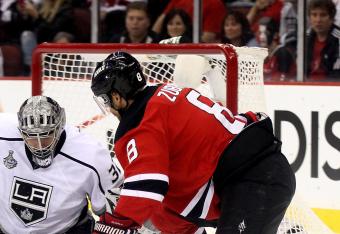 Interference call against Zubrus gives Kings a late power play. Can they finally cash in? Potential momentum busting call against Zubrus.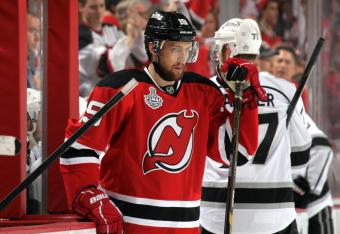 Getting the feeling that this game is tilting in favor of the Devils in the past 10 minutes. They are getting the better chances but can they end this game before we have to go to overtime?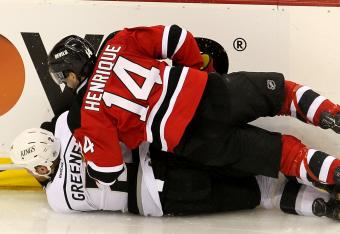 A couple of names we haven't heard much tonight and it's surprising to me. Dustin Brown and Adam Henrique.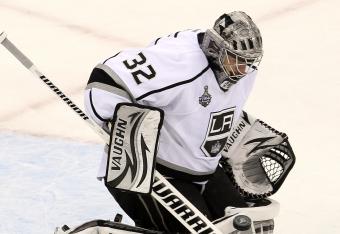 Elias gets away with what should have been goalie interference. Good rule that they now stop play when a goalie's mask comes off. Hard to believe goalies used to play without masks until the 60s. As Gump Worsley used to say, "my face is my mask."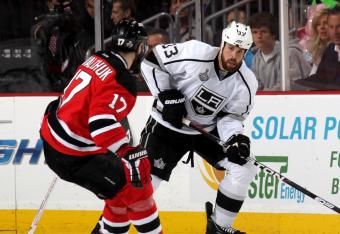 The way these two goalies are playing and the way these two teams play, whoever scores the next goal will almost certainly win the game. It's not sudden death yet, but it's awful close. Who will step up and be the hero?
Brodeur stacks the pads and stops Kopitar on a good scoring chance. Not too many goalies stack the pads all that often these days, Brodeur does it as well as anybody in the game.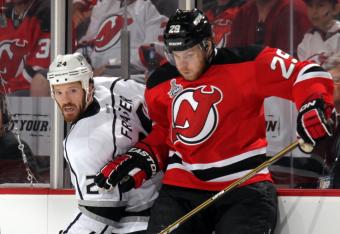 Physical shift out there for both fourth lines. Familiarity does breed contempt and these two teams are growing not to like each other more and more.
This article is
What is the duplicate article?
Why is this article offensive?
Where is this article plagiarized from?
Why is this article poorly edited?