Missing Pieces the New York Jets Could Still Get
Patrick McDermott/Getty Images
Even though the draft and the bulk of free agency is now over, there are still plenty of opportunities for each team, including the Jets, to get better.
The Jets still have a few holes to fill, and as injuries begin to pile up during training camp, the free-agent and trade markets will become active once again.
Here are some missing pieces the Jets can add before the start of next season.
Jim Leonhard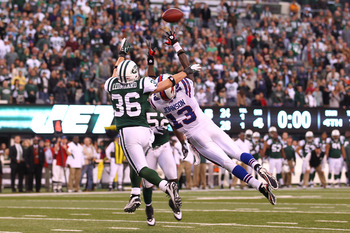 Al Bello/Getty Images
While it seems unlikely at this point, Rex Ryan has not ruled out the possibility of bringing in the veteran safety.
However, the fact that the Jets signed Yeremiah Bell before bringing in Leonhard is indicative of how they feel about Leonhard's ability to come back at 100 percent. If there's an injury in training camp, or LaRon Landry has a setback in his recovery, then it would make sense to take another look at Leonhard.
It's also possible that the Jets are waiting until after the season starts to bring him in. By rule, if a player is under contract on opening day, their contract is then fully guaranteed. Because of the uncertainty surrounding Leonhard's health, the Jets could wait until after Week 1 to bring him in and not be on the hook for his entire salary.
The Jets don't necessarily need Leonhard, but he's a great veteran leader who knows Rex's defense like the back of his hands. At this point, the Jets need as many stabilizing forces on their team as possible.
Marcus McNeill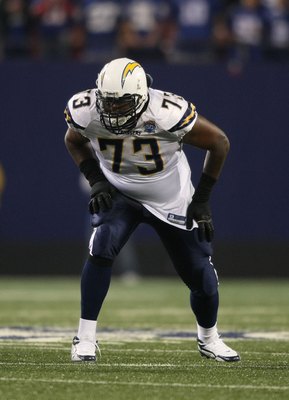 Nick Laham/Getty Images
In a cap-saving move that would free up about $10 million, the Chargers waived McNeill in early February after Jared Gaither would prove to be a cheaper and more effective option.
As of now, McNeil remains unsigned because of his injury concerns. He's a talented player who was elected to a pair of Pro Bowls, but he's too great of an injury risk to give a big contract to.
I expect him to be signed by someone before training camp, and I see no reason why the Jets should not at least consider to give him a shot to prove he's healthy. Even though he has played left tackle in the NFL, he would be better than anything the Jets currently have at right tackle.
If he turns out to be unable to prove he can stay healthy, the Jets can always just let him go.
O.J. Atogwe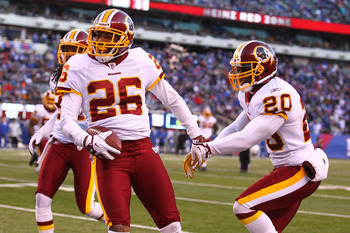 Al Bello/Getty Images
To be honest, I do not have a good reason as to why Atogwe has not been signed this late into free agency.
Injuries led to a shortened season in his one year with the Redskins, but when healthy, he has great range and is a perfect fit as a free safety, which is a position the Jets have struggled to fill.
While the Yeremiah Bell signing certainly makes some sense, I would think that Atogwe's skill set is more complementary of LaRon Landry's. In fact, the two played next to each other for most of the 2011 season for the Redskins.
So unless they did not get along for some reason, it would help make the move to a new team easier on both of them.
Max Starks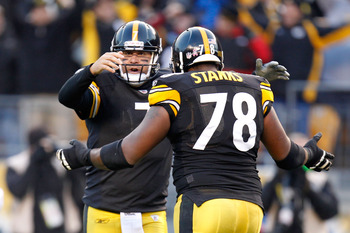 Gregory Shamus/Getty Images
While Starks is no "dancing bear" at the left tackle position, he has great size and would be a much better fit at right tackle.
However, he's still not ready to be cleared to go back onto a football field, which is why he has not been signed yet. He should be ready by the time training camp starts in two months, so assuming there are no complications from his recovery, he should be healthy for the 2012 season.
I expect the Steelers to try to bring him back to give their second-round pick Mike Adams some competition, but the Jets should be kicking the tires on Starks at the same time. While he's not the quickest, most agile tackle out there, he can excel as a right tackle.
Visanthe Shiancoe
Adam Bettcher/Getty Images
Outside of Dustin Keller, the Jets do not have any proven commodities at tight end.
Jeff Cumberland started to come on a receiving tight end last offseason, but an injury in a preseason game sidelined him for all of 2011.
With Tony Sparano in charge of the offense, expect the Jets to want to use more two-tight end sets. While Shiancoe is a better receiver than he's a blocker, he provides athleticism to a position that's lacking in that category.
Dwight Freeney (via Trade)
Jed Jacobsohn/Getty Images
Despite the fact that the Jets picked up a pass-rusher in the draft by selecting Quinton Coples, they lack an edge rusher who can play on every down.
Even though Freeney is 32 and has always been as base 4-3 defensive end, Rex Ryan will find a way to use him.
Meanwhile, the Colts, who are going through a major youth movement, seem willing to part ways with Freeney in exchange for future draft picks. It makes little sense to keep an aging star on a team that is still a few years away from being competitive.
The Colts probably would have preferred to make a deal before the draft, but if the Jets are willing to make a decent offer, they will certainly listen.
Jerry Hughes (after Training Camp Cuts)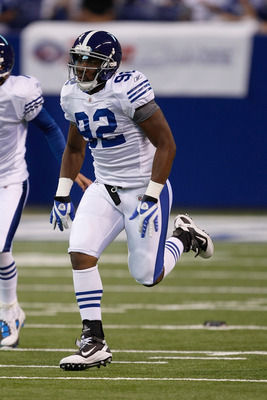 Scott Boehm/Getty Images
After being a massive disappointment as a former first-round pick, there's a decent chance that the new regime in Indy will part ways with him if he does not impress in training camp.
The undersized defensive end has ideal size to make a conversion to outside linebacker at 255 pounds.
The Jets did a similar move last offseason by adding Aaron Maybin to the roster after he was cut by the Bills. By using him to as a situational rusher, the Jets were able to get a massive boost in productivity from him. They could do the same thing with Hughes.
If Hughes still turns out to be a bust, they can part ways with him with virtually no consequences. If nothing else, more talented camp bodies will lead to an increase in competition and push the rest of the players to get better.
Albert Haynesworth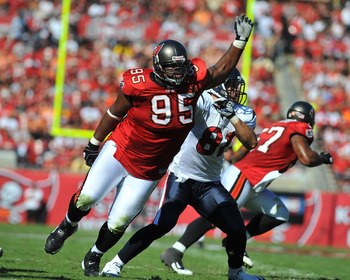 Al Messerschmidt/Getty Images
Hear me out on this one.
When at the top of his game, Haynesworth is among the best defensive lineman in the game. Granted, he has shown nothing to suggest that he can return to that level, why not kick the tires on him and see what Karl Dunbar can get out of him?
It comes as no risk to the Jets, as he will sign for the veteran minimum with no guarantee to make the final roster. If he can return to form and become an interior pass-rusher, it could be worth taking a chance on him.
Just imagine a defensive line with Coples and Haynesworth rushing on the interior, with the Jets' coverage team behind them.
The key to stopping Tom Brady is to get interior pressure, and Haynesworth could help solve that mystery.
Keep Reading

New York Jets: Like this team?