Heat vs. Celtics: Game 4 TV Schedule, Live Stream, Spread Info and More
June 2, 2012

The Boston Celtics will attempt to tie the 2012 Eastern Conference finals at two games apiece with the Miami Heat in what has the makings of one of the more promising contests this postseason.
A historic 44-point, 10-assist performance from Rajon Rondo in Game 2, a 29.9 points and 9.1 rebounds per game playoff stat line for LeBron James and an outright nasty Kevin Garnett Game 3 showing are just three of the many keys to what has been a thriller of a series.
The Heat will look to regain momentum in Game 4 after going down hard in Game 3, while the Celtics will attempt to push on the gas and take care of business at home, where they are now 7-1 this postseason.
Here is everything you need to know about Game 4 of this battle for the ages in the Eastern Conference finals.
Where: TD Garden, Boston, Mass.
When: Sunday, June 3, 2012 at 8:30 p.m. ET
Watch: ESPN
Live Stream: Go to WatchESPN.com to view game live from your computer
Listen: ESPN Radio, 93.7 FM WEEI in Boston, WAXY 790 AM in Miami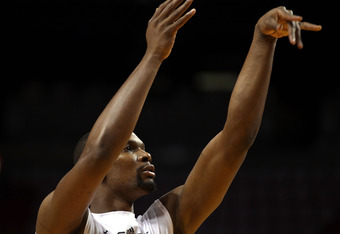 Marc Serota/Getty Images
Betting Line: According to OddsShark, the line is even for both teams heading into Game 4. 
Miami Heat Key Injuries (According to ESPN.com)
Chris Bosh (abdominal): Questionable for Game 4 according to Yahoo! Sports
Boston Celtics Key Injuries (According to ESPN.com)
Avery Bradley (out for postseason with shoulder injury)
What They're Saying in Miami
The Miami Herald has reported that Bosh participated in the team's shootaround, though coach Erik Spoelstra "still wouldn't put a firm date on the power forward's return to action."
ESPN reported Sunday morning that Bosh is still unavailable to the Heat.
Heat coach Erik Spoelstra said Saturday that Bosh won't play Sunday and reiterated the All-Star forward has not yet advanced far enough in his recovery from an abdominal strain to gauge when he might be available for game action.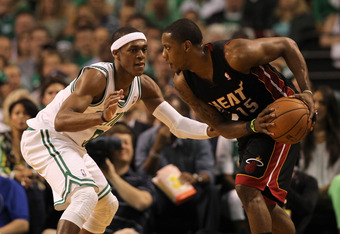 Jim Rogash/Getty Images
What They're Saying in Boston
The Boston Globe's Gary Washburn reports that Danny Ainge and Tom Heinsohn were seen chatting in Game 3, in which Ainge repeatedly said Rondo had to push the ball readily throughout the contest: "He needed to 'push the ball, push the ball, move the ball, move the ball,' which he did to perfection."
Washburn best tells the case with this line. The Celtics go as their star point guard goes, as Rondo will have to continue to put pressure on this Miami Heat defense throughout this series.
Most Important Player to Watch: Kevin Garnett, Boston Celtics
Oddly enough, after going to Garnett readily and often throughout the postseason, the Celtics backed away from that game plan in Games 1 and 2 in Miami.
Yet it was this same strategy that got them to where they are, as Garnett has boasted his best postseason play since the 2008 championship run.
Against a significantly weaker front line of this Miami Heat team, it was clear the answer was to go to Garnett. In Game 3 the C's did just that, cruising to victory in what was an impressive 24-point, 11-rebound game for the Big Ticket.
Key Matchup: Rajon Rondo vs. Mario Chalmers
Chalmers has played some of the best basketball of his career in this Eastern Conference final, scoring 14 and 22 points in his last two outings respectively.
He has looked for his jump shot and taken it strong to the basket when the team has needed it most, and that is a major reason this team is up two games to one.
Rondo, meanwhile, has been just short of spectacular, scoring 44 points in Game 2 and going down as the only player in NBA history with 44 points, 10 assists and eight rebounds in a postseason game.
It will be a battle to the end between these two, as the point guard who wins this matchup will undoubtedly decide the outcome of Game 4.
Prediction: Celtics 95, Heat 88
The Boston Celtics will handle the Miami Heat at home, tying this thriller of a series 2-2 heading back to Miami for Game 5.
Expect Paul Pierce to go off in this contest, while Rondo will continue to dominate his matchup against the less experienced Chalmers. This is a team that will play with an extra chip on its shoulder in this contest, knowing this may well be the last chance this veteran team has at an NBA title.