San Francisco 49ers: A Closer Look at Alex Smith's Stats and What They Mean
June 6, 2012

Jed Jacobsohn/Getty Images
During the middle part of last season, I wrote a similar article focusing on in-depth statistics as they relate to Alex Smith. I was called "crazy" by some San Francisco 49ers fans for predicting continued success throughout the remainder of 2011.
We all know how that story played out. It was one of those books where we were all on the edge of our seats waiting for the main character, in this case Smith, to implode. Well, as you already, know that didn't happen.
This script has already been written, but others around the NFL are looking for reasons to fine-tune it. Once a book hits the publishing house, there really isn't any time to edit the content. This is true with the story of Smith and the 49ers as the chapter has closed for the 2011 season.
Now it is time to look forward to next season, but also take a look back at how Smith has progressed as a quarterback over the course of the last season-and-a-half and what it means for 2012.
So, let's take a look.
Mistake-Free Football
Over the course of his last 22 starts, Smith has put up some crazy numbers in regards to limiting his mistakes. The veteran quarterback is currently in the midst of a stretch in which he has not thrown an interception in 232 passes, the longest such streak for any 49ers quarterback since Steve Young some 20 years ago.
During the span of these 22 starts, Smith has attempted a total of 632 passes and thrown six interceptions. For those of us who struggled in math during school, this means that Smith has thrown one interception for every 104 attempts.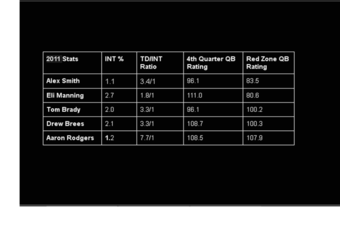 For comparisons sake, the following quarterbacks put up these numbers in 2011.
Aaron Rodgers: one interception per 83.7 attempts
Tom Brady: one interception per 50.9 attempts
Drew Brees: one interception per 47.6 attempts
Matthew Stafford: one interception per 41.4 attempts
Eli Manning: one interception per 36.8 attempts
I understand that these statistics may not mean a whole lot, but when you are more than double the pass attempts per every interception thrown than some of the elite quarterbacks in the NFL, you are certainly doing something right.
Smith threw 14 touchdowns to three interceptions in the second half of games last season and has compiled 30 touchdowns and 13 interceptions in the latter half over the course of the last three years.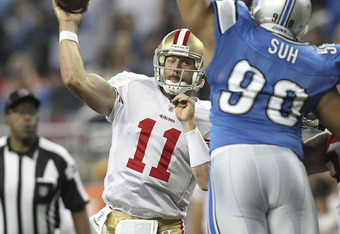 Leon Halip/Getty Images
He threw nine touchdowns and just one interception when the game was tied or the 49ers were down by one score last season. Smith's accumulative quarterback rating in those situations was an astonishing 99.7, ranking him among the best in the entire National Football League.
Now, I understand that a lot of this had to do with Jim Harbaugh running a conservative offense last season due to the lockout. That fact is not lost on me. I surely do hope that Smith throws more interceptions in 2012. This would mean that he is prepared to take more chances down the field and pull the trigger with better receiving options on the outside.
Throwing 10-to-12 interceptions isn't a bad thing throughout the duration of the season if you are willing to take more chances and gain yardage in chunks on a consistent basis.
You can fully expect the 49ers to utilize this philosophy in 2012 with the wide array of weapons they have in the receiving game and the fact that they have a full offseason to implement Harbaugh's entire playbook.
The Red Zone
The 49ers struggled a great deal in this area last season. They had major issues punching the ball in from inside the opponents 20. If it wasn't for a stout defense, this would have cost San Francisco multiple games in 2011.
However, almost as important as putting up six in the red zone is not turning it over. You just have to come away with points when in a scoring situation. Momentum is lost and games change on a dime when you turn the ball over inside the opponents' 20.
The 49ers have not done this with Smith at the helm over the course of the last few seasons.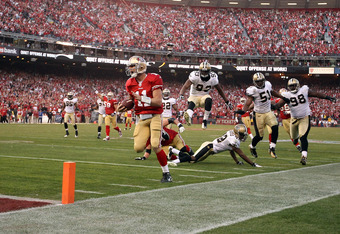 Ezra Shaw/Getty Images
He has thrown 29 touchdowns to just one interception inside the red zone over the course of the last three seasons. In fact, Smith has 40 career red-zone touchdowns while throwing just one interception in that area of the field throughout the duration of his career.
Those statistics are just mind-boggling.
Moreover, you can expect the 49ers' red-zone offense to progress a great deal in 2012. Not only have they added a ton of receiving options for Smith, they have added two solid red-zone backs in the form of LaMichael James and Brandon Jacobs. Remember, running in the red zone was the 49ers' primary issue last season.
Coming Through Late in the Season
Smith has been a pretty clutch performer over the course of the last two seasons. He has a record of 7-3 as a starter in December and January during this span, throwing 13 touchdowns compared to just one interception. Smith's accumulative passer rating is 101.2 in these 10 games.
A Three-Year Trend
What some people fail to understand is the fact that Smith has progressed a great deal over the course of the last three seasons. 2011 wasn't the only year that saw the quarterback play solid football.
Since a disastrous 2007 season that saw Smith throw a total of two touchdowns in seven starts and compile a 57.2 quarterback rating, he has been on the upswing.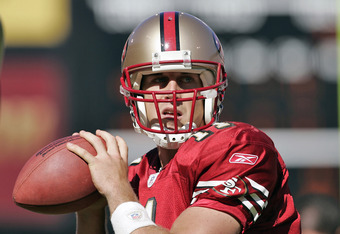 Robert B. Stanton/Getty Images
After missing the 2008 season due to injury, Smith has seen his yardage total, quarterback rating, and yards per attempt total go up each year since, while his interception percentage has dropped in every one of those seasons. 
Through this duration, the talented quarterback threw 22 more touchdowns than interceptions, while completing over 60 percent of his passes.
Despite these numbers, it is well known that 2011 was Smith's best season as he took a major step forward under Jim Harbaugh and the 49ers' new offensive coaching staff.
His numbers in every possible category were completely off the grid from previous seasons. This seems to be explained by a new scheme, competent coaching, more talent on offense and a new moxie on his part.
Expect this upward trend to continue a great deal in 2012. Smith will have even more weapons, as well as an entire offseason to learn the playbook and get a better feeling for what Harbaugh and Co. expect from him. It also wont hurt that Randy Moss, Mario Manningham, A.J. Jenkins and LaMichael James are in the fold. This brings the offense to an entirely new level.
Late-Game Success
Joe Montana previously held the 49ers' franchise record with five fourth-quarter comebacks during their 1989 Super Bowl season. That was the year that saw San Francisco go 4-2 and defeat the Denver Broncos 55-10 in the big game.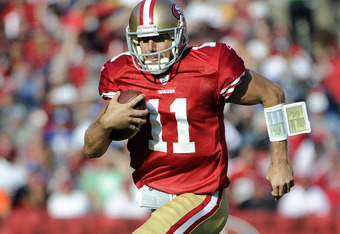 Thearon W. Henderson/Getty Images
Including the postseason, Smith led the 49ers to six fourth-quarter comebacks with four of them coming on the road. Four of these were against eventual playoff teams, including the dramatic victory over the New Orleans Saints in the postseason. That game saw Smith become the first quarterback in NFL history to lead two come-from-behind touchdown drives in the final four minutes of a playoff game.
Just Some Random Statistics
The 49ers have won 10 of their last 11 regular-season home games with Smith as their starting quarterback. In those 11 games, Smith has thrown 19 touchdowns to three interceptions and accumulated a 104.6 quarterback rating.
Smith became the first 49ers quarterback since Steve Young to avoid throwing an interception in the postseason, a feat that only Young, Montana and Smith has accomplished with San Francisco.
Overall, Smith threw five touchdowns and zero interceptions in two postseason games while accumulating a quarterback rating of 101.0, which put him just behind Drew Brees and Eli Manning and ahead of Tom Brady.
Smith seemed to get stronger as the game progressed last season. He threw seven touchdowns and just one interception after his 20th attempt and possessed a quarterback rating in triple digits.
He also started out the game extremely strong, which is really important for the consistent success of a football team. Smith did not throw a single interception in the first quarter last season.
Conclusion
Statistics are fine and dandy, but winning is all that matters. We can debate until we are blue in the face what Smith brings to the table and what he lacks. These obviously stunning stats provided above do indicate one thing; Smith isn't the primary reason San Francisco will contend for a Super Bowl Championship in 2012.
With that being said, he is one of the reasons that this team will take the next step, if they do. As much as Smith has his limitations, he is a valuable member to this team both on and off the field.
All the indications are there for Smith to continue his ascension towards solid status in 2012. He is going to have more weapons, a stronger understanding of the 49ers' offensive scheme and a higher confidence level after a relatively good 2011 season.
Now it is up to him to prove his supporters right and his skeptics wrong.