Johan Santana No-Hitter: Why It Was MLB's Most Impressive No-No in Recent Memory
June 2, 2012

Mike Stobe/Getty Images
Johan Santana had the weight of New York on his back when he took the mound each and every inning as the pressure began to mount when he threw a no-hitter on Friday night against the St. Louis Cardinals.
For that reason alone, Santana's no-hitter was a masterpiece that is going to be considered one of the more impressive and one of the most meaningful games pitched for quite a while.
The New York Mets ace threw the 20th no-hitter since the beginning of the 2006 season in an unquestionably remarkable game, completing a feat for the Mets that had previously never been done before.
Was it the best no-hitter of the ones that have been thrown in recent years?
Think about the incredible games that we have watched and marveled at over the last few years. This season alone we witnessed Jered Weaver's no-no and prior to that, Philip Humber's perfect game. Could this gem be considered a better game than Roy Halladay's no-hitter in the playoffs in 2010?
There is no way that Santana's performance stands above the four perfect games thrown over the same period of time—or is there?
There are variables that go in to every no-hitter, including the importance of the game and quality of the opponent just to name a couple. So, does the fact that Santana's no-no is the first ever for the Mets put it over the top?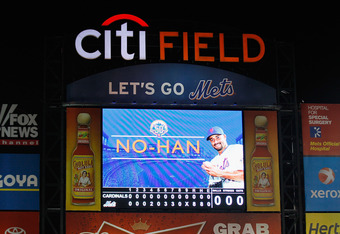 Mike Stobe/Getty Images
Yes.
There is something about the torture that the Mets have put their fans through year in and year out, having pitchers flirt with no-hitters just to ultimately fail in the end. It was becoming almost comical. 
Then one day, in their 51st season, in their 8,020th game, a pitcher that has seen his Mets career plagued by injuries, does it in his 99th start for the Mets.
In 2008, Santana's first season with the Mets, he finished the season with a torn meniscus in his left knee and underwent surgery in October of that year.
In his second season, Santana was placed on the DL on August 25 and did not return after having arthroscopic surgery in which he had bone chips removed from his left elbow.
In 2010, Santana underwent major shoulder surgery on September 14, which forced him to miss the remainder of the 2010 season and the entire 2011 season.
Many fans felt that Santana would never be the same again. He proved on Friday night that he indeed would never be the same again, he would be better.
His season has been nothing short of brilliant pitching to a 2.38 ERA and a strikeout an inning with 68 strikeouts in 68 innings.
For this one night, Santana put his shoulder surgery behind him and threw a career-high 134 pitches to complete the no-hit bid.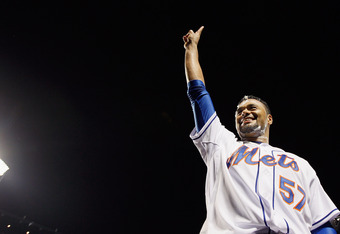 Mike Stobe/Getty Images
What else makes it more impressive than the Justin Verlander no-no or the Dallas Braden perfect game? Santana did it against the defending World Series champions and the current National League offensive leaders. 
Santana had many things going against him in this game, yet somehow found a way to get through the game and give the Mets something that has always eluded them. He pitched a game that no one will forget and 50 years from now, every Mets fan will be able to tell you what they were doing when the Mets got their first no-hitter.
The Mets will never again have to worry about when or if their first no-hitter will happen, thanks to Santana.