Johan Is the Man: New York Ace Santana Hurls First No-Hitter in Mets History
June 2, 2012

Mike Stobe/Getty Images
I still have goose bumps.
Just last week I told my 13-year-old son Bryan that I never thought I'd see a New York Mets pitcher toss a no-hitter.
Ever.
I've been a fan of the Metropolitans since 1969, and to see ace southpaw Johan Santana toss the first no-hitter in team history—in their 8,020th game—was a tremendous thrill. I felt like a kid again when Santana fired his 134th and final pitch of the night past David Freese of the Cardinals as Citi Field erupted in jubilation.
It finally happened. I still can't believe it.
In July 1969, a little-known utility player named Jimmy Qualls broke up Tom Seaver's perfect game with one out in the ninth inning with a clean opposite-field single to left field. I went to my first Mets game just the day before.
Three years later, "The Franchise" took a no-hitter into the ninth inning before LeRon Lee of the Padres broke it up with a single to center.
Tom Terrific came close again against the Cubs in Chicago. Dwight Gooden and John Maine flirted with no-no's as well.
However, it is the 33-year old Santana that will be forever etched in the minds of Mets fans and in the team history books. His recovery from shoulder surgery, which forced him to miss the entire 2011 season, now looks complete.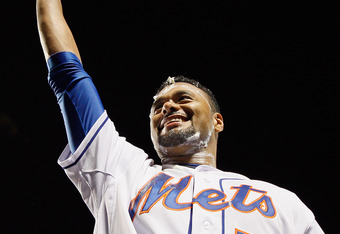 Mike Stobe/Getty Images
I thought this day would never come. It finally did. It's something that I'll remember for the rest of my life.
This is what makes us all sports fans.
Special nights like this.