Derek Wolfe Shoulders High Expectations for the Denver Broncos
June 1, 2012

Andy Lyons/Getty Images
Summer is here, and the temperature is rising almost as fast as Denver's interest in the Broncos' organized team activities.
Despite the feverish attention directed towards Dove Valley, we can't pass the gates.
No matter how much we plead, we can't watch Peyton Manning throw a perfect spiral or see Champ Bailey read the eyes of the legendary QB.
We're reduced to daily updates from the newspapers or the occasional tweet from the media. OTAs have to be the worst tease in all of sports. But don't feel too bad, Derek Wolfe knows the feeling.
Wolfe, the former Cincinnati Bearcat standout and top draft pick of the Broncos, is counting down the days to his graduation on June 9. Due to NCAA rules, he cannot join his new team until he has officially completed school.
Instead of celebrating the end of his higher education by backpacking in Asia or snorkeling the Great Barrier Reef, Wolfe is joining a Super Bowl contender. And it's not going to be a joy ride.
Wolfe is being asked to anchor down a traditionally poor run defense and elevate the play of his Pro Bowler linebackers.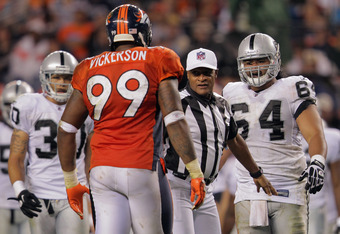 Doug Pensinger/Getty Images
In addition, he's weeks behind the rest of his teammates into delving into a playbook he has never seen. If the current Broncos are working overtime learning the new system, Wolfe's learning curve would make Donald Trump or even the late Steve Jobs raise their eyebrows.
No pressure.
In a sense, Wolfe may be a little lucky he isn't under a greater microscope due to the endless headlines churning out from the QB position.
Denver is still abuzz over the arrival of Peyton Manning and the selection of Brock Osweiler stole the majority of the draft attention. In addition, Wolfe's success this season will almost indefinitely be deflected to John Elway.
A big year from the defensive lineman would have NFL experts labeling Elway a genius, but a substandard season would open up the doors for an avalanche of criticism.
The Broncos faithful will not soon forget Elway passed on the likes of Dont'a Hightower to snag Wolfe, and a couple of impressive defensive prospects were snagged in succession after the controversial Osweiler pick.
The drama of the draft never disappoints.
But new defensive coordinator Jack del Rio believes his new d-line installment will be a solid professional. "(He's) a good, smart player who is going to play a long time," del Rio told Mike Klis of the Denver Post. "He cares. He's intelligent. He plays hard… We'll play him at both spots (on the line)…we need guys who can do multiple things."
Wolfe will certainly see ample time on the field this season, but significantly differs from some of his other teammates in the trenches.
Frontrunners to win starting jobs on the defensive line are Kevin Vickerson and offseason addition Justin Bannan.
The pair has 15 years of NFL experience between them and are eager to contribute to a perennial championship contender.
Bannan is returning to Denver after a one year stint in St. Louis, in which he watched his team flounder to a league-worst 2-14 record. And at 33 years of age, his time to capture a Super Bowl ring is running out
Kevin Vickerson enters camp with a serious chip on his shoulder after missing the majority of last season with an injury. He even willingly took a million dollar paycut to stay aboard in Denver, and provided some comments that many of his peers should take to heart.
"I didn't do nothing last year. I want to earn my money," he said in an interview with The Post. "I'd rather take a pay cut and have a job, than not take a pay cut and not have a job and have my wife and kids looking at me like, 'What are we going to do?'"
Peyton Manning is going to be the focal point of every question and comment once training camp opens next month, but the defensive line battle will be the most intriguing storyline.
Dreams of a blue and orange Super Bowl have been rampant ever since Manning declared his decision to sign with Denver, but the defensive line has been a notorious weakness for the Broncos for far too long.
A productive year from the front line would almost assure the Broncos making a deep run in the 2013 playoffs, but the success hinges on a slew of rookies and a handful of battle-hardened veterans. The Broncos boast players among the league's elite in the secondary and linebacker positions, but are sorely lacking a disruptive defensive lineman.
Derek Wolfe's quest to claim such a role will officially start within a few weeks.