Johan Santana: Twitter Celebrates Mets Ace's Historic No-Hitter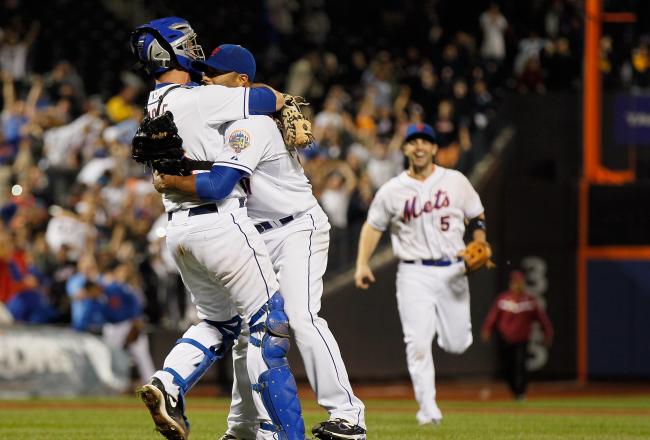 Mike Stobe/Getty Images
Johan Santana has just completed a historic no-hitter for the New York Mets—the first in the 51-year history of the franchise, as well as the first in Santana's career.
His accomplishment will lift the spirits of a Mets team that has been struggling to compete with the New York Yankees ever since they started way back in 1962.
It's hard to believe that Santana's is the first no-no in Mets history. I mean, they have played in over 8,000 games in their 51-year history. To put it mildly, this is huge.
Santana's feat gives the city and the franchise something to be proud of and cherish after a long absence of such feelings. It's been while, since 2006 actually, that they have made the playoffs, and the team has been under fire for their inability to make progress towards that goal of late.
Mets pitcher R.A. Dickey is proud of his teammate, via Twitter:
I've never been more proud of a teammate. Congrats to Johan Santana for the mets first no hitter in franchise history.

— R.A. Dickey (@RADickey43) June 2, 2012
Wait, there's a playoff basketball game on? From Jazzy Dodic, via Twitter:
Who cares about the Heat vs Celtics game....Johan Santana threw a no hitter

— Jazzy Dodic (@JazzyDodic) June 2, 2012
Someone on Instagram posted this sweet picture of the crowd reacting to the final out, via Twitter:
The @mets crowd celebrates after Johan Santana pitched the first no-hitter in the team's 50-year history instagr.am/p/LWpK9CH-op/ (via @bridif)

— Instagram (@instagram) June 2, 2012
Faux John Madden always has something funny to say about major sporting events, and he didn't shy away from taking a parting shot at the Mets, via Twitter:
Johan Santana prepped for his no-hitter by watching the Mets take batting practice.

— Faux John Madden (@FauxJohnMadden) June 2, 2012
If you think this isn't a big deal for this franchise, take a look at this message from the Mets official Twitter account:
FINALLY!!!@johansantana throws the first no hitter in #mets history!!!

— New York Mets (@Mets) June 2, 2012
Some folks are still in disbelief, like Happy Gilmore on Twitter:
Johan Santana is going to pitch a no hitter for the Mets?! Yea right, and Stevie Wonder is good at darts.

— Happy Gilmore (@_Happy_Gilmore) June 2, 2012
Former Mets' great Doc Gooden showed a ton of class and pride with this message from Twitter:
Congrats to Johan Santana for throwing the first no hitter in #Mets history! Couldn't have happened to a nicer guy, very happy for Mets fans

— Dwight Gooden (@DocGooden16) June 2, 2012
New York Mayer Michael Bloomberg's office got in on the action, posting this message on their Twitter account:
When Johan Santana threw the first no-hitter in @Mets history, we were like nyc.gov/html/film/imag…

— NYC Mayor's Office (@NYCMayorsOffice) June 2, 2012
MLB.com summed up the accomplishment nicely, via their Twitter account:
AMAZIN'! Johan Santana completes FIRST no-no in Mets history by striking out reigning World Series MVP David Freese: atmlb.com/L5UXmh

— MLB (@MLB) June 2, 2012
Now, they have something to build on going forward for the rest of the season. Some folks aren't convinced they will do make the most of this incredible feat, like Matt Binder, via Twitter:
"After this Johan Santana no-hitter, one can only wonder what's next for the Mets!" - Mets fans fooling themselves about a World Series win

— Matt Binder (@MattBinder) June 2, 2012
The celebration after the game wasn't confined to the players on the field, though, as one fan decided it would be fun to join in on the festivities. Let's just say it didn't end well for him. Thanks to Awful Announcing on Twitter for this one:
And, thanks to @JimmyTraina, video of the jorted fan and his intrusion into the Mets celebration.bit.ly/LQr8aS

— Awful Announcing (@awfulannouncing) June 2, 2012
Finally, the fun fact of the night goes to Zacklopedia, via Twitter:
Interesting fact. Johan Santana was traded from the Twins to the Mets for Phil Humber who threw a perfect game earlier this year. Good deal.

— Zack Spears (@Zacklopedia) June 2, 2012
Mets fans, let's let this one soak in for a while, shall we? Santana's historic no-hitter is something we should savor for a while.
This article is
What is the duplicate article?
Why is this article offensive?
Where is this article plagiarized from?
Why is this article poorly edited?

New York Mets: Like this team?