No-Han for Johan! Santana Pitches First No-Hitter in Mets History
June 2, 2012

Mike Stobe/Getty Images
In hindsight, it was well worth the wait.
It only took till game 8,020, but the New York Mets finally have their first no-hitter in franchise history thanks to the left arm of Johan Santana in a 8-0 defeat of the World Series champion, St. Louis Cardinals in Citi Field. 
It took Santana 134 pitches to achieve this franchise first—and the first no-hitter of his career—which is pretty astounding for a former Cy Young award winner. He finished the game with eight strikeouts, including getting World Series MVP David Freese swinging on a 3-2 count for the final out.
Santana did not get through this without a little help from his friends, as well as catching a break. Former Met, Carlos Beltran hit a liner in the sixth that should have been called fair, but it was ruled foul to initially keep the no-no intact.
Then, homegrown product Mike Baxter made a spectacular catch in left field in the seventh, robbing Cardinals catcher Yadier Molina of an extra base hit. Overall, the defense was as solid as it has been all season.
But the no call and Baxter help highlight a franchise first and a night to remember in Queens.
This night comes as another positive landmark moment for this team. In a season where there were no expectations for the Mets to contend, they find themselves believing they have as good of a shot as any to make a run and contend this season.
This win pushes their record to 29-23, a game behind the Washington Nationals. David Wright is in all-star form. R.A. Dickey is off to a 7-1 start. Youngsters like Baxter, Kirk Nieuwenhuis and Lucas Duda have brought energy and enthusiasm to a club that desperately needed a shot in the arm.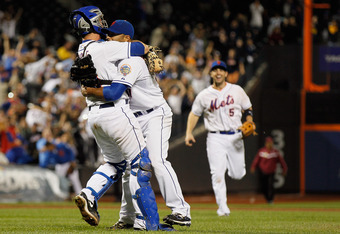 Mike Stobe/Getty Images
Manager Terry Collins believes in this team. The fans are starting to believe in this team. Even some of the preseason doubters are beginning to believe in this team!
This night may be the start of a summer revival in Queens. And after all the Mets have been through in the past several years, with the disappointments, the collapses, the cost cutting, who could have even dreamed this possible?
This fairy tale run is starting to be all too real.
But, let's not get ahead ourselves. Let's savor the taste of what occurred on this June 1st night. 
This night forever belongs to the Mets. This night forever belongs to the Mets' fans. 
This night forever belongs to Johan Santana.