Washington Redskins: Why Robert Griffin Will Provide an Immediate Improvement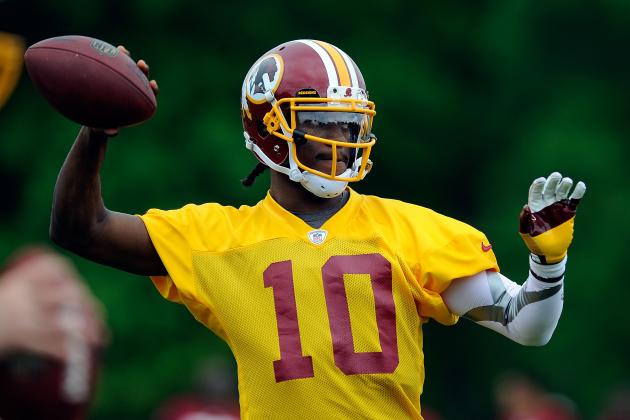 Patrick McDermott/Getty Images

I'm excited about the 2012 Redskins. I'm excited because they actually have the potential to win, and they finally have the players and staff necessary to make this happen. The team is ready to win, I'm ready to see them win, and Robert Griffin III is the man for the job.
I still remember at the beginning of last season, I was similarly excited about the future of the Redskins. I wasn't too excited about Rex Grossman—he was the big black splotch on the potential that was the 'Skins, but the rest of the team looked promising.
At the end of the disappointing 2011 season, I jokingly told my dad that he played the world's greatest prank on me by making me such a diehard fan of the Redskins (OK, maybe not much of a joke). Needless to say, I hate being let down by the 'Skins year after year after year…that goes on for a while, I think just saying the last decade or two would suffice.
It's a big statement to say that having a 5-11 record stems completely from having a terrible quarterback. So what was the big problem with Rex Grossman? Is it something that RG3 can do better at?
My gut tells me that he can. Rex Grossman had his, um…let's say weak spots. If RG3 can capitalize on some of the things that Grossman was inept at, the 'Skins should see some dramatic improvements on offense.
Begin Slideshow

»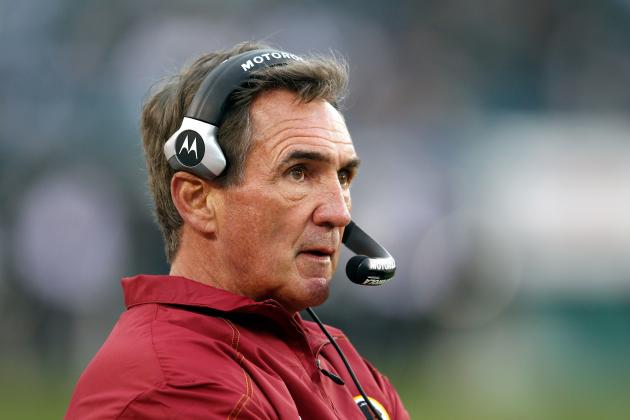 Rob Carr/Getty Images

Historically, Mike Shanahan is best while coaching running quarterbacks. Examples would include John Elway and Jay Cutler.
There could be a reason for this, Shanahan didn't play much football himself—he had a near-death experience when his heart stopped due to a ruptured kidney. Still, although his sample size is small, he was a running QB; in one game he ran 15 times for 260 yards. Quarterbacks who can make a move outside the pocket are Shanahan's best friend.
One of the biggest indicators that a football player is going to be a success is how he works with his head coach. Shanahan and Griffin have already formed a tight bond, one that would make Rex Ryan and Mark Sanchez ashamed of their relationship.
Robert Griffin III showed in college that he's extremely capable of being a moldable quarterback. He could be just what Shanahan needs to revive both the state of the Redskins franchise, and his own legendary career.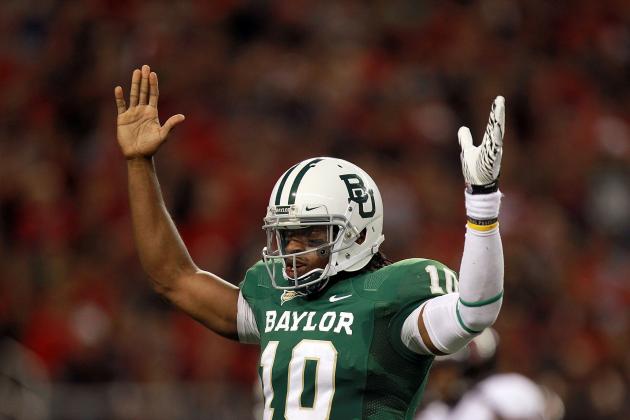 Ronald Martinez/Getty Images

When you have a quarterback who's a self-proclaimed "gunslinger," you can expect a few interceptions along the way. Unfortunately for the 'Skins, Rex Grossman was both a gunslinger and a turnover machine.
Last season as a starter, he did score 16 touchdowns. Only problem is, he also got picked off 20 times. I'd be willing to say that he completely negated himself just by his interceptions alone.
College football plays at an entirely different level than the NFL, but RG3 managed to pass for 37 touchdowns, and threw just six interceptions! I'll take that over Grossman any day.
That stat alone is enough to make even a Dallas fan a believer in the 2012 'Skins.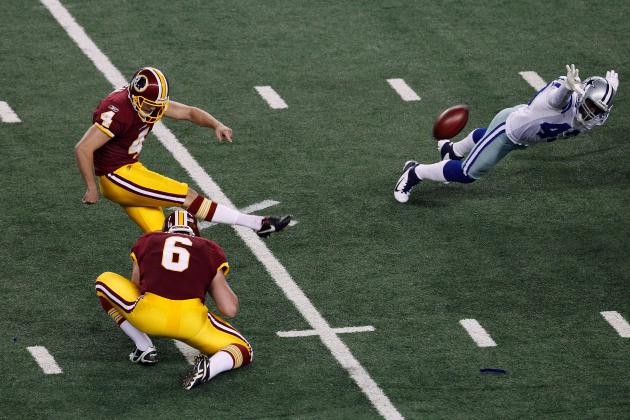 Tom Pennington/Getty Images

Ah, the dreaded red zone. I don't know about the rest of you, but every time the Redskins would get the ball into the 10-yard line, I would imagine Graham Gano putting on his helmet in anticipation of putting three points on the board.
That's not because I enjoy watching Gano kick field goals, it's because the Redskins offense couldn't do anything inside the 20-yard line.
The Redskins only averaged 1.3 touchdowns in the red zone in 2011. We were ranked 24th in the league for red zone scores per game. Not a great stat.
If RG3 can improve on that—and we know that he has the ability, too—then the Redskins have a decent chance of being a scoring threat.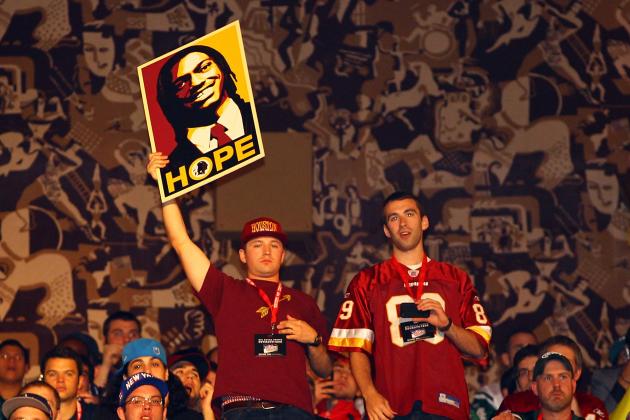 Al Bello/Getty Images

When London Fletcher announced that he would be returning to the Redskins, he made it known that it was largely due to the fact that we now have a franchise quarterback.
By being the franchise quarterback who helped bring Fletcher back, RG3 has already helped to make the team more successful in 2012.
With Rex Grossman at the helm for the Washington Redskins, the motivation level was low. It's not like anybody believed that Grossman could take the 'Skins to the Superbowl anytime soon, so he was actually dragging the team down.
Robert Griffin III is a natural leader. Combine that with his athleticism and work ethic, and just his presence will provide the team with something to believe in. That's something the Redskins haven't had in a while.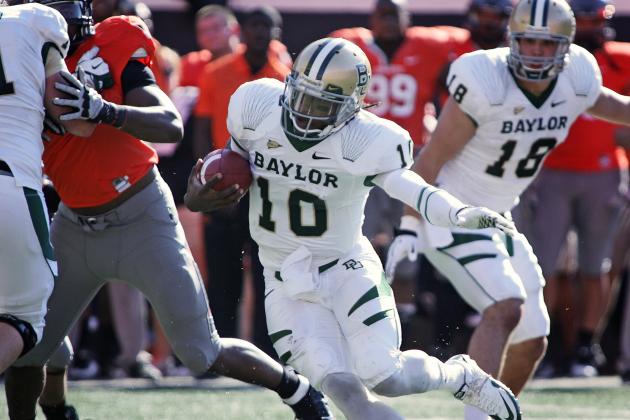 Brett Deering/Getty Images

Grossman averaged a whopping 0.6 yards per carry rushing in 2011. There's not a whole lotta "sexy Rexy" in that number.
While Grossman did throw for 226.9 yards per game, the fact that he couldn't run with the ball gave the 'Skins a distinct disadvantage in the offensive department.
In 2011, RG3 rushed for 699 yards, and averaged almost four yards per carry. If he can keep up similar stats in the NFL, he could make the Redskins running game a serious threat, as well as provide the team with a two-dimensional offense.
As for the idea that RG3 is purely a running quarterback, that's entirely absurd. His pass completion percentage consistently went up at Baylor, finishing in 2011 with a 72.4 percent.
Watch for the 'Skins running game to greatly benefit from Robert Griffin's ability to make plays with his feet.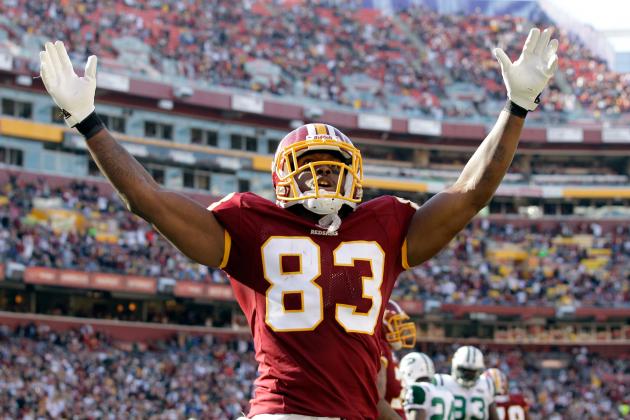 Rob Carr/Getty Images

I'm excited. This season, I'm not simply being hopeful, or making some sort of wish that the 'Skins could have a winning record.
I can't wait for September, this could finally be the year that the Redskins make their comeback.
Unless you happen to be a Dallas Cowboy troll, comment below with your thoughts!