Euro 2012, Italy vs. Ireland: Some Unholy War
June 17, 2012

Claudio Villa/Getty Images
Guinness or Peroni. James Joyce or Dante Alighieri. Keane or Pirlo. The list doesn't stop there.
In a country where the word soccer generally divides passions along a continental divide of rabid support and fierce indifference (or hatred in many cases), another sacred fault line is about to be retread.
Italy is set to meet Ireland in the Altar Bowl.
While Spain's 4-0 thrashing of Ireland ensured the Irish a one-way ticket back to the Emerald Isle, Italy must win this match to advance to the knockout stage, preferably by a wide margin. 
This match in particular has some significance in the States. Two of the U.S.'s largest immigrant bases will be squaring off just as the Azzurri and the Green Army lock noggins on the pitch in Poznan. Novenas will be offered, there will be blood.
That Ellis Island stop many of our forefathers made will come to mind, but for some of us with dual heritage, this match promises to provide more anxiety than a trip to the confessional booth.
Yes, we are Americans not Europeans, but tell that to the boys in Hell's Kitchen and Little Italy, the old heads in Pennsport and South Philly or the punters in Southie or the North End. Kelly Green and Azure Blue will be flying in these and other Irish/Italian neighborhoods across the USA.
Despite the stakes being altogether different for both sides, it's still a compelling matchup for anyone with Irish or Italian blood. Keep in mind, Irish and Italian flags essentially have the same color scheme and some have gone as far as to offer something of a mash-up.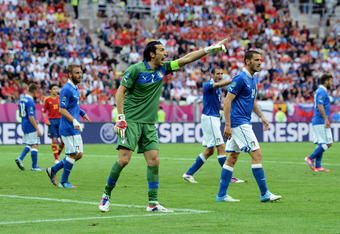 Jasper Juinen/Getty Images
The Irish didn't come to the tournament with a "we're just happy to be here" mentality, but they were thoroughly outclassed by Croatia and Spain in their first two matches.
Pride alone will be on the line for the Irish but they'd like nothing better to end their European Vacation on a high note and spoil the Italians' tourney to boot (triple entendre anyone?).
Former Italian MNT coach Giovanni Trapattoni (who may be sacked before June is through) has the luxury of fielding any type of side he so chooses. Even though the Irish are thin striker-wise, we're guessing he'll go for the gusto with a 4-3-3. Robbie Keane (L.A. Galaxy), Kevin Doyle (Wolverhampton) and perhaps Jonathan Walters (Stoke) or Shane Long (West Brom) could all feature upfront in this point-of-pride match for the Irish.
Ireland have won twice and drawn twice in 11 all-time matches against the Azzurri but the Irish won most recently (2-0 last July in Liege). The Irish also have not lost in their last three matches against Italy dating back to 2009.
Let's not forget, one of Ireland's famous footballing moments came against Italy in the 1994 World Cup.
The Azzurri will be pressing in this match, a tactic that certainly wouldn't have suited Forza sides of yesteryear. Cesare Prandelli also has question marks surrounding his striking options and as usual Mario Balotelli's status remains on the tip of many a football fanatic's tongue.
Balotelli was more assertive against Croatia but still never really troubled the keeper (despite a number of half-chances). Prandelli may look to Antonio Di Natale (Udinese) to pair with Antonio Cassano (AC Milan, aka Mr. Sensitivity) and leave a questionably fit Signore Difficile on the bench.
It may take a Vatican Council to preside over the second-guessing if the Azzurri are somehow unable to solve the Irish defense.
Something tells us the win-it-all-costs Italy will make an appearance here. A second straight major tournament exit from the Group Phase will go over about as well as generic gravy among calcio-crazed Italiani. However, parking the Ferrari and sitting on a one goal lead surely didn't work against Croatia.
The "at least their fans are good-natured" distinction is rather unfair to the struggling Irish side. With the prospect of national team duty ending for several players, expect strong performances from EPL notables John O'Shea (Sunderland), Damien Duff (Fulham) and Shay Given (Aston Villa).
Anyone who's watched a World Cup or two has read this script before. The team desperate for a result getting stymied by the team with little to play for. The final group match of major tournaments tends to conjure up bizarre theater. Exhibit Group A.
While the majority of weeping and wailing over this match will take place on European soil, Americans shouldn't be surprised to hear their Irish and Italian neighbors gnashing at the teeth over this Melting Pot meeting.
It's sure to be a matchup of skill, wit and Catholic guilt especially for anyone with both Irish and Italian lineage. Your gentle narrator includes himself in this genetic conflict so please allow one last light-hearted observation (replete with cliche and stereotype).
While the Irish have already made their exit, there's reason to believe the Euro 2012 Italian Job could be a short contract as well.
Erin Go Bragh/Forza Italia.