MLB Draft 2012: Is It Actually Possible to Scout Courage in Draft Prospects?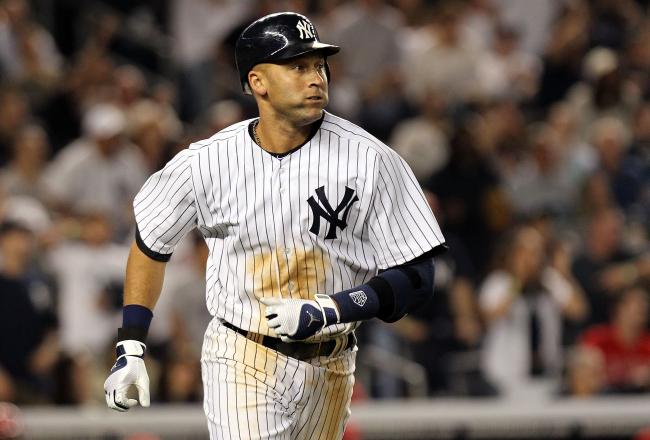 Did the Yankees know that Derek Jeter was going to be an all-time great, or did they just get lucky?
Nick Laham/Getty Images
Baseball scouts look for certain things in young ballplayers.
The list begins with the five tools: Can he run? Can he throw? Can he field? Can he hit? Can he hit for power? Pretty basic stuff.
Then, there's all the other stuff that has less to do with talent and more to do with how the player operates upstairs. Does he have a good work ethic? Is he driven to succeed? Does he have "the good face?"
The New York Yankees look for something else that's more specific to the organization. They look for players who have the courage to be Yankees.
Such is the gist I got from a Thursday article by Bryan Hoch of MLB.com. In it, Yankees vice president of amateur scouting Damon Oppenheimer outlined what the organization looks for when it scouts prospects:
We're always looking to get players who can play for the New York Yankees and not just be Major Leaguers. That is our shopping list, to see who can impact us. It's not easy to be a Yankee, so sometimes we will take a little more risk to find somebody who can fit for us.

There's a big combination to be a guy that can play in New York. You have to be exceptionally talented, with high-end makeup and really special tools, because the guys that we have are guys that have All-Star potential and All-Star ceilings. We're looking for somebody that can unseat one of those guys when it's time.
So the Yankees don't just look for prospects who have the potential to be great ballplayers. They look for prospects who have the potential to be great Yankees.
This might be the most Yankees thing I've ever read about the Yankees.
My question is whether there's actually anything to this. Do the Yankees really go through the trouble of figuring out which prospects have the proper mental fortitude to play in New York, or is this just another case of the organization putting forth a pompous projection of itself?
I asked Kevin Goldstein, who writes about prospects for ESPN.com and Baseball Prospectus, via Twitter, and he indicated that this is no joke. The Yankees actually believe that it can be determined which young ballplayers are cut out to wear pinstripes.
What I don't get is how the Yankees are able to tell which youngsters are up to the task of handling the pressure of being a Yankee. I mean, let's face it, compared to football and basketball prospects, baseball prospects don't have to put up with a lot of pressure.
The NFL draws its talent from the college ranks, and virtually all of the best college players are coming from hugely successful programs with massive followings. Most of them are used to playing in front of tens of thousands of people, with a few million more watching at home. Some of the best players experience the added pressure of having to win in bowl season, a la Cam Newton in 2010 and Andrew Luck this past season.
No high school baseball prospect will ever experience the kind of pressure LeBron James experienced when he was in high school.
Stephen Dunn/Getty Images
There's probably even more pressure on elite basketball prospects. The best ballers in the country start getting media attention when they're in their early teens, and people are already projecting these kids' futures in the NBA by the time they reach the age of 18. These days, they have to play at least a year of college ball, and that environment only multiplies the pressure.
Relative to what football and basketball prospects have to go through, baseball prospects go about their business in relative obscurity. They have to perform for scouts, sure, but neither high school baseball games nor college baseball games are played in a spotlight as bright as the one that hangs over prep and college football/basketball games.
The point: The Yankees say they're looking for kids who can handle having thousands of eyes on them despite the fact the kids they're scouting aren't used to having thousands of eyes on them.
If you want to look at things from their perspective, they're looking for an elusive quality. Honestly, I think they're looking for a nonexistent quality.
I asked B/R prospects expert Mike Rosenbaum to chime in on this matter, and this is the answer he gave:
There's no way you can compare a player's composure at the amateur setting with that of a dude playing in front of a sold-out crowd at Yankee stadium.

There's a ridiculously huge difference between performing under the gun for scouts and feeling the pressure to excel because you're getting paid to do it.
My thoughts exactly. There are some things you just can't project, and a player's ability or inability to handle the bright lights of New York is one of them.
But to be fair to the Yankees, maybe we should take a look at some recent Yankees draft picks and see if they can tell us whether the organization is on to something with its approach to scouting.
For the sake of keeping this simple, let's take a look back at the Yankees' top first-round picks from the last nine years (Baseball Reference has a full list).
2003: Eric Duncan, 3B, Seton Hall Preparatory School (27th overall)
Duncan has a career .249 batting average in 10 minor-league seasons. He played his last season in the Yankees organization in 2009. He's currently in the Kansas City Royals' system. He has yet to make his major-league debut.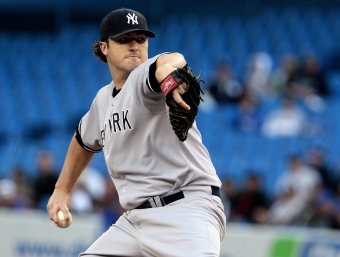 He may be a Yankee, but it's fair to ask at this point if Phil Hughes is cut out to be a Yankee.
Abelimages/Getty Images
2004: Phil Hughes, RHP, Foothill High School (23rd overall)
Hughes broke into the big leagues in 2007. He has a 1.44 ERA in 49 career relief appearances and a 4.99 ERA in 81 career starts. He won 18 games and made the All-Star team in 2010, but for the most part, his career has been a disappointment.
2005: C.J. Henry, SS, Putnam City High School (17th overall)
Henry hit .222 in four minor-league seasons. He never made it past High-A, and he's been out of Major League Baseball entirely since 2008. He tried to make it in basketball instead, playing college ball at Kansas and Southern Nazarene University.
2006: Ian Kennedy, RHP, USC (21st overall)
Kennedy didn't accomplish much with the Yankees in parts of three seasons, but he won 21 games with a sub-.300 ERA with the Arizona Diamondbacks in 2011.
2007: Andrew Brackman, RHP, NC State (30th overall)
Brackman had to undergo Tommy John surgery in 2007, but he finally appeared in the majors last season, pitching 2.1 innings in three appearances. He's currently in the Cincinnati Reds organization.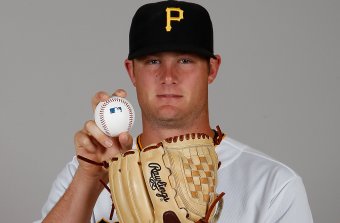 Gerrit Cole probably would have made a great Yankee, but he'll make a great Pirate too.
J. Meric/Getty Images
2008: Gerrit Cole, RHP, Orange Lutheran High School (28th overall)
Cole decided to go to UCLA instead of signing on with the Yankees. He was the No. 1 overall pick in the 2011 draft.
2009: Slade Heathcott, OF, Texas High School (29th overall)
Heathcott ran into trouble when he was suspended for five games last season for his role in a brawl. He's currently trying to recover from shoulder surgery.
2010: Cito Culver, SS, West Irondequoit High School 32nd overall)
Culver is currently with Single-A Charleston, hitting .227 in 45 games. He's made 11 errors in 44 games at shortstop.
2011: Dante Bichette Jr., 3B, Orangewood Christian High School (51st overall)
Bichette impressed in rookie ball after he was drafted last season, hitting .342 with three home runs and 47 RBI in 52 games. He's currently hitting .262 with one home run in 46 games with Single-A Charleston.
Notice a pattern?
Me neither. This is admittedly a very small sample size, but it does a pretty good job of illustrating the random success rate of recent high-profile Yankees prospects.
And therein lies the point. Scouting prospects may be an exact science (or close to it, anyway), but what happens next is anything but. Before players make it in the majors, they have to make it in the minors. Relatively few guys are able to do that, and the list of draft picks that we just went through goes to show that even the best prospects can get lost along the way.
This is the fundamental problem with the Yankees' insistence on looking for future Yankees. Instead of looking for future Yankees, they should first worry about determining which players are future major leaguers, period.
"Ah yes, but aren't you forgetting about a few people?"
Oh, right.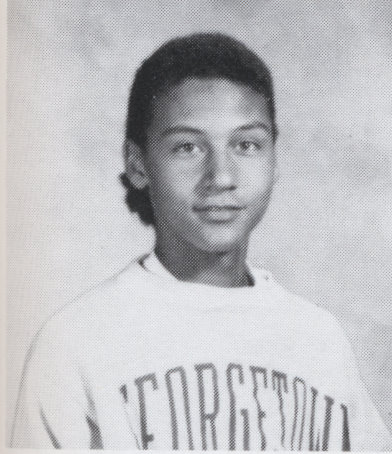 Yup, Jeter used to look like that; Photo via GreatLakesGuru.com
This whole time, you've probably been asking yourselves when I was going to get to guys like Derek Jeter, Jorge Posada and Andy Pettitte, as well as more recent draft studs like Brett Gardner and David Robertson. These guys were all drafted by the Yankees, and they turned out OK.
Indeed they did, but we're talking about five guys among thousands who have been drafted by the Yankees in the last couple of decades. The number of Yankees draft picks who have made it and stuck with the organization is pretty small.
There's a rational explanation for this. Unlike most teams, the Yankees don't build successful teams by drafting and developing. They build successful teams by throwing money around and dealing the fruits of their farm system to other teams. They never rebuild because they're always in "win now" mode.
When I say "throwing money around," I'm not just talking about high-priced free agents like Mark Teixeira and CC Sabathia. I'm also talking about guys like Mariano Rivera, Orlando Hernandez and Robinson Cano, who were all signed as amateur free agents. We can also lump Jose Contreras in with that group.
The Yankees do what they do best, and that's use the resources at their disposal. The draft is not as important for them as it is for every other team.
So when Oppenheimer says that the organization only looks for players who have the potential to be future Yankees, I'm inclined to call BS. People who work for the Yankees have to know as well as you and I do that the vast majority of players that the Yankees draft are never going to play for the Yankees. Most of them will fizzle out in the minors, and quite a few more are going to be dealt elsewhere.
Every now and then, a Yankees draft pick ends up on the Yankees. And every now and then, they get lucky.
Great Yankees don't become great Yankees because they were cut out to become great Yankees. Great Yankees are just great players who happen to wear pinstripes.
If you want to talk baseball and/or Ridley Scott films, hit me up on Twitter.
This article is
What is the duplicate article?
Why is this article offensive?
Where is this article plagiarized from?
Why is this article poorly edited?