Andre Agassi and the Boston Celtics: Finishing with Guts and Grace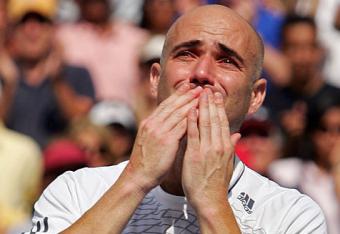 Andre Agassi bids farewell at the 2006 US Open. (Photo: Al Bello / Getty Images)

It was Sunday, Sept. 3, 2006. Andre Agassi stood grimacing on the blue court at Arthur Ashe Stadium. Twenty-one years of professional tennis in the rear-view mirror, he now stood facing the inevitable—the last point of his career.
It was a grueling three-hour match. The aging Agassi watched 27 aces sail past him and during one stretch lost 13 consecutive points.
He was in the sunset of his career and everyone knew it, including Agassi himself. He required four injections in his back just so he could stand up straight; forget returning serves reaching speeds of up to 143 miles per hour.
But the shots to dull the pain in his aching back were no longer working. He was running on pure adrenaline now. That, and the support of the crowd all around him.
It was 40-love in the final set—match point for you tennis enthusiasts. You could see the pain on his face. And you couldn't help but admire the courage, the guts, the sheer determination it took to step up to the line to face that last serve. His whole life had led up to that one point. An entire lifetime devoted to the sport. He stood there fighting back the tears, knowing that the only life he ever knew was about to end forever.
As he spun the racquet in his hand and mustered the last ounce of energy left in his 36-year-old body, the sell-out crowd of more than 23,000 stood as one. The noise continued to swell until it filled the stadium. They weren't just celebrating a gutsy match, they were celebrating a legend in his final hour. A man willing to put his own health and well-being on the line for the game he loved.
When the official came over the loudspeaker to silence the crowd, the applause only grew louder. 25-year-old Benjamin Becker stood on the other side of the net, serving for the match. He knew the crowd wasn't going to quiet down for him, not this time. And quite frankly, how could he blame them?
Seconds later, after a 133 mph ace, the match was over. Perhaps mercifully.
Agassi walked off the court for the last time, covered his face with a towel and finally let the emotions start to flow. The adrenaline now relenting, giving way to the pain he had tried to block out that afternoon.
The crazy thing was, while he sat covering his face, the crowd was still clapping, still cheering for the man who left it all on the court that day and every day before that. The ovation went on for several minutes. Even Becker stood there on the edge of the court applauding his childhood icon.
Now, I'm not much of a tennis fan. But I have to admit, I sat glued to the television from beginning to end of that match. And I got goosebumps when Agassi finally limped to center court and took the microphone to address the crowd. With a shaky voice, he said:
The scoreboard said I lost today, but what the scoreboard doesn't say is what it is I have found. And over the last 21 years, I have found loyalty. You have pulled for me on the court and also in life. I've found inspiration. You have willed me to succeed, sometimes even in my lowest moments. And I've found generosity. You have given me your shoulders to stand on to reach for my dreams, dreams I could have never reached without you. Over the last 21 years, I have found you and I will take you and the memory of you with me for the rest of my life. Thank you.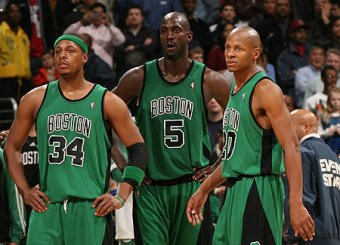 I may or may not have gotten a little misty-eyed when he took his final bow.
So, why am I recounting a story about a tennis match from six years ago? Why spend more than 600 words on a seemingly irrelevant topic?
Because it's not irrelevant. In fact, I think we're seeing a very similar scene playing out in the Eastern Conference Finals between the Boston Celtics and the Miami Heat.
The Celtics are Andre Agassi, the aging legend limping up to the line to face a younger, healthier more athletic opponent on the other side of the court. They're in the waning moments of their professional careers. Most of them anyway.
They're beat up and hobbled, and yet they're stepping up to face what many are calling the inevitable—their last minutes together as a team. One of the greatest Celtics teams of all time, mind you.
We know the laundry list of ailments the Celtics are dealing with.
Ray Allen is playing through bone spurs in his ankles. (Have you ever had a bone spur? I had one once. To say it hurts is an understatement. And I didn't have to guard Dwyane Wade when I had mine.)
Paul Pierce has a long history of knee problems. And he routinely has to get the extra fluid drained prior to the game.
Kevin Garnett plays like he's still a young man, but his body knows otherwise. On a clear breakaway in Game 7 of the previous series against Philadelphia, his leg gave out and he couldn't even elevate to finish the dunk. And remember, this is a guy who's almost seven feet tall. He's already just about at the rim when he extends his arm.
Rajon Rondo might not be one of the old guys, but he played all 53 minutes on Wednesday night and dropped a career-high 44 points on the NBA's anointed ones. Plus, he's been known to play through a minor injury or two.
Heck, even coach Doc Rivers is battling through pain. In fact, he had to get an epidural in his back just so he could walk the sideline.
And yet, despite everything that's stacked against this group, despite the bumps and bruises and bone spurs, despite the fact that the NBA clearly wants the Heat to advance and has apparently communicated this to the refs, they still limp up to the line and compete until the final whistle.
They won't go down without a fight. Not this team.
They're not going to coast through with a six-pack of beer and a bucket of fried chicken in the locker room. (Sorry, Red Sox. I'm still mad at you.) Just the opposite. This is a group of guys willing to put their health aside to go into battle together. A battle that they probably can't win. Not when they're playing against two of the best players in the world in LeBron James and Dwyane Wade, and not when those same players have the refs in their pocket.
Let's face it, this Celtics team probably doesn't have much of a chance at this point. Not the way the series is going so far. But if even if the scoreboard says they lose, we know better than that.
This is one of the gutsiest teams to ever put on those green jerseys and step onto the Garden floor. And even if they get swept out of this series, it's been a pleasure watching them night after night.
No matter what happens this weekend in Boston, we should all stand and applaud this team, knowing that they went down swinging until the final whistle.
This article is
What is the duplicate article?
Why is this article offensive?
Where is this article plagiarized from?
Why is this article poorly edited?

Boston Celtics: Like this team?