NBA Draft 2012: Teams at Top of Draft That Need Michael Kidd-Gilchrist
June 1, 2012
Kevin C. Cox/Getty Images
The Cleveland Cavaliers are one of a few teams that need to draft Michael Kidd-Gilchrist out of Kentucky. That is, if he's still on the draft board when they select at No. 4 overall in this year's NBA Draft.
Kidd-Gilchrist is an intriguing young player who offers a lot of upside. It's crazy to think he's not even 19 years old yet. His youth will only help his cause when the draft occurs on June 28, 2012. 
NBA teams love the opportunity to land young men like Kidd-Gilchrist. But there isn't a consensus as to where he'll land in the draft. Kobe Bryant is a perfect example of why it's so beneficial to land a young superstar in the making, even if they are still a bit rough around the edges.
Kidd-Gilchrist is not a polished player. He has a ton of work to do to improve his herky-jerky jump shot. Strength will also be an issue for him during his first couple of years, but the talent to become a star in the NBA is certainly there. Teams with a need at small forward will be chomping at the bit to land him in this year's draft.
Here are the teams that need him the most next season:
Cleveland Cavaliers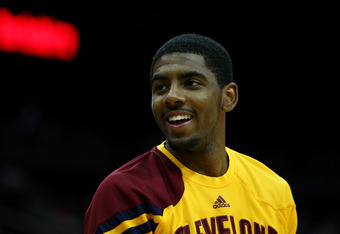 Chris Chambers/Getty Images
Kidd-Gilchrist described his relationship with Kyrie Irving, saying, "That's my best friend," according to SlamOnline.com. The two of them are former teammates from their days at St. Patrick's High School in New Jersey.
The Cavs need a small forward that can run with Irving, and putting the two former teammates together in the pros makes perfect sense. The two of them would become cornerstones for the franchise to build around for the next couple of decades—provided they both stay healthy and the team is able to retain them.
Not only would Kidd-Gilchrist be good for the Cavaliers from a basketball perspective, but the hype surrounding pairing him with Irving would be good for their bottom line, as well. 
Sacramento Kings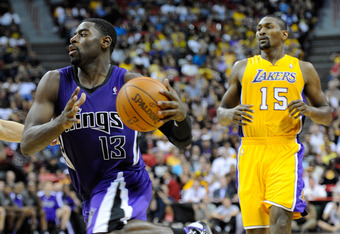 Ethan Miller/Getty Images
Imagine a lineup where Isaiah Thomas ran the point, Tyreke Evans played the two, Kidd-Gilchrist played the three and DeMarcus Cousins manned the five spot. Throw in Jason Thompson—should the team re-sign him—and you have one of the most athletic, most talented starting lineups in the NBA.
Marcus Thornton would be the team's sixth-man off the bench to provide a scoring punch, though I'm sure he'd rather be the starter. 
The Kings have a chance to become great in the next couple of seasons, provided the team makes smart choices with their young roster. Adding Kidd-Gilchrist would be the smartest thing Geoff Petrie could do if the young man is still available when the team picks at No. 5 overall.
Washington Wizards
The Wizards might be tempted to snatch up Andre Drummond out of Connecticut or Thomas Robinson out of Kansas to bolster the interior of their roster, but if they opt to go a different route, Kidd-Gilchrist would be a fantastic option.
They will determine whether or not the Cavaliers or Kings get a chance to land the young forward, as they hold the No. 3 overall selection in this year's draft.
Rashard Lewis isn't the same player he once was. Chris Singleton and Jan Vesely are decent complementary players, but neither one is going to threaten any of the league's top small forwards on either end of the court. 
It's clear the Wizards would significantly upgrade their roster if they select Kidd-Gilchrist. It will be up to general manager Ernie Grunfeld to decide whether he wants to upgrade his team on the wing or inside.