Miami Heat: True Basketball Fans Are over Hating LeBron James
June 1, 2012

Jonathan Daniel/Getty Images
I am not a Miami Heat fan.
I'm also not a LeBron James fan.
But I am a basketball fan.
And LeBron James, my friends, is one hell of a basketball player.
Arguably one of the most scrutinized athletes in history, James continuously lives his life under a media induced microscope.
However, the window for James hating closed last year.
I was indifferent to the media spectacle of "the decision" last year. It made good TV. I get that it pissed off Cleveland and the greater part of the continent of North America. While I might not have jumped on the bandwagon calling for his head, I understood it. As a culture, we need an outlet for bitterness, and LeBron was a good target.
He wanted out of Cleveland, but then again who doesn't?
Ask any current Cavalier, or any citizen for that matter, "So uh.. hey—you want to stay here or go play with two other All-Stars on a beach?"
Where's my towel?
It's not like LeBron didn't give Cleveland a try. Seven years. Seven years is what he gave them. It didn't work out.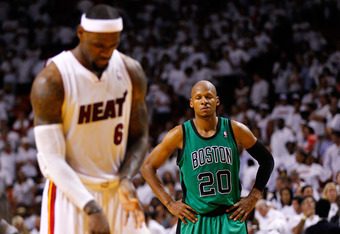 Mike Ehrmann/Getty Images
Albert Einstein said, "Insanity is doing the same thing, over and over again, but expecting different results."
James is a lot things, but I wouldn't call him insane.
Cleveland Cavalier fans: you're off the hook. When you see your ex with a sexier, more successful person, it hurts. Bitterness is a natural reaction. James broke your heart. You don't need to forgive him.
I get that.
The rest of America, you are not.
James went to the best place for him to win a championship. His biggest knock is that he doesn't have a ring yet.
So he's getting criticized for going to the best place for him to get one?
Please.
James haters had their shining moment. He failed in his first season in Miami. He made the finals, but he didn't win. I will allow it. You are allowed to cheer and feel good about yourselves last year. He failed. He put on a show with the decision and the "not one, not two, etc." He deserved the jeers—for awhile.
But hating on Lebron isn't trendy anymore. That time has expired.
The fact of the matter is were currently watching one of the best basketball players in the history of the game operate.
True basketball fans know that.
His postseason this year is ridiculous. Even if he doesn't get a championship this year, it's still just flat out ridiculous.
True basketball fans know that.
I could list his stats, but that doesn't seem to quiet the critics. It's a waste of time. Let's just suffice to say that his numbers are out of this world.
True basketball fans know that.
Lately, critics have attacked his clutchness. He has hit big, game-winning shots before, just not this month. You know who has gone a month without hitting a game-winner? Every single player that has ever played in the NBA. Even with his perceived lack of clutchness, the NBA deemed him worthy of his third MVP. 
True basketball fans know that.
It's a sad thing when so many fanhoods center around hating on one player that doesn't even play for their team. Last year, it was the "thing" to do. Fine. It was a fun story. But it's over.
Speaking from just a basketball fans' standpoint, LeBron James is the best player in basketball.
Unless you're in Miami, he doesn't play for your team.
Get over it.