NBA Playoffs 2012: Why Thunder's Scoring Depth Is Key to Taking Down Spurs
June 1, 2012

Brett Deering/Getty Images
As they returned home for Game 3, the Oklahoma City Thunder made a statement that their Western Conference Finals series against the San Antonio Spurs wasn't over just yet.
The Thunder used outstanding scoring depth throughout their roster to cruise to a 102-82 victory in Game 3 and crawl back into the series.
To have any chance at winning the series and advancing to the NBA Finals, that scoring depth will be crucial in the remainder of the series.
Looking back at the first two games, the lack of scoring depth is one thing that cost Oklahoma City a chance at stealing a game in San Antonio.
During a Game 1 loss, the Thunder received only 35 points from other than their Big Three of Kevin Durant, James Harden and Russell Westbrook. That included a big 13 points off the bench from Derek Fisher. In addition, no other Thunder player scored more than the seven points that came from Thabo Sefolosha.
That lack of scoring depth really showed up in Game 2, as Durant, Harden and Westbrook combined for 88 points, but it wasn't enough. The rest of the team scored a total of 23 points.
Yet, the Thunder as a team found their groove in Game 3. 
Their Big Three combined to score only 47 points, but nine other Thunder players found their way into the scoring column, as those nine guys combined to score 55 points, led by 19 from Sefolosha and 14 from Serge Ibaka.
In order for the Thunder to win this series, they must receive that type of production from their secondary pieces the rest of the way.
We make a big deal about how great the depth on the Spurs roster is—and deservingly so.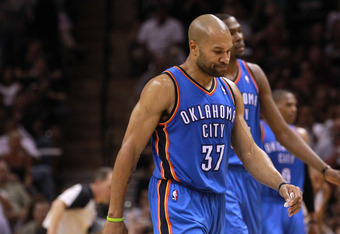 Ronald Martinez/Getty Images
San Antonio gets production up and down their roster on a nightly basis, and that showed through the first two games of the series.
But the Thunder have to match that effort by getting production from other areas. They are capable of doing it and certainly will be tested to do so.
If Oklahoma City needs to rely on only its Big Three to win this series, then they could be going home rather quickly.
But if they get the production up and down the roster that they did in Game 3, then this could turn into a series for the ages.