Euro 2012 Expert Power Rankings: Counting Down All 16 Teams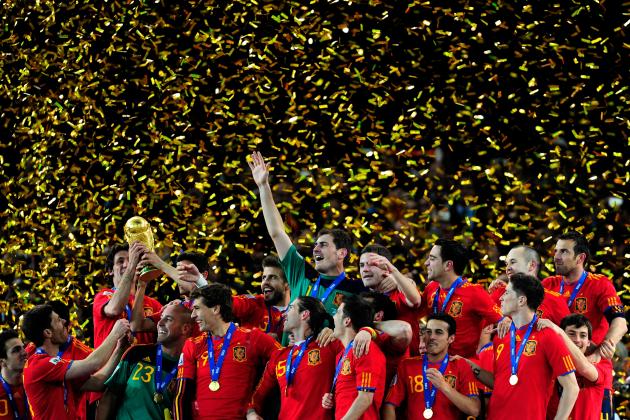 Jamie McDonald/Getty Images

Sixteen teams are competing for European glory this summer, but only one—or maybe two?—can top B/R's Euro 2012 Expert Power Rankings.
The premise here is simple: Heading into Euro 2012, which team is best? With that said, simple isn't necessarily uncomplicated.
To find out which team is best, we invited 12 B/R writers (more on them in a moment) to vote on every team, from worst to first. We used a points system, meaning a first-place vote counted as 16 points, a second-place as 15 and so on.
A perfect score (as in all 12 first-place votes for one team) was 192.
All the votes have been tallied, and now, it's time to reveal the results.
First, though, one more thing. For these rankings, we asked our panelists to vote for the teams they thought were best before the tournament. That's not necessarily the same thing as predicting who will win the tournament, though they did that too.
As you'll see, the responses were detailed and thoughtful, and we saw a wide range of opinions.
Begin Slideshow

»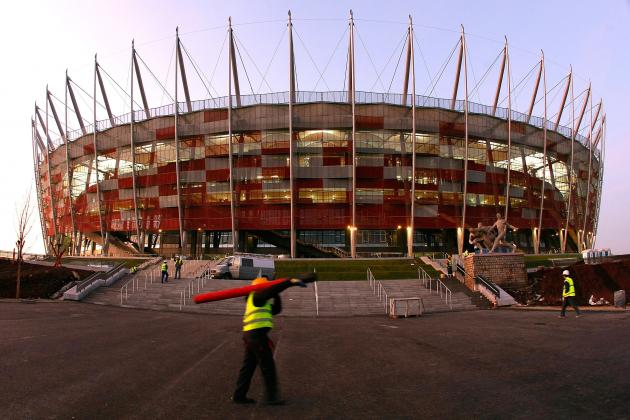 Tom Dulat/Getty Images

Here are the 12 members of the B/R panel.
• Mohamed Al-Hendy: Mo is a featured columnist, Vanderbilt undergrad and Tottenham Hotspur supporter. Follow him @Mo_Hendy.

• Xoel Cardenas: Xoel is a featured columnist who focuses mainly on FC Barcelona and La Liga. Follow him @XoelCardenas.

• Neri Stein: Neri is a featured columnist and on-call assignment editor for the B/R Writing Internship. Follow her @NeriStein.

• Sam Tighe: Sam is a featured columnist who focuses on the tactical aspect of the game. Follow him @stighefootball.

• Karla Villegas Gama: Karla is a featured columnist who writes about soccer and golf for B/R. Follow her @KarlitsV.

• Tony Mabert: Tony is football editor at Eurosport-Yahoo!, and he covered the England national team on site at the 2010 World Cup. He's also a featured columnist at B/R. Follow him @tony_mabert.

• Karl Matchett: Karl is a featured columnist and the resident Liverpool expert at B/R. Check out his website, The Liverpool Word, and follow him @karlmatchett.

• Jack Alexandros Rathborn: Jack is a featured columnist who primarily covers Chelsea and Serie A for B/R. He also covers Serie A and B for Football Radar in London. Follow him @jackrathborn.

• Dan Levy: Dan is the National Lead Writer at B/R, and from that platform, he spreads the good news of soccer. Follow him @DanLevyThinks.

• Adam Hirshfield: Adam is deputy editor at B/R. Follow him @ahirshfield.

• Will Tidey: Will is World Football Editor and World Football Lead Writer at B/R, and he's the author of Life with Sir Alex. Follow him @WillTidey.

• Michael Cummings: This is me. I'm the World Football Lead Blogger at B/R. Follow me @MikeCummings37.

So, now that everybody knows everybody, let's get to the process.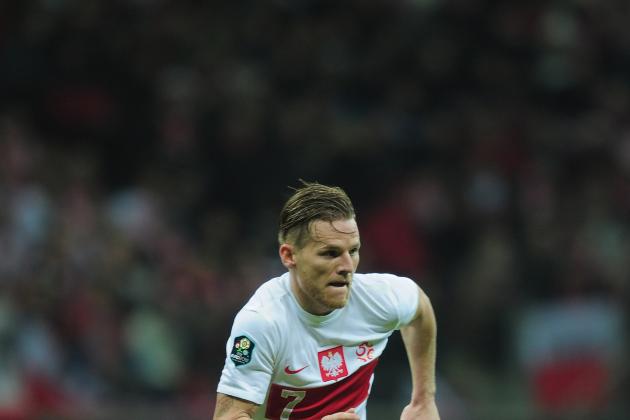 Jamie McDonald/Getty Images

Points: 34
So much for home-field advantage.
As one of the co-hosts of the tournament, Poland would seem to have at least some hope in a group with Russia, Greece and the Czech Republic.
Not so, said most of our panelists.
Poland's highest ranking was 10th, and four voters rated them dead last.
Karl: Borussia Dortmund trio Robert Lewandowski, Jakub Blaszczykowski and Lukasz Piszczek will come into the tournament on a major high after their domestic successes, but equally, the ability of Sebastian Boenisch and Wojciech Szczesny will be important. Poland must wish, however, that Laurent Koscielny had opted to play for them instead of France.
Sam: Dortmund has done them a favour, but they're no powerhouse.
Dan: Poland is ranked a ridiculous 65th in the FIFA world rankings and has two players most soccer fans have heard of: Szczesny in net and Robert Lewandowski up front. The problem is, the rosters are 23 players deep.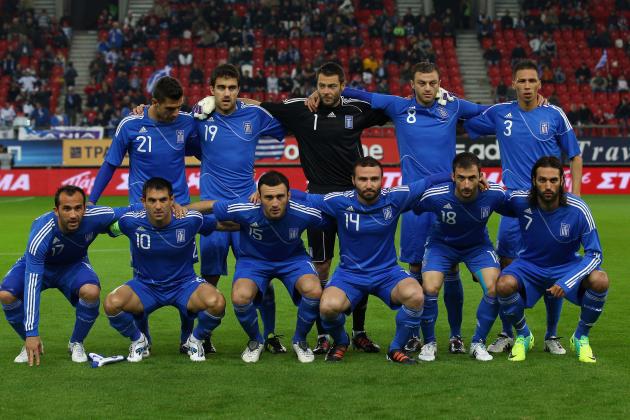 Julian Finney/Getty Images

Points: 35
The 2004 champions didn't get much love either.
Greece ranked 15th, just one point ahead of Poland, despite beating out Croatia in qualifying. Panelists cited the Greeks' aging roster and traditionally boring style of play as reasons for the low ranking.
The Greeks received three last-place votes, and their highest ranking was 11th. Our panel, however, had plenty to say.
Jack: Fernando Santos has done a marvelous job, qualifying the 2004 champions without a single defeat. Not the most talented squad, which is why they rank so low here, but as a matter of fact, due to their potentially easy group, they will have more chance to go further than many teams ahead of them on this list.
Dan: Fun fact: Number of players on Greece's roster whose names end with a vowel followed by an "S:" 22. Number of those players with a first name also ending in vowel-s: 20. That, friends, is analysis.
Will: Yes, the Greeks went through qualifying unbeaten, but they had a soft group and struggled to score goals.
Adam: Yes, they bested Croatia in their qualifying group, but there just is not much to get excited about with this team.
Karla: Nothing much has happened with Greece after the 2004 Euro. Bad results in the 2006 and 2010 World Cups and a very benevolent group at the Euro 2012 qualifying tournament are not the best indicators of success.
Tony: Scored just 14 goals in qualifying, the fewest out of any country to top their group. Their Group A fixtures against Russia, Poland and Czech Republic are hardly the hottest tickets in town. If Greece win the Euros for the second time in eight years, it will surely rank as one of the greatest achievements in international football history.
Karl: A defensive-minded Greece side rank outsiders for the title. Where have we heard that before? 2004 was a long time ago though in football standards, and I don't think we'll be seeing anything like that shock again this time out. Sotiris Ninis needs to finally show he is able to compete on the big stage and fulfill his potential. Without him, Greece have little in the way of unpredictability in attack.
Neri: This is 2012, not 2004.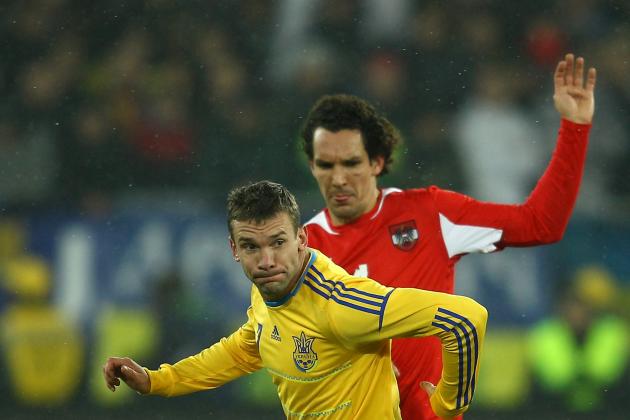 Richard Heathcote/Getty Images

Points: 38
Our other co-host fared better than Poland, but still didn't receive much love from the panel.
Ukraine, a World Cup quarterfinalist in 2006, received two last-place votes. Several panelists expressed interest in watching striker Andriy Shevchenko's (pictured) final international tournament, but few seemed to think Ukraine had any chance to advance from Group D.
Ukraine's highest ranking came from Will, who placed Shevchenko and company 10th.
Will: Ukraine don't have a great squad on paper, but their recent friendly results suggest they have a chance of making it out of the group stages. They'll play Sweden, France and England before a home crowd too. Much, as ever, depends on Andriy Shevchenko.
Mohamed: Likely to be Shevchenko's last international tournament. Lots of experienced heads, but not enough world-class talent. Watch out for Andriy Yarmolenko, though.
Jack: They could have more chance to go further due to home advantage, but on paper, it is a weak squad without any of their stronger players in the prime of their career, Andriy Shevchenko is winding down his playing days, and Anatoliy Tymoshchuk struggles to get a kick with Bayern when the squad is fit, so on paper, they would have struggled to even qualify had they not had the automatic entry as hosts.
Dan: Why do nations that would likely not qualify get to host major tournaments (Qatar, I glare in your general direction)? Ukraine has two things going for it. First, nine players suit up for Dynamo Kyiv with another five playing for Shakhtar Donetsk. They are familiar with one another. Second, Andriy Shevchenko. I like who I know, even if they are really old.
Karl: Experience will be key in a very settled squad, with Anatoliy Tymoshchuk in midfield and perhaps Artem Milevskiy, if not national hero Andriy Shevchenko, are key to any hopes they have of progressing beyond the group stage. Andriy Yarmolenko will almost certainly be the main man in linking midfield with attack and creating goalscoring opportunities for his teammates.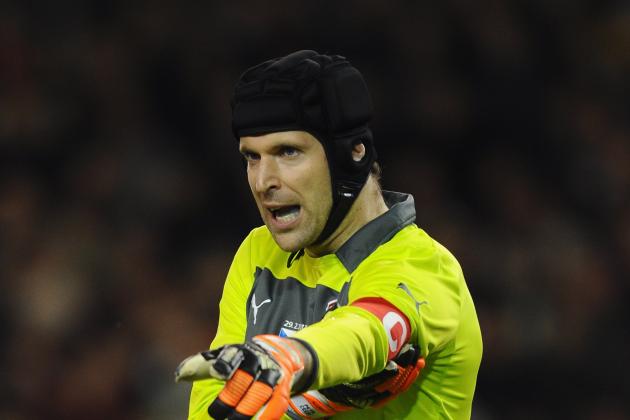 Mike Hewitt/Getty Images

Points: 47
Opinions varied widely on the Czechs, who finished second in 1996 (the country's first-ever European Championship) and third in 2004. One panelist ranked the Czech Republic last, another ninth.
Goalkeeper Petr Cech, midfielder Tomas Rosicky and forward Milan Baros supply the star power, but our panelists weren't sure that was enough.
Mohamed: Everyone's old and past their prime. Lead scorer in qualifying was a left-back. Tomas Rosicky can't carry the team by himself, and Petr Cech will have his work cut out for him.
Adam: Finished second to Spain in their Euro 2012 qualifying group. They have lots of talent, and good goalkeeping (in the form of Petr Cech) wins tournaments—just ask Chelsea.
Sam: Petr Cech can't win two tournaments on his own!
Jack: A talented contingent of players from Viktoria Plzen, an expansive side revolutionizing the approach of the Czechs. Michal Bilek will have high hopes for Vladimír Darida and Václav Pilař, who have bright futures, while Daniel Kolář is already flourishing in the national side and could finally earn a move to a bigger European club as a result of his performances at this tournament.
Tony: When your top scorer in qualifying is a defender, you know you've got problems. Penalty-taker Michal Kadlec scored four times as the Czechs finished second in Group I, way behind winners Spain, before meeting a team even more shy in front of goal than them in Montenegro.
Karl: I think this one to be the poorest Czech squad in quite some time...European champion Petr Cech will obviously be important at the back, but they lack real quality on the ball in the middle of the park compared to previous Czech sides.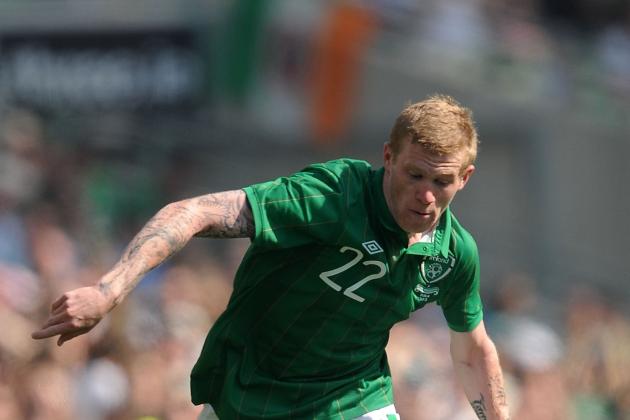 Christopher Lee/Getty Images

Points: 56
Everybody's second-favorite team will hope to keep the party going in a tough group containing Italy, Croatia and defending champion Spain.
Can manager Giovanni Trapattoni find the right combination to pull off a string of upsets? Opinions varied.
Karl: Their real wild card is James McClean (pictured), and this boy could win a point or a game all by himself—make no mistake about it. The most important player in the squad, though, is arguably Richard Dunne. He will super-glue his fellow defenders to his own boots if necessary to hold a tight line for the Republic.
Neri: The Irish will challenge anyone in terms of passion and fire, but after that, they're hugely overmatched against Spain and Italy.
Tony: Giovanni Trapattoni's side reached a major tournament off the back of a stubborn and frankly stultifying group campaign, but finishing third behind Spain and Italy would be a great success.
Sam: Defensively impressive, but toothless up front.
Mohamed: I like Robbie Keane—but he's playing in the MLS and doesn't have too much support. Will likely be everyone's second-support team, but will struggle to get out of a tough group.
Jack: Very disciplined tactically, tough to break down and with a physically strong spine to the side. Dangerous wide men in James McClean, Aiden McGeady and Damien Duff is the main strength, a position they could rival any side in the tournament.
Adam: Say what you want about the chances of the Irish, but the boys in green haven't lost since March of last year and are 8-0-5 in that time frame. They come to Euro 2012 playing very well.
Karla: After missing the 2010 World Cup, Ireland has a lot to give to the tournament. They may not have the most spectacular game but are fierce and have experienced players like Robbie Keane, John O'Shea and Damien Duff.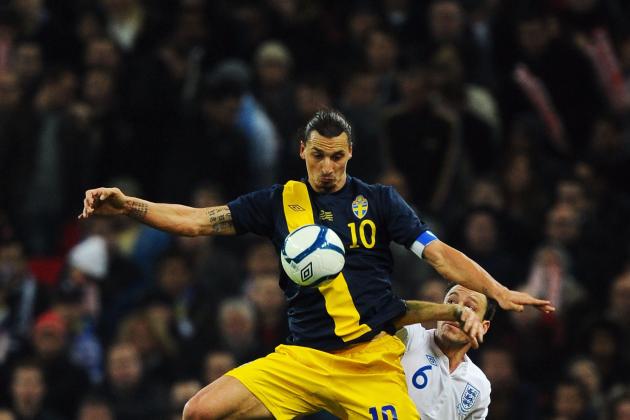 Mike Hewitt/Getty Images

Points: 70
For Sweden, it seems qualification from Group D will depend mostly on the form of mercurial striker Zlatan Ibrahimovic (pictured).
Almost everyone had an opinion on the tall Swede…
Sam: Zlatan won't turn up.
Mohamed: Ibrahimovic and 10 others. Good players otherwise, but only Ibra is world-class.
Jack: Any side with Zlatan Ibrahimovic, somebody who should be considered in the top 10 players in world football, has a chance to make some noise at a tournament. Sweden are quietly confident of getting through England, Ukraine and France in a tough group due to notoriously producing sides that suit tournament football, rather than the extended qualification process.
Dan: Maybe a bit overranked, but they are 17th in the FIFA rankings. Plus, Zlatan Ibrahimovic is the great equalizer.
Will: The Swedes scored a lot of goals in qualifying and, in Zlatan Ibrahimovic, have a potential match-winner. That said, I think they'll go out at the group stage.
Adam: Yes, they boast one of the most dangerous strikers in the world in Zlatan Ibrahimovic, but there's just not a ton to support him.
Karla: The Blue Yellows finished as best runner-up of the qualifying tournament, where they displayed a powerful attack led by Zlatan Ibrahimović. This is a very organized team, especially in the midfield.
Tony: This summer's "lucky losers," Sweden avoided the playoffs by qualifying automatically as the best runners-up in qualifying after ruining Netherlands' 100 percent record in their final group game. Their fate largely hinges around the form of star striker Zlatan Ibrahimovic, although the big forward was suspended for that crucial victory over the Dutch.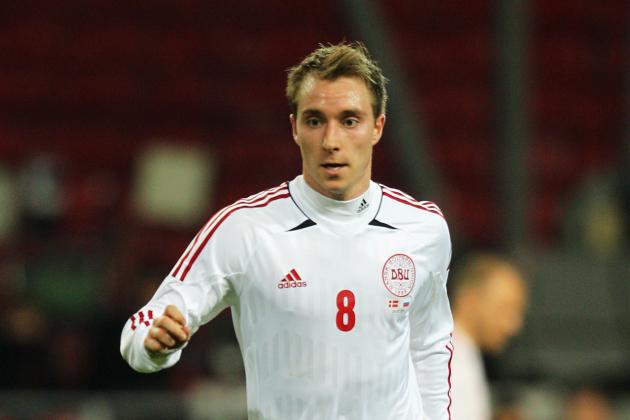 Dean Mouhtaropoulos/Getty Images

Points: 76
Conventional wisdom says Denmark will be the odd team out in Group B, this tournament's "Group of Death."
So did our panel think the Danes have a chance against Germany, Holland and Portugal?
Karla: Denmark has some great young talents like Christian Eriksen (pictured), whose speed and touch can unbalance any defense, and some veterans like Christian Poulsen.
Tony: The 1992 winners enter the tournament having topped a qualification group, which featured Portugal and fellow Scandinavian nation Norway. They meet the Portuguese again in Group B, where it is hard to see either side making it through.
Karl: They might not qualify from their group, but I'd back them to have a major say in who does make it through.
Jack: A well-oiled machine this is, with a couple of very talented young players and a potential superstar in Christian Eriksen. Denmark could potentially claim to have the best team spirit in the tournament, and that can be crucial. They can also be proud of the fact that their players are better than they appear on paper.
Will: There's not a lot to fear when you look through the Danish squad, but we shouldn't forget they beat Portugal 2-1 to win their qualifying group. That said, they surely have no hope of coming through the "Group of Death."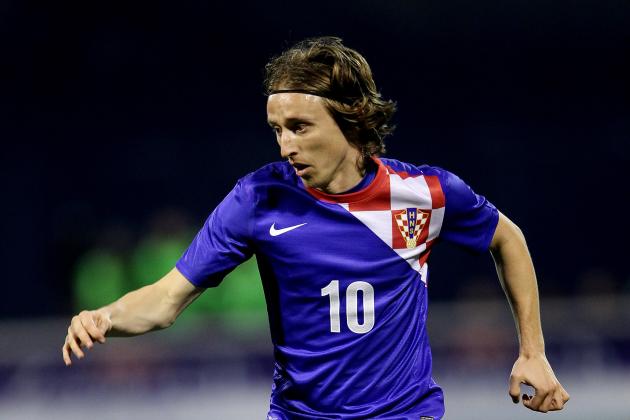 Scott Heavey/Getty Images

Points: 89
Everybody knows Tottenham Hotspur midfielder Luka Modric (pictured). But what about the rest?
Another question: Can Croatia, a 1998 World Cup semifinalist, upend either of Group C's bluebloods in Spain or Italy?
Our panelists disagreed, with Slaven Bilic's team being ranked as high as fourth and as low as 12th.
Xoel: Luka Modric needs to make a statement in this tournament. He's in his prime, and he needs to merit all this transfer rumor/great midfielder talk that surrounds him. Like Joachim Löw at Germany, Slaven Bilic has been with the team for many years, and he will want to leave the team (heading to Lokomotiv Moscow after the tournament) by winning Euro 2012.
Tony: Slaven Bilic was fortunate his team came up against Turkey in the playoffs when they were at their lowest point in more than a decade. Will be duking it out for third place in Group C with Ireland, who they play first in the tournament.
Jack: Stuttered somewhat in recent months after the side potentially peaked a few tournaments ago. Slaven Bilic has argued with the HNS (Croatian Football Association), and the players have been accused of being unmotivated due to almost all of the squad plying their trade abroad. Luka Modric is a superstar, though, who can ignite Croatia to make a run to the quarterfinals.
Karl: They have real ability on the ball in midfield, with Luka Modric, Darijo Srna, Ivan Rakitic, Milan Badelj and the like all capable of playing good football—but a poor defence and too few goalkeeping options will leave them woefully exposed unless they maintain great shape and organization.
Mohamed: Solid squad; just not packed with many world-class players, bar Modric.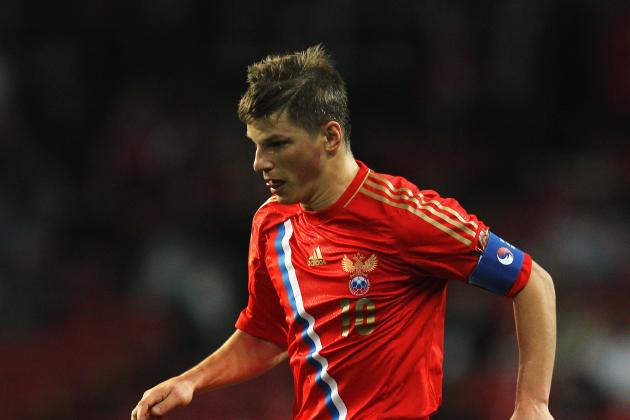 Dean Mouhtaropoulos/Getty Images

Points: 104
Russia raised eyebrows with a semifinal run at Euro 2008 and should have a relatively easy path through Group A.
But captain Andrei Arshavin (pictured) endured a rough season at Arsenal and was loaned back to Zenit St. Petersburg.
Still, the Russians earned some respect from the panel—and a whopping eight eighth-place votes (the other four were for ninth place).
Karl: Russia have a potent attack, but an average defense. Igor Akinfeev is amongst the best keepers out there, but slow players ahead of him mean the Russians will have to defend deep and look to hit on the break.
Tony: One quarter of the unedifying spectacle that is Group A, Russia should go through but will surely come unstuck against whichever side they face from Group B in the next round.
Dan: Per rankings, Russia is the best team in Group A. This is not a team I would want to play in a knockout stage either, as they have guys who can score the ball.
Jack: Domestic rivalries seem to have somewhat split the camp, though, and Dick Advocaat must bond this group. If they do, they can be a threat for the semifinals.
Neri: Should win Group A, but anyone could do that.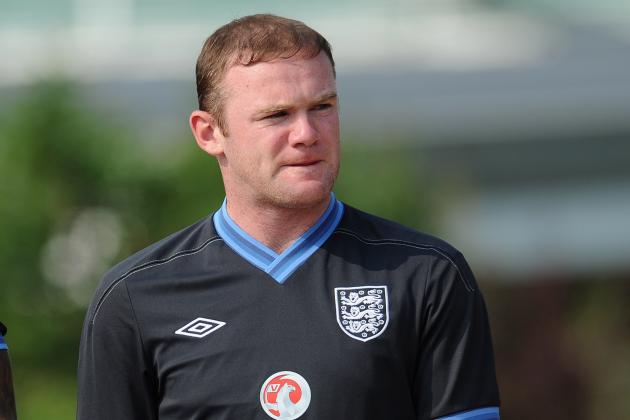 Michael Regan/Getty Images

Points: 128
Star striker Wayne Rooney (pictured) will miss England's first two games through suspension, but most of our panelists tipped the Three Lions to advance from Group D.
None, however, predicted an appearance in the final. That's probably because Roy Hodgson's team likely would play Spain or Italy in the quarterfinals.
Will: For all England's well-documented problems, they still go into this tournament with a host of proven Champions League and Premier League players. Avoiding defeat against France is key—that way, Wayne Rooney's return from suspension in England's final game will give them every chance of progress. On paper, their campaign will end at the hands of Italy or Spain in the quarters, but if Rooney starts firing, who knows?
Sam: Hodgson picked the wrong players and will use the wrong formation.
Mohamed: Not having Rooney could seriously hurt England's chances of making the knockout rounds. Also, to be honest, I think Roy Hodgson snubbed numerous good names for a bunch of players whose best days are behind them.
Jack: Ashley Cole, Wayne Rooney and Joe Hart are all world-class footballers in their positions, so you cannot ignore the fact that England contain a contingent of very talented players. However, combine this with mental fragility and the chaotic preparation, and they cannot be ranked higher than this.
Dan: There is so much drama surrounding England I just cannot see this immense conglomeration of talent doing anything but imploding. Roy Hodgson could have, honestly, 35 different starting lineups, and someone will be upset. Everyone could be upset.
Xoel: Hart is probably the best keeper that team has had in 10 years. My question for the team is, who will support Wayne Rooney in making goals?
Tony: It's a case of same as it ever was for England, who can be excused from too much scrutiny at the tournament as they are very much a work in progress. Still, Denmark rocked up in Sweden in 1992, having been on their holidays, and they won the tournament that year, so nothing is impossible no matter how crazy it sounds.
Karl: England have very talented players, but don't expect to see them playing scintillating football. They will sit deep, look to keep a compact bank on the edge of their own area and use the power of Andy Carroll and the pace of Ashley Young on the break. It very likely won't be pretty.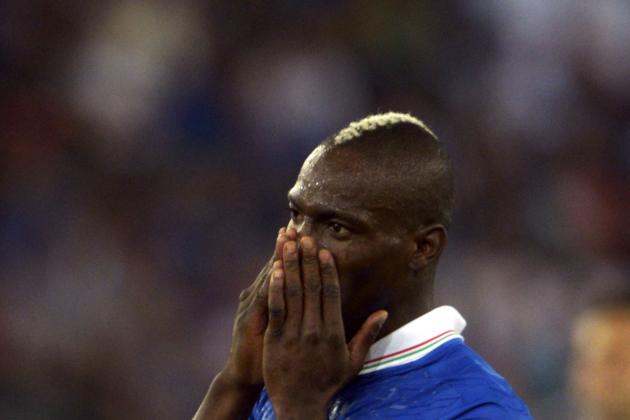 Claudio Villa/Getty Images

Points: 134
Heading into this year's tournament, Italian football is once again embroiled in a match-fixing scandal.
On the bright side, however, the Azzurri might have the tournament's most entertaining player in Manchester City forward Mario Balotelli.
Despite the growing scandal, our panelists refused to rule out an Italian run this summer.
Jack: (Manager) Cesare Prandelli is no mug, although he still has questions over his setup, with a traditional 4-4-2 diamond seemingly preferred due to the lack of versatility in the squad. They still possess some champions from the 2006 World Cup-winning side and could well have the best midfield in the tournament alongside Spain, with Daniele De Rossi and Andrea Pirlo both among the best in the world in their positions.
Dan: Who knows what players will even suit up for Italy at this point? They are in crisis, which probably means they'll win the damn thing.
Mohamed: The team has talent and potential and a decent coach in Cesare Prandelli—but all of that hasn't come together to produce great results yet. Pirlo and Antonio Cassano playing together could provide some excellent creativity for the team, though.
Will: Italy are my dark horses. With a match-fixing scandal overshadowing their preparations, it's almost as if a triumph is written in the stars for them. As usual, we can expect a highly organized defensive unit who'll be difficult to break down and hard to beat.
Karl: Italy's squad might be better set up to play with a three-man defense at present, though coach Prandelli may opt for a 4-2-3-1 to get as much support as possible to his front man, whether that be Mario Balotelli or Antonio Cassano.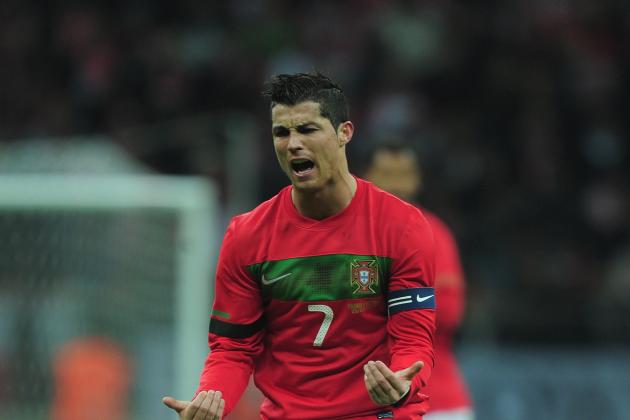 Jamie McDonald/Getty Images

Points: 138
So, Portugal is just Cristiano Ronaldo and a bunch of other guys, right?
Well, not quite. It depends on who you ask.
Karla: There's more to this team than Cristiano Ronaldo. Real Madrid defender Fábio Coentrão, Chelsea midfielder Raul Meireles and Porto winger Silvestre Varela are some of its cornerstones.
Sam: Apart from Cristiano Ronaldo, they're not hugely impressive—but he is.
Xoel: While most look to Ronaldo and the offense to make plays, I'm interested in the defense. Bruno Alves and Coentrao along with Pepe will need to hold strong, as they will see the firepower of Germany and Netherlands.
Mohamed: I've always rated Portugal highly, and even though they've had their issues, I really liked how they finished Euro 2012 qualifying with a bang. Ronaldo is world-class, but the team is loaded with star defenders and solid midfielders. They have a tough group, but you really can't rule them out with all the talent in their squad.
Karl: Nani, Rolando and Pepe will be other key figures, but the lack of a real top quality centre-forward will let them down.
Jack: They have looked a completely different side since Paulo Bento has taken over from the shambolic Carlos Queiroz. Consider the winning mentality of so many in this squad and you have a real contender.
Dan: Cristiano Ronaldo has a chance to pass Lionel Messi as the world's best player with a stellar performance (and win) at the Euros. Sure, that's not fair to Messi, who obviously isn't playing, but this Portuguese side is so talented, they have to be a favorite to win it all. Having said that, two teams in their group are ranked ahead of them, meaning they may not even make it out of Group B.
Adam: This is a fun, flashy and talented squad that includes the second-best player in the world. They're capable of scoring loads of goals and of playing tight defensively depending on their matchup. They don't have an easy road out of the first round, but if they make it, they'll be a tough out—especially if Ronaldo plays the way he did for Madrid this season.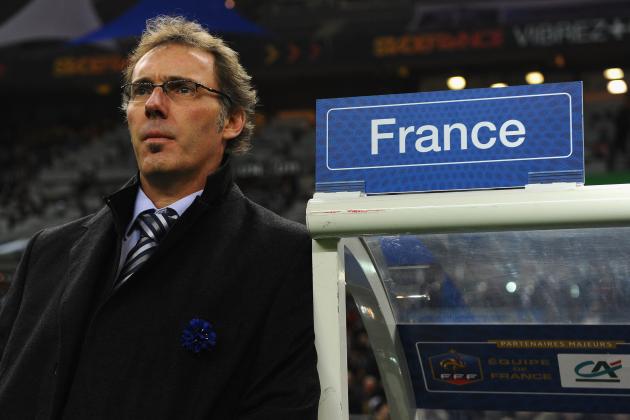 Mike Hewitt/Getty Images

Points: 147
Remember the debacle of the 2010 World Cup? Yeah, of course you do, but this is a new France, and manager Laurent Blanc (pictured) has a talented squad at his disposal.
None of our panelists rated France lower than sixth, and Blanc's team received one second-place vote.
A few panelists even predicted big things this summer for Les Bleus.
Adam: They haven't lost since Sept. 3, 2010, going 14-0-6 and beating Brazil, Germany, England and the U.S. in the process. This is a very solid all-around squad that has serious quality at every position.
Karl: After a significant period of downtime, France have pulled together a squad which is right up there with the best of them. That Yoann Gourcuff has been left out of the squad speaks volumes for the amount of attacking ability France possess.
Sam: Dark horses to win it, Blanc's team are 20 games unbeaten and impressive.
Xoel: I think France are going to win their group. This is a rejuvenated squad, and I think Karim Benzema will continue his great play from Real Madrid to Les Bleus. Laurent Blanc is more demanding than most coaches, and I'm sure he has his team mentally ready.
Jack: France have the talent to match anybody in this tournament and look to be gelling at the right time. The side has calmed down since the escapades of South Africa, with their egos dampened and a hunger to repay the French public for their embarrassment at the World Cup.
Dan: This is hard because I've fallen in love with France in this draw. They get England without Wayne Rooney and have an otherwise favorable group. On talent, they have one of the world's best keepers in Hugo Lloris and very few deficiencies at any position. ... They could either win the whole thing or burn out in group, and I wouldn't be surprised either way.
Will: In Karim Benzema, they have one of the sharpest strikers in Europe. In midfield, their riches are even more impressive: Samir Nasri, Franck Ribery, Yohan Cabaye, Hatem Ben Arfa, Yann M'Vila—the list goes on. It's also worth noting they beat Germany, in Germany, back in February.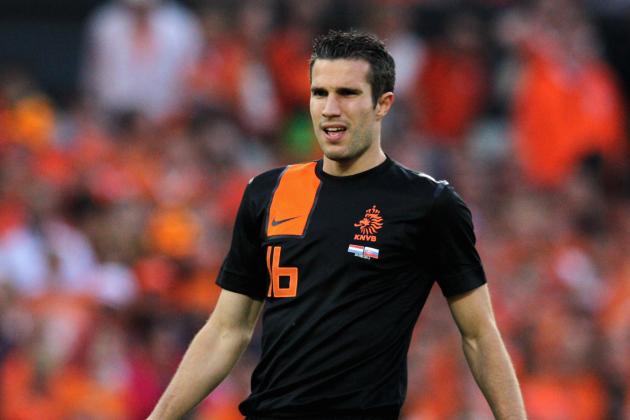 Dean Mouhtaropoulos/Getty Images

Points: 168
The Dutch finished second at the World Cup two years ago and enter Euro 2012 as one of the favorites. But none of our panelists handed the Oranje a first-place vote.
Several, however, predicted a long run for Holland this summer.
Karla: The squad is strong with a nice mix between veterans—Mark van Bommel, Rafael van der Vaart and Joris Mathijsen—and youngsters—Luuk de Jong, Gregory van der Wiel and Jetro Willems.
Dan: They were so close to winning the 2010 World Cup, and this team is probably better than the side they put on the field in South Africa. Robin van Persie (pictured) had a career year and teamed with Klaas-Jan Huntelaar; there may not be a better striking tandem in the world.
Karl: It's hard to argue against a side containing the attacking brilliance of Wesley Sneijder, Arjen Robben, Robin van Persie and several others qualifying with ease from their group, but they will need to be on their game from the first kick to make it in Group B.
Mohamed: Some people have the Netherlands winning their group, but I'm not one of them. Of course, the squad is loaded with talent, but Robin van Persie's role in the team is still a bit undefined, and Sneijder, van der Vaart and Dirk Kuyt have not had the best seasons.
Will: They're a serious threat, but a semifinal appearance is where I think it ends.
Tony: The nucleus of Bert van Marwijk's current team is largely the same as it was two years ago when they lost the World Cup final in extra time. Top scorers in qualifying, the Dutch are ranked second in the world by FIFA and cannot be discounted from the running.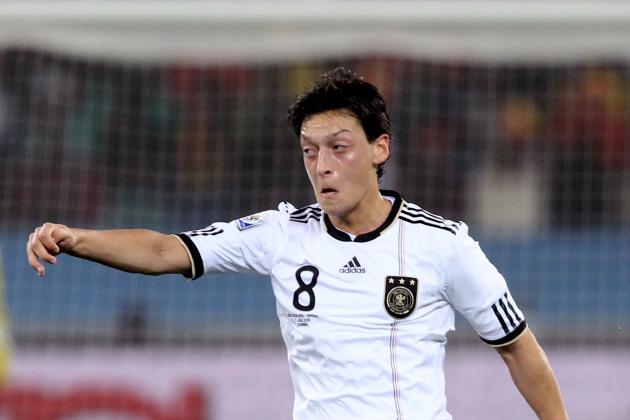 Joern Pollex/Getty Images

Points: 184
First-place votes: 6
Joachim Löw's young German squad made a somewhat surprising run to the semifinals of the World Cup two years ago before losing to Spain. The same two teams met in the Euro 2008 final, with the same result.
It's no surprise, then, that the Germans are among the favorites this summer. The squad is packed with talent, led by creative attacker Mesut Ozil (pictured) and midfield general Bastian Schweinsteiger.
Two years ago, the squad was a bit young and inexperienced. That shouldn't be a problem this time.
Germany received six first-place votes. No panelist ranked Germany lower than third.
Neri: Most complete and exciting team in the tournament. Their tournament to lose, as many of them are.
Sam: World Cup 2010 was a fantastic experiment, and Miroslav Klose still won't stop scoring. They're one of the "power three," and deservedly so.
Mohamed: My pick to win the tournament; it's now or never for the Germans. Many of the players who were in their youth in 2010 are entering their prime.
Jack: Löw has assembled a squad that at least possesses a similar amount of talent to Spain. However, they lack the experience of getting over the line. There is still plenty of time for this golden generation.
Dan: Germany is the most balanced team in the world. They have one of the world's best keepers, five defenders who could start for any club team in the world, another five or six absolute world-class midfielders and the ridiculous combination of Thomas Müller, Klose, Lukas Podolski and Mario Gomez up top.
Will: Ultimately, I think they have a little more firepower than Spain, and that will be the defining factor.
Adam: The Germans lost their last two friendlies to France and Switzerland, but this is still a potentially dominant side. If they make it out of the first round, they could go all the way.
Xoel: Joachim Löw has been with the team for eight years now, six as manager. I think people underestimate how important that is. The key player of Euro 2012 could end up being Manuel Neuer. If he plays like he did in Champions League play for Bayern Munich, you might want to start putting "Germany" on the trophy.
Karla: Every line of the squad is strong and methodical; plus, it's full of young but experienced players. The lineup includes four players from the Bundesliga champion, Borussia Dortmund, eight from Champions League runner-up Bayern Munich and two from La Liga winner Real Madrid.
Tony: Joachim Löw's young side were not even supposed to be ready for success at the 2010 World Cup, yet they stormed to the semifinals via thrashings of England and Argentina. Now, with those players two years older and the likes of Mario Götze and Marco Reus in the fray, they are well equipped to avenge their final defeat at the hands of Spain four years ago.
Karl: The stage is set for any of these talented players to go one better than they went last time around at Euro 2008, and Germany will be in the mix for a spot in the last four of the tournament.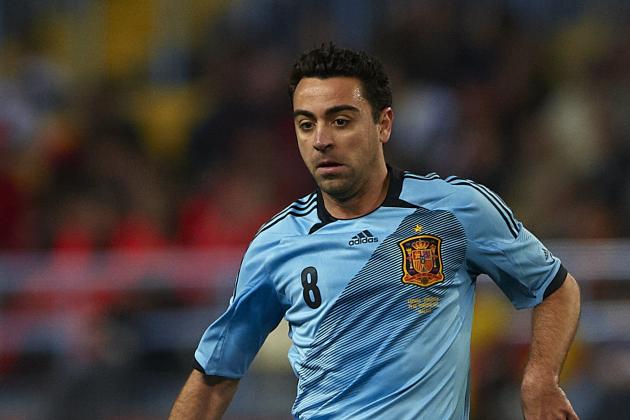 Manuel Queimadelos Alonso/Getty Images

Points: 184
First-place votes: 6
Spain won Euro 2008 and World Cup 2010, but not all of our panelists think a third straight major title is in the cards.
The midfield, led by Xavi (pictured) and Andres Iniesta, will be strong again. But key players like defender Carles Puyol and forward David Villa are injured.
Regardless, world-class talent oozes from this squad, starting with keeper Iker Casillas, and Spain's renowned possession game is second to none.
But will that prove decisive again this summer?
Like Germany, Spain received six first-place votes. No panelist ranked Spain lower than third.
Xoel: Ball possession is key to victory, and no other national team is better than Spain. Germany may have the better forwards, and perhaps defense, but Spain has the better midfield and the best keeper. I'll take Spain's midfield, ball possession and Casillas to frustrate all opponents.
Karla: Puyol and Villa's injuries may be tough but not determinant, since Vicente del Bosque has a star-studded squad. Spain's harmony and joyful style of game put them as favorites.
Tony: Defending champions. Reigning world champions. The most realistic prospect of becoming the first nation ever to retain the European crown. Missing Carles Puyol and David Villa will be blows, but they have enough talent to largely compensate.
Karl: The reigning European and world champions have a squad which is almost beyond belief. Consider: Pepe Reina, Raul Albiol, Javi Martinez, Cesc Fabregas, Juan Mata, Pedro and Fernando Torres—none of those hugely talented players might get a start for Spain in the group stages. Their 23-man squad is THAT good.
Adam: They're the reigning European champions and the reigning World Cup champions—and their side is made up, almost exclusively, of players from probably the two best club sides in the world. That equals "FAVORITE" heading into any tournament.
Will: Will the absence of David Villa and Carles Puyol really be enough to derail Spain and deny them a third successive major title?
Dan: I'm not trying to be a contrarian, but I do not know if Spain has the offensive firepower needed in the later rounds. Having said that, playing possession football and controlling the clock can get Spain very far, but it just feels like the scoring threats for Netherlands and Germany are better, especially without a healthy David Villa. There is no better midfield in the world than Spain. Will that be enough?
Jack: No matter how much talent Germany possess, they must prove it. Spain possess many champions and will clearly be the team to beat.
Mohamed: Not having David Villa will seriously hurt Spain at the Euros, even if there are a number of capable replacements. Puyol's absence will also hurt a lot. Still, the team is loaded with quality, and it would not be a big surprise to see them make history as champions.
Sam: Without David Villa, they are not nailed on to win it, but still represent a near-impossible hurdle.
Neri: Reigning world and European champs, they have more talent on their bench than most other starting XIs, but David Villa and Carles Puyol are too tough to replace.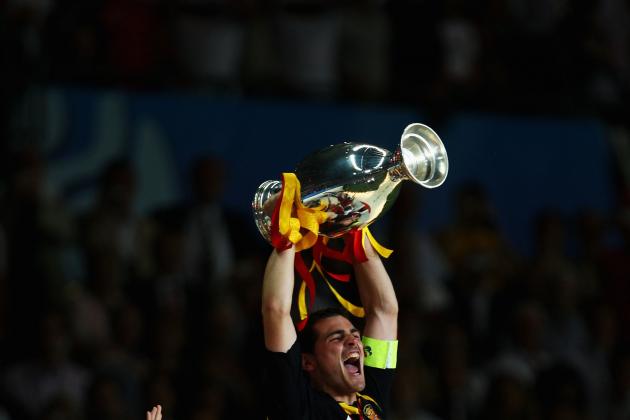 Laurence Griffiths/Getty Images

Here are our full rankings, with total points and first-place votes in parentheses.
1. (tie) Spain 184 (6)
1. (tie) Germany 184 (6)
3. Netherlands 168
4. France 147
5. Portugal 138
6. Italy 134
7. England 128
8. Russia 104
9. Croatia 89
10. Denmark 76
11. Sweden 70
12. Republic of Ireland 56
13. Czech Republic 47
14. Ukraine 38
15. Greece 35
16. Poland 34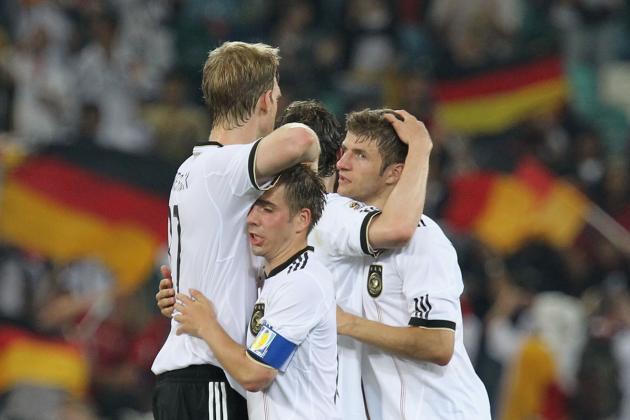 Doug Pensinger/Getty Images

Most popular choice: Germany
Also picked: Spain, France
Seven panelists, including yours truly, tipped Germany to win it all this summer, but there were also a few dissenters.
Mohamed: Germany. Klose is probably entering his final tournament in good form, and Mario Gomez had a great season (minus the CL final). The team is young, healthy and ready to finally win a title.
Sam: France. No one's talking about them, but they should be. Marvin Martin, Yann M'Vila, Adil Rami and Mamadou Sakho are tough to beat. Franck Ribery, Samir Nasri and Karim Benzema are tough to stop.
Karla: Germany. Germany has the most leveled and threatening squad. They have gotten stronger since they hosted the 2006 World Cup. The addition of youngsters like Mats Hummels, André Schürrle, Thomas Müller, Mario Götze and Marco Reus gives them perkiness and a very quick pace.
Jack: Spain. The best squad, matched by Germany with talent, but with more depth and superior intangibles to any other side due to the experiences of winning the last two tournaments.
Dan: Germany. The good news for Germany is that even if they don't win their impossible group, they won't have to face Spain, Italy, England or France (or even Croatia) in the knockout stage until the semifinals. Winning the group would likely put Germany on a collision course with Spain for the final.
Neri: Germany. It's their time, again.
Will: Germany. A wiser, more clinical and yet still devastating attacking force, Germany will make a statement this summer.
Xoel: Spain. I believe this will be a tournament where the Spanish midfielders will score just as many, if not more, goals as the forwards. In the end, the key players for Spain will be Andres Iniesta and David Silva. They will set up goals as well as score goals themselves and, along with a strong Casillas continuing his championship play, will lead Spain to their second title in a row.
Karl: France. Great defense, skill, pace and unpredictability in attack. France have all the attributes to win a major tournament, they have key players in good form—and perhaps most importantly of all, after the absolute debacle of World Cup 2010 in South Africa, they have absolutely everything to prove to their fans back home.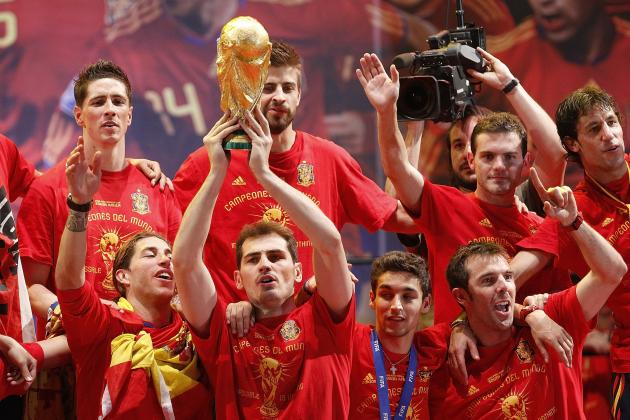 Angel Martinez/Getty Images

Most popular choice: Spain
Also picked: Netherlands, Germany, Italy, Portugal
Our panelists picked five different nations to finish second. Spain received the most votes with four.
Dan: Netherlands. It may be possible that the Netherlands and Germany face off in group and the finals. I can see the Netherlands getting past Spain in the semifinals before losing to Germany. Of course, I've all but guaranteed Portugal and Denmark getting out of Group B.
Neri: Netherlands. They have enough to get past an injured Spain, but not a full-power Germany.
Karla: Netherlands. As it happened in the 2010 World Cup, Netherlands will be a strong contender for the title, but lack of concentration will compromise their performance. The team needs a bit more of maturity and organization on the pitch.
Jack: Portugal. With Germany being favorites to win their group, I feel Portugal will be underestimated somewhat, sneak in to the top spot and avoid Spain until the final. They will then have the winner of group D, probably France for a place in the final, a scenario they would relish.
Sam: Germany. Explosive, young and very damaging, Germany vs. France would be a great final and a hotly contested one too. I like France to win it, and Germany are the strongest on their side of the tree.
Karl: Spain. Spain will be strong favorites and should navigate their group safely. I just have a feeling that three in a row might be one step too far for even this talented bunch of players. Then again, when you can call on about £100 million worth of talent on the bench for your three substitutes, anything is possible.
Will: Italy. Rare is the tournament that goes exactly as we expect it to (in this case, a Spain vs. Germany final?). If Italy get through their group, as they should, it'll likely be England or France in the quarters. If they make themselves hard enough to beat, either of those can be seen off. From there, you'd look at maybe Netherlands as the most likely semifinal opponent. Once again, I can see Italy finding a way.
Mohamed: Spain. Second-best team in the tournament and shouldn't have too hard of a path to the final.