NBA Draft 2012: Assessing the Cleveland Cavaliers Options at No. 4
June 1, 2012

Streeter Lecka/Getty Images
I'm not going to lie. I was pretty disappointed when Adam Silver opened the No. 4 envelope and revealed the Cleveland Cavaliers logo.
We all should have seen it coming, I guess. When Nick Gilbert stumbled over delivering his catchphrase, it was a sure-fire sign that it wasn't our night.
But after reality set in that lightning didn't strike twice in Cleveland, I came to grips with the fact that the Cavs will still get a very good player at No. 4.
On most draft boards, the consensus top three picks are Anthony Davis, Michael Kidd-Gilchrist, and Bradley Beal. Any one of those three guys would be perfect to have on the Cavs.
And it wouldn't shock me if one them falls, and let me tell you why.
Michael Jordan is picking at No. 2.
Who knows what Jordan is going to do? It would not surprise me one bit if he fell in love Andre Drummond and his incredible size and athletic ability. This is the guy who picked Kwame Brown first overall.
Far stranger things have happened in the NBA Draft.
But assuming that the top three picks go chalk, the Cavs will have plenty of choices.
I personally wouldn't touch Drummond this high in the draft. He has all the upside in the world but also has as much bust potential as any player coming out of the draft since Michael Olowokandi.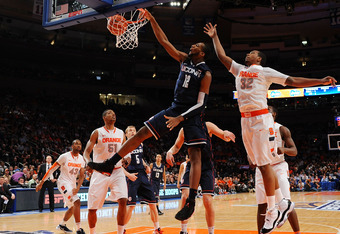 Michael Heiman/Getty Images
I'm a UConn fan so I watched many of their games this past season. Drummond averaged 10.2 points and 7.7 rebounds per game, which isn't very impressive considering he's 6'11" and 270 lbs. He did have 2.7 blocks per game, which is pretty good until you look at Anthony Davis, who averaged 4.7.
Drummond has no offensive skills to speak of besides being really good at dunking. Tristan Thompson has a Swiss Army Knife of post moves compared to Drummond. And Drummond also doesn't play hard most of time. Not just some of the time but most of the time.
He'll disappear for stretches in games in a way that wouldn't seem possible for a man of his size.
And then there's his free-throw shooting. He's not a bad free throw shooter. He's not a terrible free throw shooter. He's a freaking atrocious free throw shooter. In his one season in college, he shot 29.5 percent from the charity stripe.
I just don't know how you can spend the No. 4 pick on a guy that you can't afford to have on the court in late game situations because the other team will just foul him.
The scary thing is that I think Drummond is the kind of player that Chris Grant loves.
First, he's always raving about bigs. And second, he's shown that he likes to draft for upside (Thompson, Christian Eyenga, Marvin Williams). This worries me a little.
If the pick was up to me, I'd probably take Harrison Barnes. He fills several holes that the Cavs have. Cleveland currently doesn't have a player at either wing position that is of starting caliber in the NBA (Alonzo Gee is borderline). Barnes is also a good shooter and scorer as well as a pretty good rebounder.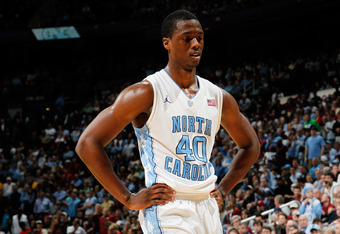 Kevin C. Cox/Getty Images
He's not an all-world player like people thought when they compared him to Kobe Bryant coming out of college, but he'd be a very nice fit alongside Kyrie Irving.
Plus, Kyrie would mask Barnes' biggest weakness in that he doesn't have a killer's instinct and doesn't usually take over games like you may want him too.
I think of him a lot like Rudy Gay from Memphis. Both are small forwards who, coming out of high school were thought to be one-and-done players that would be the top pick in the draft.

That didn't end up being the case for either player in their two years at the collegiate level, where they often shrunk from the moment.
Now if you could assure me that Barnes will be the next Rudy Gay, I'd gladly take him at No. 4 because the Cavaliers would be getting a borderline All-Star player who will give you 20-plus points a game.
Another wing I would certainly consider is a UConn player that I do like: Jeremy Lamb.
Lamb is long, deceptively athletic, and a great shooter. He's not a slasher like Dwyane Wade, but reminds me more of a player like Ray Allen in the way he curls around screens and has a silky smooth stroke from both deep and the mid-range.
Unlike Barnes, he's also a player who played best in big games.
I really like Lamb's game. Most smart people don't have him rated this high, but I think the Cavs should take a long hard look.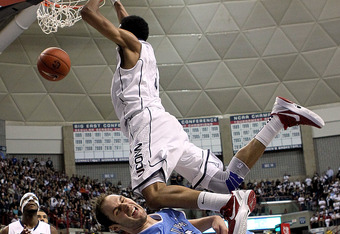 Jim Rogash/Getty Images
The other player I want to talk about shortly is Jared Sullinger, who I actually think will be a productive NBA player. Sullinger's numbers (17.5 points and 9.2 rebounds per game) actually compare favorably to Anthony Davis (14.3 and 10.0).
The biggest knock against Sully is that he won't be able to get his shot off against the big seven-footers down low because he plays below the rim.
This is probably true except that Sullinger will be a power forward at the pro level and has the step-out game with a very good jump shot (40 percent on threes). And Sullinger's best trait that almost always translates to the NBA is that he has a very natural feel for rebounding.
I don't know that he'll be as good in the NBA as Kevin Love, but I think he can be that type of a player.
And you know what you never have to worry about with Sullinger? He'll always work hard.
As a coach, if I have the choice between a moderately skilled player who busts his butt and a supremely talented player who doesn't, I'll take hard work every time.
The saying goes that hard work beats talent when talent doesn't work hard.
If I have the choice between Sullinger and Drummond, I take Sully without even blinking.
With that said, I really don't think he'll be in play for the Cavs unless they trade back from No. 4 or far up from No. 24.
Jim Rogash/Getty Images
One last player I want to mention and this is an unpopular opinion alert. I'm not sold on MKG. And this kills me because it means that I actually agree with Doug Gottlieb here.
This goes somewhat against my statements about Sullinger, but all it really seems that MKG does is play really hard. And I think that a lot.
But he needs quite a bit of work on his shot and his offensive game typically consists of barreling through the lane, often out of control.

Now I'm in the drastic minority here, but I'm cautious about guys who are the consensus second-best player in the draft. The last four (Derrick Williams, Evan Turner, Hasheem Thabeet, and Michael Beasley) were all great college players whose game hasn't blown anyone away in the NBA.
I could be wrong here. But you can count on me not being a guy who thinks the Cavs should trade Nos. 4 and 24 for No. 2 to take MKG. That is all.
It's gonna be a fun month of June.
Go Cavs!
Believeland.
You can follow Benjamin Flack on Twitter @ClevelandFlack.