New York Yankees Wise to Prefer Matt Garza over Zack Greinke
June 1, 2012

David Banks/Getty Images
With the state of the New York Yankees starting rotation not looking so good these days, it's more and more likely they will look to make a deal at the trade deadline.
Two potential targets on the trade market could be Matt Garza and Zack Greinke, but according to Jon Heyman of CBSSports.com, the Bombers would prefer Garza, while not having any interest in Greinke.
Yankees people like the fact Garza is battle-tested in the American League East after acquiring too many pitchers from the National League who haven't been able to make a seamless transition to the AL. The Yankees seem to have little interest in Brewers stars Zack Greinke and Shaun Marcum or the other top Cubs starter Ryan Dempster, as they have concerns about Greinke in New York and Marcum and Dempster in the AL. Even though Marcum pitched pretty well for the Blue Jays, the Yankees are concerned about his low radar readings in the AL.
Heyman hits the nail right on the head as far as why the Yanks should prefer Garza, and the reason is simple: He has a great deal of experience in the toughest division in baseball—the American League East.
Garza spent three seasons in the AL East with the Tampa Bay Rays, posting an ERA under four in each of those seasons. Not to mention, Garza has had some playoff success in his past and will certainly keep his team in any game he pitches in.
Greinke, on the other hand, has been a career Central Division pitcher, having played for the Kansas City Royals, and now, the Milwaukee Brewers. The Central Division in both leagues isn't exactly known for it's offensive prowess.
And if you're wondering what Greinke's postseason numbers look like, they aren't pretty as his 6.48 ERA jumps right out at you in three career playoff starts.
While Greinke's numbers were superior to Garza's for much of their respective regular season careers, Greinke doesn't have such an upper-hand anymore as his ERA has ballooned since his Cy Young-winning season in 2009.
Granted, Garza's 4.22 ERA isn't better than Greinke's 3.46 ERA this year, but that clearly doesn't matter to New York. The Yanks need someone who is familiar with the AL East and has succeeded on a big stage before.
Garza wins in both of those categories, hands down.
Heyman also points out that the Chicago Cubs could be looking to lock Garza up long term, but if unsuccessful, could look to trade him at the deadline.
The Cubs would prefer to try lock up Garza to a long deal, and they intend to try again before trading him. Previous negotiations didn't prove fruitful. If the Cubs can't reach a deal on a contract with Garza, they would be expected to trade him. Garza doesn't become a free agent until after 2013 as things stand.
If the Cubs decide to make such a move to trade one of their best pitchers, the Bombers will no doubt be interested. However, the Yanks have to be careful not to sell the farm in order to make such a deal happen.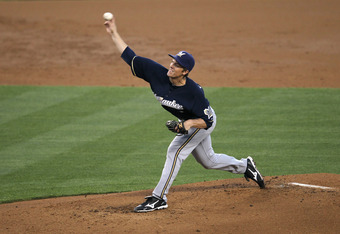 Stephen Dunn/Getty Images
There's no doubt Cubs' general manager, Theo Epstein, will be looking for as many valuable, young players he can get considering his team is currently in the process of rebuilding for the future.
General manager Brian Cashman's potential acquisition of Garza will rely heavily on what Epstein will want in return.
No matter what, Garza should be on the block come the trade deadline, and the Yanks will be first in line to acquire his services if the team's pitching continues to go the way it has so far this season.