Lakers Rumors: Why Brandon Roy Is Not the Answer to Lakers' Depth Problems
June 1, 2012

Harry How/Getty Images
Brandon Roy may be attempting a comeback to the NBA after his bad knees forced him into early retirement, but he's not someone who is going to solve anything for the Los Angeles Lakers.
The idea of Roy possibly joining the Lakers was floated out by ESPN's Chris Palmer earlier in the week.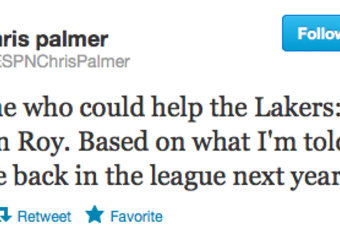 This isn't the first time we've heard about a potential Roy comeback, either. I wrote about the possibility of Roy returning to the league when we first received wind that the scenario may actually be feasible.
It's easy to understand where Roy is coming from considering how his career was cut short. He'll be just 28 years old in July, and the former sixth overall selection got to play just five seasons in the NBA before having to walk away.
Now, Peter Vecsey of the New York Post has effectively kept the Roy rumors swirling by passing along this tidbit:
Brandon Roy is considering Lakers should he come back. I say he's coming back 4 sure...but to Warriors, where ex-agent Bob Myers is GM.
This is a good time to point out that Vecsey is the same guy who called Carmelo Anthony demanding a trade to the New York Knicks a "fairy tale," and also suggested an insane Melo for Pau Gasol swap earlier this season that never made sense for either team.
Regardless, it's clear that there is a chance, albeit we don't know how big, that Roy actually returns to the league. Despite neither Palmer nor Vecsey presenting new information or citing any kind of inside sources, the speculation continues that Roy is looking for a way to return.
If he's healthy, there aren't a lot of NBA fans who wouldn't want to see him back. At his best, Roy was a prolific scorer who twice averaged more than 20 points per game. But if Roy does return, is this going to be the same guy that fans remember?
More importantly, is this a guy that's suddenly going to turn around the Lakers' problems in the second unit?
The Lakers have issues at more than one position. This is not a team that can afford to gamble on someone like Roy, who may or may not work out. Further, it's not as if a backup shooting guard on a team with Kobe Bryant is going to be ticketed for major minutes.
What's the upside in bringing in Roy? Because he'd be a feel-good story?
The connection between Roy and the Lakers was borne out of thin air, and it's far more speculation than substance.
We're talking about a team that has approximately $80 million committed in salary for the 2012-13 season with multiple holes to fill as the roster is currently constructed. What, exactly, would signing Roy accomplish?
This is not the road the Lakers need to go down.
I was always a big fan of Roy's game, and I miss seeing him on the court, but these reports connecting Roy to the Lakers just don't make any sense.