Sam Bradford and Brian Schottenheimer: Will This Marriage Work?
June 1, 2012

Dilip Vishwanat/Getty Images
In 2010 St. Louis Rams quarterback Sam Bradford was the toast of the NFL.
In spite of a weak supporting cast on a team that won just one game in 2009, the Rams got outstanding and intelligent play from Bradford along with an overachieving defense. Bradford may have struggled in some departments (6.0 YPA), but he was hampered by virtually no receiving talent, an extremely conservative passing attack under Pat Shurmur, a young offensive line and a rushing attack that averaged under four yards per carry.
And in spite of all this, Bradford did a nice job taking care of the ball. In 590 passing attempts he threw 15 INT's (about one in every 39 attempts). If this were baseball, I think Bradford's Wins Above Replacement would have been as high as anyone on the team and certainly higher then anyone on the offense.
In 2011 though, a high ankle sprain, a line held together by band-aids and a defense riddled with injuries led to the Rams collapse. The Rams overhauled the team, firing pretty much everybody and hiring former Titans coach Jeff Fisher.
Notably, Fisher wants to run a run-based approach to protect the quarterback.
In theory, even in today's pass-happy NFL, a run-based approach is an excellent way to maximize efficiency. If you have a good running game you can limit the amount of time the opposition can maximize pass rushers, tire out defenders, help your offensive line get into a rhythm and create space with play action and bootlegs.
Sam Bradford was a particularly good bootleg quarterback at Oklahoma. He was one of the most accurate quarterbacks on the move I've ever watched and had a lightning quick release that helped OU ruin opposing defenses.
But is Brian Schottenheimer the right man for the job? As a Jets fan, my first answer would be inclined to say no.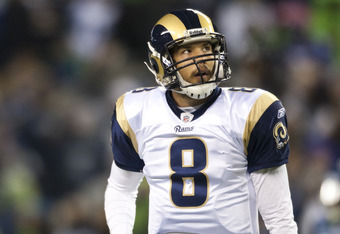 Jay Drowns/Getty Images
That being said Schottenheimer does bring some positives to an NFL offense.
For one, he's very adaptable—though not necessarily with in-game adjustments. Still, Schottenheimer often will adapt his offense to what the head coach is looking for and the personnel require (though in 2011 he failed miserably at that). In 2006, his first year on the job, the Jets offense was highlighted with smoke-and-mirror plays. Schottenheimer used a lot of motion to throw defenses off, seminole and wildcat formations, and heavily favored the bootleg.
In 2007 though, things seemed to fall apart. He used a lot of five-wide attack. In fact the Jets were actually one of the leaders in lining up with an empty backfield in 2007, according to Pro Football Prospectus. But these multiple-receiver formations, coupled with an ineffective running game, often isolated tackles who then struggled in pass protection.
While Schottenheimer never coached elite talent in New York, he made his fair share of mistakes.
He often fails to make in-game adjustments and will abandon the run for long stretches even in close games. He fails to recognize that the offense and defense of a team are linked, and that if a defense is struggling, you need to play more ball control to keep it fresh and off the field as much as possible.
These are some of Schottenheimer's biggest weaknesses. He comes from a good football pedigree and is often credited with helping jump start Drew Brees' career in San Diego, but the issues from his time in New York are still very real.
When looking at Schottenheimer's pass-run ratio as a play caller, there are some disturbing trends.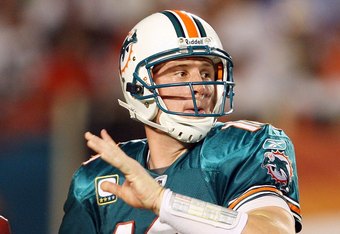 Doug Benc/Getty Images
In 2006 the Jets had approximately 522 called passing plays and 491 called rushing plays. If you account for unintentional quarterback runs, then the Jets called about a 51/49 split in favor of passing plays.
This was not a surprise. The Jets running game was hampered by a mediocre offensive line mixed with really average ball carriers in Kevan Barlow and Cedric Houston. The Jets had to scrape out wins whichever way they could, often relying on turnovers, great special teams play and late-game heroics (the Jets were in nine one-possession games that season, winning six of them).
In 2007, the team's defense completely fell apart and the offensive line followed suit. Unable to run the ball and constantly behind, the Jets wound up going with a 56/44 split in favor of passing—but that's not bad considering the Jets were always behind thanks to their poor defense.
In 2008 Schottenheimer decided to test out his new toy, Brett Favre. When the Jets were winning, they were running the ball well and doing it often. In the end though, they wound up throwing a lot more, especially late in the season when the Jets lost four out of their last five.
Rex Ryan took over in 2009, and he wanted a run-heavy attack.
Schotty adjusted to his rookie quarterback and new coach, running the ball on nearly 59% of the offensive plays. That split evened out in 2010, with a more mature Sanchez and the addition of Santonio Holmes bolstering the passing game.
In 2011, Schottenheimer had by far his worst season as a play caller. He abandoned the running game for long stretches of time and continued to isolate RT Wayne Hunter, leading to constant pressure from the strong side.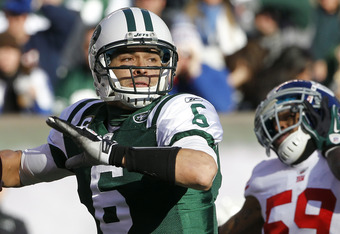 Rich Schultz/Getty Images
In the end, the Jets threw the ball nearly 57% of the time on an 8-8 team that had no deep threat and a ton of locker-room issues.
Schottenheimer's worst game was the disastrous 29-14 loss to the Giants. He called over 30 passing plays in the first half, though the Jets led most of the way and were down only three at halftime. It may have been the game that ended his career.
Some other numbers to look at involve quarterback play in Schotty's offense.
Chad Pennington was an exceptionally accurate quarterback, and while he completed 66% of his passes his yards per attempt (YPA) was 6.9 and he threw an interception once every 29.5 passing attempts. For a quarterback who was exceptionally smart and intelligent when it came to taking care of the football, those numbers seemed odd.
When Pennington left New York to go to Miami in 2008, the interception total dropped, and he threw just one interception every 68 attempts while his YPA jumped to 7.8.
When Brett Favre quarterbacked the Jets in 2008 he threw 22 TDs and 22 INTs, with a 6.7 YPA. Though he completed nearly 66% of his throws with New York, Favre threw an interception once every 23.7 attempts. Now you could say that was because the Jets acquired Favre in early August and he had no time to learn the offense, but the next season in Minnesota, Favre threw one pick every 75.9 attempts and his YPA jumped again to 7.9.
It seems awfully coincidental that Chad Pennington would have a good year in 2004 (he missed almost all of 2005 with an injury) and then become turnover prone under Schottenheimer in 2006 and 2007, only get back to his intelligent ways after joining Miami in 2008.
And what about Favre? Career years in 2007 and 2009; disappointment in 2008.
There are always mitigating factors, but there is a lot of evidence to support that Brian Schottenheimer was not the right choice to help develop the talented Sam Bradford. Bradford was one of my all-time favorite college prospects, but placing him with a coordinator who has such a marred history seems like a recipe for failure.
With a young receiving corps (perhaps the youngest Schotty has ever had) and an offensive line riddled with questions and healthy concerns, can Schottenheimer's play calling keep Bradford healthy enough in 2012 for the Rams offense to survive?
If the Schottenheimer from 2006 shows up, the Rams will be okay. But if last year's Schottenheimer makes his presence felt, then Rams fans will continue their frustrations on offense in 2012.