Stanley Cup Finals 2012: Have the Devils, Kings Established Animosity Yet?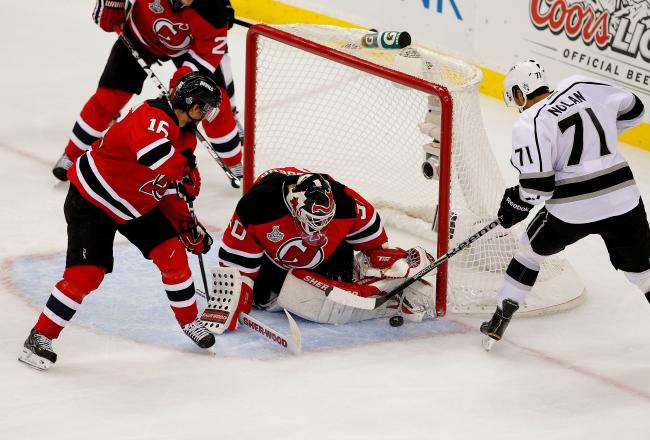 Paul Bereswill/Getty Images
With 11:39 left in the third period of Game 1 of the Stanley Cup Finals, a crowd converged behind Martin Brodeur's net after the New Jersey Devils' goaltender smothered a wraparound by Los Angeles Kings forward Jordan Nolan.
Among those involved in the altogether mild altercation was Devils penalty-minute leader David Clarkson, who sought out Nolan specifically for hacking at Brodeur in order to extract a rebound. But linesman Derek Amell promptly intervened before anything could escalate beyond mere verbal confrontation.
Other than that gathering between Clarkson's line and L.A.'s fourth line, there were not many examples of tension between the two finalists. At least, there was nothing that the highlights would underscore.
This is not necessarily indicative of the intensity spawned in the opening game or what fans will see going forward in this series.
The same goes for the score sheet, which had as many penalty entries as it did goals—two for the Kings and one for the Devils. The six penalty minutes are now tied for the fewest in a post-lockout Stanley Cup Final series opener.
Any guesses as to whose company that is in? It's the one you would probably least suspect, namely the first game of a championship rematch between Pittsburgh and Detroit in 2009.
Given that they had had six straight meetings in the climactic stages of the previous spring, one might have expected more chippiness to set the tone. Instead, the Red Wings incurred merely two minors, while the redemption-hungry Penguins took only one.
Then again, while discipline prevailed in that game, it was also the most physical Game 1 of a post-lockout championship series. The Wings outhit the Penguins that night, 43-39.
And although cool heads were at least superficially present to start the series, just remember what erupted late in Game 2 that year.
As it happens, the combined 82 hits in Game 1 of Pittsburgh-Detroit have yet to be matched in the three Cup finals that have followed. But Wednesday night's tilt at the Prudential Center came the closest, with the Devils landing 44 and the Kings throwing 35 for an aggregate 79 checks.
All but three New Jersey skaters contributed at least one of those hits, while 11 of them threw at least two apiece.
Furthermore, the close Max Talbot-Chris Osgood encounter that precipitated Evgeni Malkin's infamous tussle with Henrik Zetterberg in 2009 likely crossed more than a few minds on more than one occasion Wednesday night.
First, there was Kings captain Dustin Brown taking the first penalty of the series for tipping over Devils goaltender Martin Brodeur, who one could argue embellished his tumble just as Osgood did.
And then, a little less than two full periods later, the likes of Clarkson were clearly peeved with Nolan's persistence, even after Brodeur had successfully swallowed the puck and summoned the whistle. If not for Amell and the other officials, Nolan and his teammates might have needed to give a snappier answer for his actions to Clarkson and company.
New Jersey's incentive to protect its longest-tenured player and Hall of Fame-worthy goaltender was evident. But there should now be a new-found urgency to protect Brodeur, after Anze Kopitar's overtime breakaway gave the Kings a 1-0 upper hand in the series.
More of the all-around type of game from Clarkson, who threw two hits and assisted on Anton Volchenkov's equalizer on Wednesday, can be expected from the Devils in general going forward. There is certainly no cause for them to let up after outhitting the ever-sizable Kings.
All they need to change is their puck management and their ability to provoke a little more from L.A. on goaltender Jonathan Quick's property.
This article is
What is the duplicate article?
Why is this article offensive?
Where is this article plagiarized from?
Why is this article poorly edited?

New Jersey Devils: Like this team?