Matt Ryan vs Cam Newton: Which QB Is Better Equipped for Success in 2012?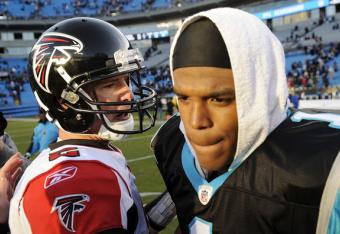 The question was posed recently: "Which quarterback is better equipped for success in 2012, Matt Ryan or Cam Newton?"
This isn't going to be one of those articles where I try to pit Ryan and Newton against one another. It's nearly an impossible comparison, and it's way too early to tell.
However, it's also irresponsible to make the comparison without looking at some numbers.

Ryan has the better numbers when it comes to touchdown-to-interception ratio. But do Newton's rushing yards and touchdowns sway the argument towards the Carolina signal caller?
That's not the question at hand here. The real question is this: Which quarterback has the best tools around him?
I've selected four criteria to settle that debate.
Areas of Concern: Offseason Adjustments
Ryan spent a good portion of the offseason working on getting bigger and stronger. He did this for two main reasons: 1) he wants to be able to absorb punishment better in case Atlanta's offensive line woes weren't fixed through offseason acquisitions, and 2) he wants to throw a better deep ball.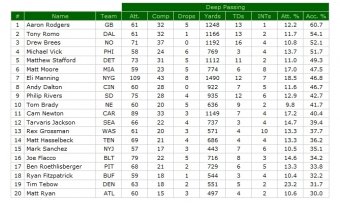 Ryan had the worst rating of any quarterback in the league when it comes to accuracy on deep passes. New offensive coordinator Dirk Koetter promises to enhance Atlanta's vertical attack. Ryan needs to become more proficient in this area.
Newton was a rookie quarterback who tended to have trouble at times dealing with the media and portraying an image of leadership around the locker room. At times Newton, would blow off a media question or even lash out if he didn't care for the question.
Lashing out at the media is nothing new for an athlete. Quite honestly, it's sometimes warranted. But moping around in the locker is another story.
Newton admitted to being "a bad teammate" last year and "very immature." He's spent the offseason working on ways to fix his personal issues of immaturity, and he's been a very vocal leader through OTAs thus far.
Winner: Push
Offensive Line
Atlanta tried many different combinations on the offensive line last season, sometimes because of injury and other times in an effort to find the right combination. According to Pro Football Focus, Atlanta's two starting tackles at the end of the season, Tyson Clabo and Will Svitek, combined for an overall blocking rating of 4.6. Carolina tackles Jordan Gross and Byron Bell rated at minus-14.7. Jeff Otah should be back in 2012 to help at tackle for the Panthers, however.


Atlanta's guards rated at a minus-14.9, while Carolina's came in at 1.4. Both teams made rookie guard choices in this year's draft, but the advantage will still sit with Carolina here.
At center, Todd McClure (10.9) ranks a little higher at Pro Football Focus than Ryan Kalil (8.2), but it's close.
Moving away from stats that solely focus on the line, Ryan was sacked 20 times last year and hit 37 times. Newton was sacked 19 times and hit 24. This stat has a lot to do with mobility of the quarterback, but Ryan was on the run a bit more in 2011.
Winner: Carolina
Wide Receiver Corps
Without the addition of a truly formidable No. 2 receiver in Carolina, Atlanta's one-two punch of Roddy White and Julio Jones trumps anything Carolina can send to the field.
Add in Harry Douglas in the slot and Tony Gonzalez at tight end, and Atlanta's receivers give Ryan far more opportunities to excel than Carolina's give Newton.
For more on this, you can see my video where I ranked the NFC South wide receiving corps.
Winner: Atlanta
Running Game
I've also ranked the NFC South backfields recently, and Carolina is second to none.
Not only do the Panthers have DeAngelo Williams and Jonathan Stewart to provide a solid one-two punch, as well as security against injury, Carolina added Mike Tolbert via free agency.
Atlanta has the NFC's most prolific rusher from 2011 in Michael Turner, who still has gas in the tank. However, Atlanta is unproven behind Turner.
Jacquizz Rodgers will see an increased role in 2012, partly because he's earned the extra carries and partly because Atlanta wants to spell Turner as much as possible. But no one knows if Rodgers can handle the punishment. Odds are he can, but even if he performs swimmingly, Atlanta's backfield won't outrank Carolina's.
Winner: Carolina
With the results in—you can debate on how accurate the polling was—the Carolina Panthers have given Newton more to work with by a score of 2-1, with one push.
Therefore, Cam Newton is better equipped for success in 2012.
This article is
What is the duplicate article?
Why is this article offensive?
Where is this article plagiarized from?
Why is this article poorly edited?