WWE SmackDown: Spoiler-Free Preview, Through the Eyes of the Youth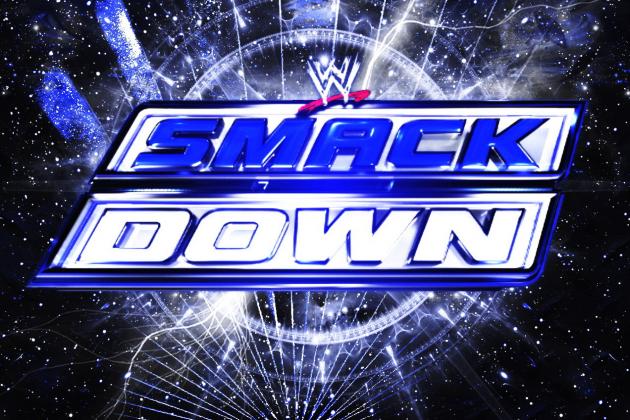 (Image courtesy of Wallpapers-WWE.com)
There is a lot to be determined in the world of WWE between now and No Way Out on June 17. In what ways will SmackDown further the narratives of WWE's stories?
Friday Night SmackDown is one of the many ways I bond with my nephews (currently ages five and eight) on a repeated basis. It always reminds me that they are connecting with superstars today the way I connected with Hulk Hogan, the Legion of Doom, Mr. Perfect, and Ted DiBiase when I was their age.
WWE.com has given a Five Point Preview for SmackDown tonight, and I'm going to go through that with my nephews to get their predictions and feelings for tonight's show, followed by my own sophisticated and mature responses.
Begin Slideshow

»
CM Punk and Kane from 2010. Do you prefer Punk with long or short hair? Kane with or without the mask? (Image courtesy of FanPop.com)
A snippet from WWE.com:
For the first time in four years, the WWE Championship will be contested on a Friday night. When WWE Champion CM Punk emerges for action in Baton Rouge, La., he will put his illustrious title on the line against an angry, jilted monster in Kane, who has — willingly or not — become intertwined in the conflict between The Second City Saint and Daniel Bryan.
So, what do we think the outcome of this match will be?
Caleb (age five): If Kane can chokeslam CM Punk, then he will win. If he can't, then CM Punk will win. If CM Punk does the punk-knee [GTS], he will win. Or Lord Tensai could come out.
Logan (age eight): I kinda want to vote for both, but if CM Punk wins then I'm guessing he did the GTS, but if Kane does the chokeslam, CM Punk won't win. Daniel Bryan might come out.
Myself (age 29): I really hope SmackDown doesn't use this as a way to get Kane out of the equation already. Hopefully this is another good match until Daniel Bryan comes out and it ends in a no contest, or a cheap victory for Punk. I want to see a triple threat at No Way Out.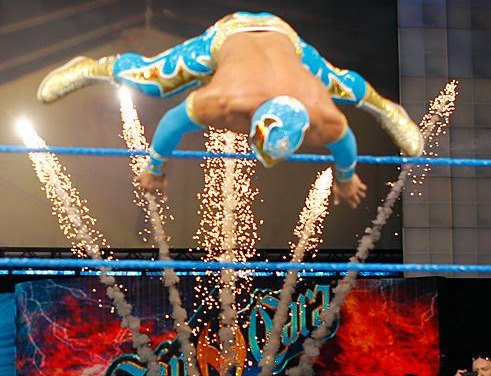 You can't deny that the kids love this ring intro. (Image courtesy of adamswrestling.blogspot.com)
Part of WWE.com's preview:
It's hard to predict the unpredictable, which is a perfect descriptor for Sin Cara's in-ring style, so the more pertinent questions may be: What will be the gravity-defying Superstar's intentions upon his return? And what new moves may he unveil in his aerial arsenal?
We answer both of these questions, plus make a prediction as to who he will face tonight, and who his next feud will be with.
Caleb: I think he's going to beat up Alberto Del Rio now that he's back from injury. I bet he'll have some new top-rope moves. It's hard to say who he'll wrestle today, maybe Alberto Del Rio, and he'll feud with Alberto Del Rio and Sheamus, because he wants to the World Heavyweight Champion.
Logan: I'm assuming that he is going to try to pin someone so he can go to No Way Out. He'll probably do something like the 6-1-9 or a hurricanrana. He could fight anybody tonight. His first enemy will be either Lord Tensai or Alberto Del Rio.
Myself: I'm sure he'll face someone the likes of Heath Slater tonight, but I hope whoever they choose, they can compliment his style. I hope after he gets a few matches under his belt, they get him in a good feud with a mid-card heel, and let him chase after a mid-card title once it's in the hands of a heel. I only assume there will be a few new moves since WWE.com is acting like there will be.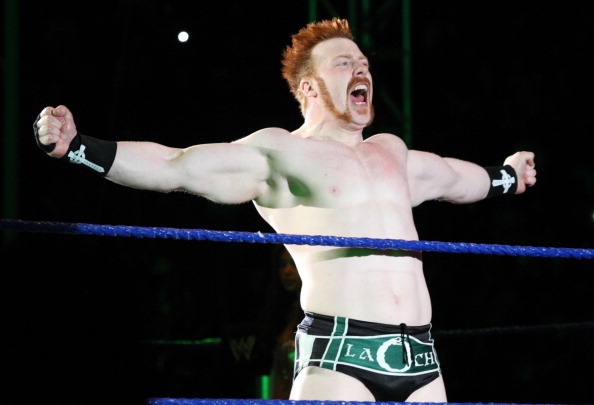 Will Sheamus finally apologize? (Image courtesy of CrunchSports.com)
Part of what WWE.com has to say:
While The Great White has made it abundantly clear that he bows to no man, the Executive Vice President of Talent Relations has expressed his displeasure that Eve could not get The Celtic Warrior to apologize one week ago on SmackDown. Then on this Monday's Raw SuperShow, the Irish Superstar overcame Mr. Laurinaitis' legal counsel David Otunga with a fierce Brogue Kick.
What do we think will happen between Sheamus and John Laurinaitis?
Caleb: Sheamus is going to get fired. No wait, that's not it. He could Brough Kick John Laurinaitis like he did Alberto Del Rio, then he get him with the Irish Curse backbreaker.
Logan: I'm assuming that Sheamus will take John Laurinaitis' crutch and hit him with it.
Myself: I'm not sure what type of "punishment" Laurinaitis will have for Sheamus, but if it has anything to do with Randy Orton, that's going to have to change by next week anyway. I'm guessing some sort of handicap match tonight, and hopefully a fun stipulation added to the World Heavyweight Championship match at No Way Out.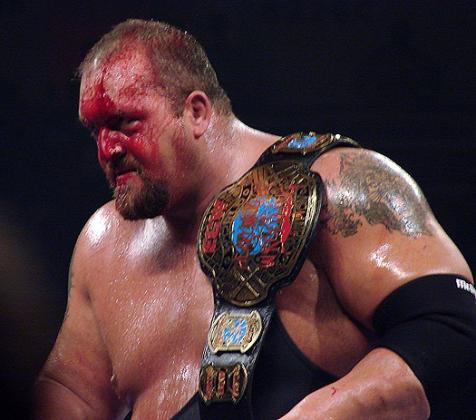 A bloodied Big Show from his days as ECW Champion. (Image courtesy of RingsideNews.com)
WWE.com says so much by saying nothing at all:
With nothing holding the giant back, it is reasonable to believe that his furious stomp through Raw's roster may only be the beginning of his path of devastation. If so, will that road run through SmackDown, and who might be unlucky enough to cross the giant's path?
At least one of my nephews has had a very emotional response to The Big Show's turn. We all weigh in on what to expect tonight.
Caleb: He's gonna come out and someone else like Kane will come out and knock him out.
Logan: The Big Show will come out, and someone else will come out that's stronger than Big Show, maybe Kane or Undertaker, and they will beat the heck out of each other.
Myself: I'm not sure what The Big Show will do on the show tonight, although I'm sure we'll see several Raw recaps and multiple mentions of John Cena's return on Monday. I imagine he'll get a match with a mid-carder and will destroy him.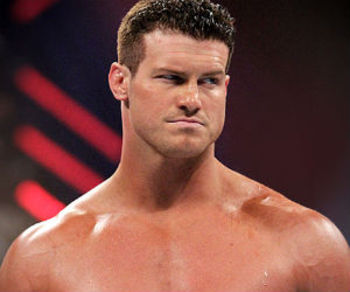 Dolph Ziggler with short, dark hair. Weird, right? (Image courtesy of Wrestling-Match.com)
Here's part of what WWE.com's preview had to say about Vickie's "Show Off":
Considering his thirst to prove himself, Ziggler is not the type of competitor who would wait a week to make his point. So, will he look to make noise tonight? Before moving to Raw, Ziggler thrived on SmackDown – including being crowned World Heavyweight Champion. Now, as he wants to prove his elite status, WWE.com would not be surprised if he looked to make a splash on Friday nights.
I know that I have a bigger interest in Ziggler's career than my nephews, but let's see what they have to say anyway.
Caleb: Dolph Ziggler is eventually going to have a match with Kane and get beat.
Logan: Can I pass? Dolph Ziggler's an idiot.
Myself: I don't know if he'll feud with Swagger, but I hope not. I like manager-lead-stables, like the Heenan Family back in the day, and I'd like to see Vickie's stable grow, not shrink. If Sheamus retains against ADR at No Way Out, I hope Zigger or Rhodes get the next title shot.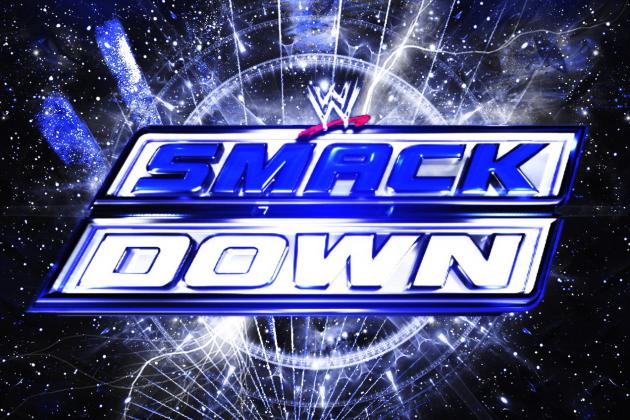 (Image courtesy of Wallpapers-WWE.com)
Having broken-down WWE.com's break-down, here are our final thoughts on what to expect from the June 1st edition of WWE's Friday Night SmackDown:
Caleb: Well, I'm expecting, I mean hoping, that Sin Cara is going to come back. And I'm hoping that Sheamus will get his butt kicked and lose the World Heavyweight Championship.
Logan: I'm looking forward to seeing Dolph Ziggler's face bleeding. And someone like Sheamus is going to stand up to John Laurinaitis and say, "I'm sorry you talk like an idiot."
Myself: I still need convincing that No Way Out will be worth it, especially with marquee players like Randy Orton and Chris Jericho suspended. But as I've said before, WWE's roster is deep enough to let a few stars slide for a little while, I just hope WWE takes the opportunity to push some people like Dolph Ziggler or The Miz or Jack Swagger, or finds a way to give a new guy some shot like Tensai or Antonio Cesaro or Drew McIntyre.
What do you think?