Kansas City Chiefs: Can Matt Cassel Succeed in 2012?
June 7, 2012

Jamie Squire/Getty Images
Matt Cassel's three-year run as a member of the Kansas City Chiefs has not gone the way he would have envisioned. He has not been consistent in his performance, but is he responsible for all of the blame?
Although he has made some errors himself, it is hard to hold him accountable for some of the poor blocking and drops he's had to deal with.
Having Cassel go through five different offensive coordinators in only four years hasn't been helpful either. Cassel has worked with Chan Gailey, Todd Haley, Charlie Weis, Bill Muir and now Brian Daboll.
Despite learning a new offense, the Chiefs are giving Cassel a lot of tools to work with that should allow him to not only succeed, but also lead the Chiefs to a division title in 2012.
Chiefs general manager Scott Pioli is confident in Cassel. The only quarterback Pioli ever had interest in bringing to Kansas City was Peyton Manning. Pioli is comfortable with Cassel and his backups, Brady Quinn and Ricky Stanzi.
In 2010, Cassel gained the optimism he really needed, as he threw for 27 touchdowns and only seven interceptions.
The Chiefs have signed some new weapons, and Cassel will be getting back a few, as he and a couple of others are returning from injury. Cassel cannot help but be excited to work with running backs Peyton Hillis and Jamaal Charles and tight ends Kevin Boss and Tony Moeaki.
As for wide receivers go, Cassel wants to work with veterans Dwayne Bowe and Steve Breaston again. The Chiefs also have a lot of young talented receivers in Jon Baldwin, Dexter McCluster and Devon Wylie.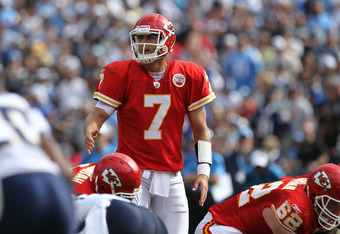 Stephen Dunn/Getty Images
Baldwin made little-to-no impact in 2011 after missing most of training camp during his rookie season. Now, Cassel and Baldwin are working well together in OTAs, preparing to surprise a lot of defenses in the league.
After spending time reviewing the film while the Chiefs got going with a four-game winning streak, Cassel showed he could do well with Bowe, Baldwin and Breaston all on the field.
Cassel's most notable game came against the San Diego Chargers on Monday Night Football.
Even though Cassel turned the ball over three times, he still took the opportunity to lead his team to victory following a Chargers three-and-out in the first possession of overtime. The Chiefs drove the ball in 14 plays, which burned up 7:28.
Cassel played a huge part in leading his team prior to Ryan Succop's game-winning field goal, as he was 5-of-6 passing in overtime to help bring the Chiefs close in on the end zone. The Chiefs eventually took first place for a couple of weeks after falling in their first three games.
It was not his best game in terms of turnovers, but it perfectly described who he is as a quarterback with how he managed the offense in overtime.
Now, Cassel has a reliable offensive line, thanks to the addition of right tackle Eric Winston, and the Chiefs have strong depth at running back, tight end and wide receiver.
Cassel has all the tools he needs to succeed in 2012. The pressure is on Cassel to succeed, as well, as all the team's success relies on Cassel's ability to play and lead his team.
By the end of the season, everyone will learn one of two things. If Cassel can't win with this group, it is obvious the team must find a quarterback who can take advantage of all their weapons.
But if Cassel succeeds and takes the Chiefs back to the playoffs, the critics will back off and Cassel will be back for another season in Kansas City.