Brazil vs. Mexico: Preview, Start Time, Predictions and More
June 1, 2012

Ed Zurga/Getty Images
With the Champions League and European league seasons over with, it is time for international friendlies. World Cup qualifying starts later this summer, and teams are trying to tune up their skills and work on team chemistry beforehand.
For some teams, it shouldn't be too difficult for them to make the field. Such is the case for Brazil and Mexico, who will play each other this Sunday.
The game will be highly contested, and many will be interested to see which team comes out on top.
Who: Mexico vs. Brazil, International Friendly
When: Sunday, June 3rd, 3 ET
Where: Cowboys Stadium, Dallas, Texas
What's At Stake
In the grand scheme of things, not much. The game will be just another friendly, although it is between two good teams.
This will be the second game on Brazil's tour through the United States, having played the U.S. team on May 30th and scheduled to play Argentina next week. The game will allow the players to get better acclimated with their teammates after being separated for the club season.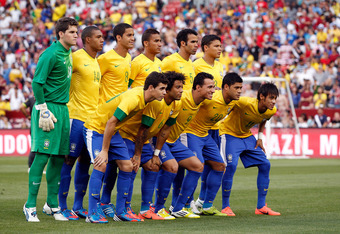 Rob Carr/Getty Images
It will also give us a chance to see who is going to be one of the top teams coming out of Latin America. However, friendlies this early usually do not mean much.
Brazil's Take
Having just beaten the U.S. on Wednesday, 4-1, Brazil will be going into Dallas with a great deal of confidence.
This team is not the full team, as they are trying to prepare for the Olympics in London this summer. The players must be 23 or younger in order to compete in the Olympics, and Brazil decided to leave their older players behind.
However, they will have Neymar and Pato, among others, and will play at a high level.
Mexico's Take
Giovanni Dos Santos, Javier "Chicharito" Hernández and their teammates are coming off of a 2-1 win over Bosnia. Although it was a win, it was closer than expected, which should motivate them to play well.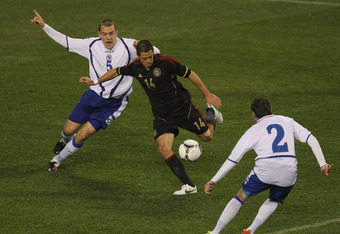 Jonathan Daniel/Getty Images
The game is a practical home game for Mexico, and with over 100,000 people expected in attendance, I expect the team to play with a strong sense of passion.
Player To Watch
One of the best players on the pitch will be Javier "Chicharito" Hernandez. He scored the winning goal in their 2-1 win over Bosnia and is coming off of a good club season in which he played for Manchester United.
He had 10 goals and two assists in just 18 starts, and even though United fell short of their goal of the EPL title, the experience of finishing second will help this young star. He has an incredible sense of touch with the ball at his feet, and if he continues to improve he will be an international star.
Look for Chicharito to have a big game in front of the Mexican supporters.
Despite the fact that Brazil appears to be the better squad on paper, Mexico is coming off of a game that was closer than expected, will be playing with what will basically be a home crowd and has the best player, all of which will motivate them to play better.
Yet, this game is just a friendly and should be played as such by both sides. No one wants to risk any serious injuries this close to the start of qualifying, and I think both teams will be satisfied with a draw.