Randy Orton's WWE Suspension: Is He Still Worth the Risk?
June 1, 2012

As you may have heard by now, Randy Orton is once again serving a mandatory vacation after violating yet another health and well?ness policy.  
This continues a downward spiral that was once dismissible as a slump, but upon further review appears to be much more. 
Although Orton is a big star in a company devoid of such a luxury, a point can be made that he may have peaked in his WWE career.  That and fact that it has become painfully obvious that the WWE's need to cultivate new stars should supersede that of preserving the current guard. 
At face value, Orton is only 32 years of age (which is like a toddler in wrestler years), has accomplished just about everything on the biggest stages of professional wrestling, and will figure to be a pillar in the WWE's main event scene over the long haul. 
But let's read between the lines a bit.
Although Orton is indeed 32 years old, that number is very deceiving.  Yes, Randy Orton is still relatively young given his perennial position with the WWE, however he isn't prepubescent young.  He's more like Kobe Bryant young. 
Orton broke into the wrestling business at the tender age of 19, and along with the accelerated wear and tear a wrestling career has on the body, he has battled through a litany of injuries. 
Orton's seemingly unlimited potential kept him employed early in his career as he compiled a resume of problems outside of the ring that would make Scott Hall blush. 
Orton has since lived past his bulletproof potential, but any major programs featuring Randy Orton present day tend to come off as the equivalent to wringing a damp towell?. 
Randy Orton, while talented in the ring and spot-on when it comes to his character, has always been limited on the mic.  That's what made him so good in the role of a sadistic, psychotic villain.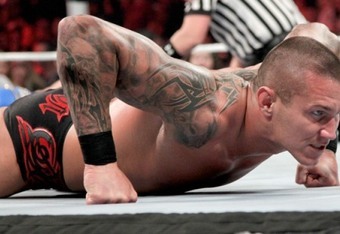 The lack of eloquence was kind of creepy.   
Ironically enough, Orton eventually became a babyface not because it made sense, but simply because he was being cheered by rebellious live crowds who had grown to respect him for what he did so well?—draw heel heat. 
Orton's ill-advised move to a babyface resulted in an awkward era where he carried the SmackDown banner as the top star of the blue brand?. 
Live attendance has suffered during the Randy Orton era on SmackDown, and John Cena is once again being called upon to help carry the brand?—be it blue, red or perhaps lime green to complement his merchandise.  
Orton's ongoing suspension will undoubtedly lead to a triumphant return, and the WWE will be more than happy to have him back as they will be knee deep into the three-hour RAW format.  By then, it'll probably feel like the promotion is knee-deep in something else, but that's another article for another day. 
The WWE would be wise to book Randy Orton as if he had one foot out of the door.  Their propensity to rely on a limited nucleus of top stars has proven to be counterproductive for business. 
Randy Orton's cloudy past coupled with a potentially disastrous future (one more strike, and he's gone) makes him a very risky option to continue to build around moving forward.  
Who has the worst hair in sports? Join Big Nasty and Gabe Zaldivar as they engage in this hairy debate! Follow Big Nasty on Twitter @ThisIsNasty.