Fantasy Baseball 2012: Josh Hamilton Headlines All-Star Team for Month of May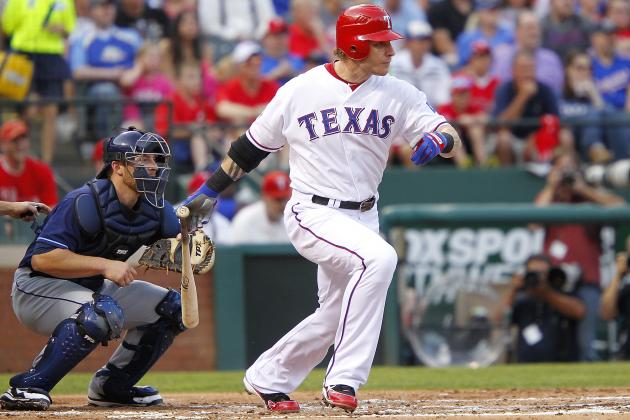 Rick Yeatts/Getty Images
Rangers outfielder Josh Hamilton had 12 homers and 32 RBI for the month, including a nine-homer, 15-RBI explosion from May 7-12.
The following slideshow touts Fantasyland's All-Star team for the month of May.

To clarify, the 18-man listing only honors statistics from the 31-day window for May and does not necessarily reflect a player's status from April or the preseason.

The competition amongst outfielders, starting pitchers and the corner infield spots was particularly intense.

Yet this should hardly mollify the embedded masses crying foul over alleged snubs involving Adam Dunn, Adam Jones, Jason Kipnis, Matt Holliday, Albert Pujols, Asdrubal Cabrera, Justin Verlander, Ryan Braun, Adrian Beltre, Fernando Rodney, Josh Reddick, Jose Bautista, Clayton Kershaw, Cliff Lee, Miguel Cabrera, Martin Prado, Andrew McCutchen, Angel Pagan, Andre Ethier, Chris Capuano, Rafael Furcal, David Ortiz, Will Middlebrooks and David Wright, among others.

Enjoy the show!
Begin Slideshow

»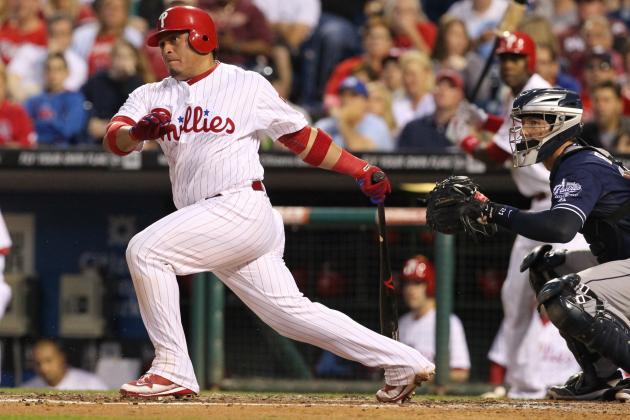 Hunter Martin/Getty Images

30-Day Stats: 5 HR, 21 RBI, 16 Runs, 2 Steals, .427 BA

Skinny: This might have been the easiest call of the countdown.

Yes, Toronto's J.P. Arencibia (8 HR, 19 RBI, 17 runs), Boston's Jarrod Saltalamacchia (6 HR, .311 BA) and Milwaukee's Jonathan Lucroy (.402 BA) had productive months, but none of the backstops were in Ruiz's class for May.

Among catchers, Ruiz warranted a top-five ranking in runs, hits, doubles, homers, RBI, steals, batting average and OPS (1.214) during the 31-day window.

Even with Philly's star power throughout the roster, it wouldn't be a stretch to say that Ruiz (batting .457 since May 17) and pitcher Cole Hamels (5-0, 2.13 ERA, 0.95 in May) are the clear-cut club favorites for MVP, to date.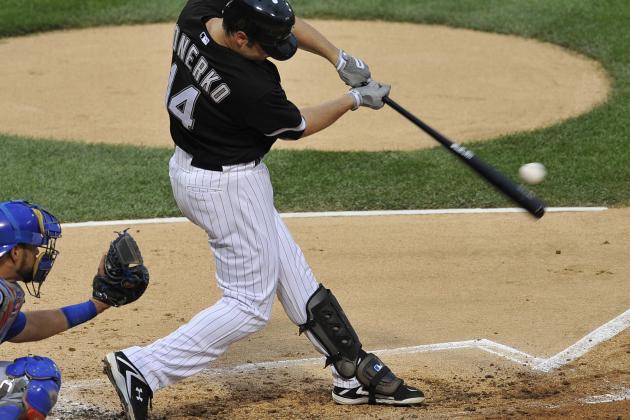 David Banks/Getty Images

30-Day Stats: 6 HR, 17 RBI, 18 Runs, .391 BA

Skinny: Konerko was the hottest hitter on the planet from May 14 to 29 (.568 batting, five homers). He's also a healthy yearly lock for 30 home runs...and an eighth season of 28-plus homers since 2004.

His early-season greatness aside, Konerko shall remain a sell-high commodity in fantasy circles, based on one unavoidable truth:

His age (36) suggests that Konerko won't be able to maintain this prodigious hitting pace once the calendar hits August and September. It also gives Doubting Thomas fantasy owners a baseless excuse to believe the slugger will melt in the Chicago summer heat.

Konerko has a career homer range of 62-70 for the months of July, August and September (at least 326 games per month) for a rough average of one homer every 4.93 games. His per-game homer average for months of April, May and June is about 1/4.78.

In other words, don't let the facts get in the way of a popular myth about Konerko's powers of sustainability.
Jeff Gross/Getty Images

30-Day Stats: 7 HR, 19 RBI, 19 Runs, .324 BA

Skinny: We could have gone to great lengths to justify the inclusion of Jason Kipnis (5 HR, 17 RBI, 21 Runs, 6 Steals, .280 BA) here, but Cano is easily the better option for the month.

For May, Cano led all second basemen in hits, doubles, homers, RBI and batting average. He was also a top-five finisher in runs.

As a coup de grace, Cano (five homers since May 17) was the only regular at his position to post a monthly OPS north of 1.000.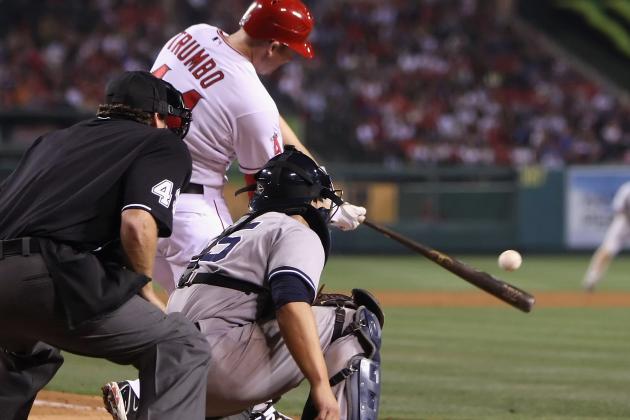 Jeff Gross/Getty Images

30-Day Stats: 7 HR, 18 RBI, 13 Runs, 3 Steals, .367 BA

Skinny: Among third basemen for May, Trumbo ranks in the top seven for homers (second), RBI (seventh) and batting average (third). Heck, the slugger even tallied three steals for the month!

But he wasn't the month's most productive third base-eligible asset. That honor goes to Hanley Ramirez, who beat Trumbo in three of the five major categories. More importantly, he also has eligibility at shortstop. Which means...

The final infield spot in this countdown came down to Trumbo...and Cardinals shortstop Rafael Furcal (3 HR, 12 RBI, 21 Runs, 5 Steals, .346 BA)—with Trumbo getting the slight nod.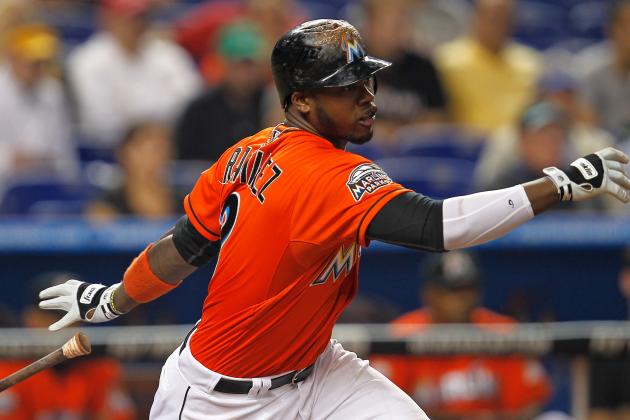 Sarah Glenn/Getty Images

30-Day Stats: 4 HR, 20 RBI, 18 Runs, 6 Steals, .322 BA

Skinny: The Marlins' 21-8 record in May (a franchise mark for victories) goes deeper than Giancarlo Stanton, Jose Reyes, Omar Infante, Mark Buehrle, Anibal Sanchez and Josh Johnson.

In the 30-day span, Ramirez (.364 OBP, .890 OPS) finally announced his authority as a top-20 hitting asset and one of the best dual-positional talents in fantasy (shortstop/third base).

It was the kind of revival that conjured up brief recollections of his 2009 season—24 homers, 106 RBI, 101 runs, 27 steals, .342 batting. A time when Han-Ram and Albert Pujols were the best fantasy duo in baseball. Bar none.

Those days of five-category domination may be gone. But 100 percent of fantasy owners and Marlins fans would gladly take Ramirez's May numbers and never look back.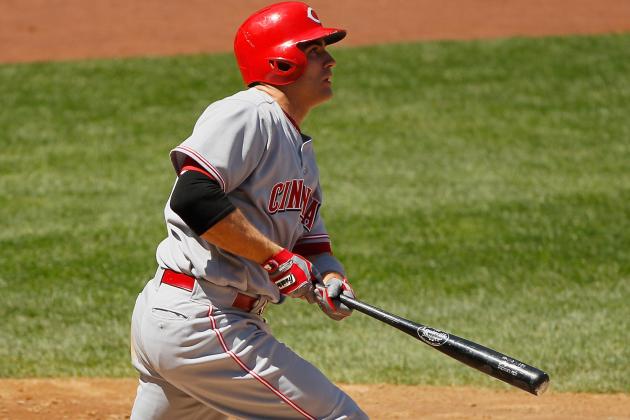 Mike Stobe/Getty Images

30-Day Stats: 6 HR, 14 RBI, 18 Runs, 2 Steals, .355 BA

Skinny: While it's true White Sox slugger Adam Dunn (6 HR, 21 RBI, 19 runs) had better power numbers than Votto for all of May, the Grand Canyon-sized gap in batting average was simply too vast to ignore.

As in .355 for Votto...and .237 for Dunn.

For extra spice, Votto fostered decisive advantages over Dunn in steals (2-0), hits (33-23), OBP (.483-.385), slugging (.677-.608) and OPS (1.160-.993).

Bottom line: It's a shame that Dunn picked May to be so prolific. If he had this kind of production in April, he would've been a lock for that month's fantasy All-Stars.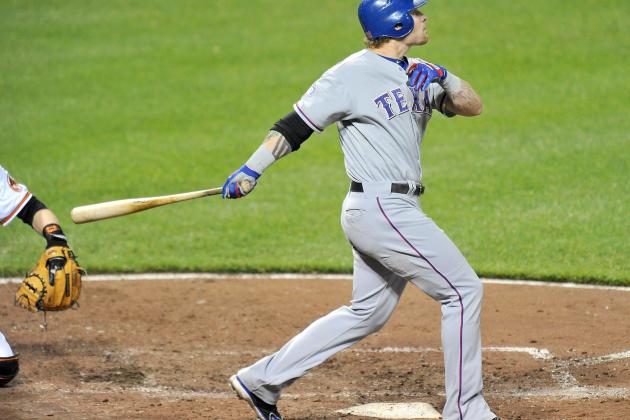 Mitchell Layton/Getty Images

30-Day Stats: 12 HR, 32 RBI, 19 Runs, 2 Steals, .344 BA

Skinny: No player garnered more attention in this blog for May than Hamilton, and with good reason. Basically, he needed only six days of insane production to clinch a spot here.

From May 7 to 12, Hamilton smacked nine homers (off "only" 12 hits) and 15 RBI—a run of devastation that likely won't be replicated all season.

For the month, Hamilton also tallied excellent peripheral marks in on-base percentage (.405), slugging (.781) and OPS (1.187). As a result, he is probably the No. 1 player in fantasy baseball right now.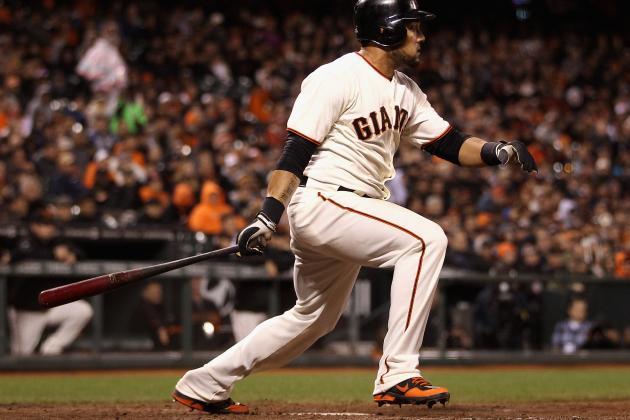 Ezra Shaw/Getty Images

30-Day Stats: 3 HR, 17 RBI, 24 Runs, 4 Steals, .443 BA

Skinny: Take a bow, Melky, because you may never have a month like this again.

For May, Cabrera tallied an MLB-high 51 hits and .443 batting average. He also posted superb marks in runs, doubles (seven), triples (five) and OPS (1.141).

Put it all together, and it's easy to see how Andrew McCutchen (8 HR, .361 BA), Martin Prado (1 HR, 9 RBI, 19 Runs, 6 Steals, .381 BA) and Ryan Braun (7 HR, .326 BA) drew short straws among outfielders.

Any of the trio would have been great candidates for the May countdown...if not for the heroic efforts of underdogs like Cabrera.
Christian Petersen/Getty Images

30-Day Stats: 10 HR, 31 RBI, 14 Runs, 1 Steal, .337 BA

Skinny: Amazingly, Beltran has managed to fly under the fantasy radar this season despite strong numbers since the Opening Day bell (with very few peaks and valleys).

In fact, he hasn't been this dominant since that magical second-half stretch of 2004 (32 homers, 67 RBI with Houston), when he nearly carried the Astros to a World Series berth.

Beltran's peripheral marks are similarly stellar—.410 on-base percentage, .730 slugging and 1.140 OPS.

Bottom line: With Lance Berkman sidelined with a knee injury, the Cardinals will need Beltran to maintain his prodigious hitting pace. When healthy, it would be unwise to bet against him.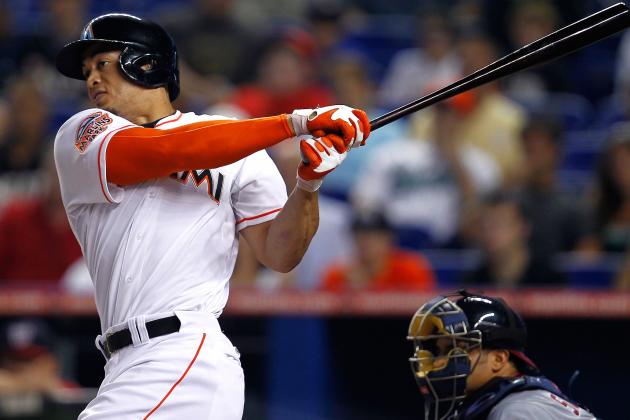 Sarah Glenn/Getty Images

30-Day Stats: 12 HR, 30 RBI, 23 Runs, 3 Steals, .345 BA

Skinny: When he's on a roll, there is no sweeter sight than Stanton raking homers at every fair-territory corner of the Marlins' new stadium.

Whatever knee problems plagued him in April have apparently dissipated, and once again Stanton has become a viable candidate for 40 homers (justifying a certain guru's preseason prediction), if not 50.

As luck would have it, Stanton's majestic May (.436 OBP/.760 slugging/1.198 OPS) coincides with the Marlins' greatest month in franchise history (21-8)...and rapid ascension into second place in the National League East.

Regarding Stanton's trade value, let's keep it simple: Outside of Joey Votto, Miguel Cabrera or Robinson Cano, there is no 1-for-1 swap involving pitchers or non-outfielders in Stanton's range right now.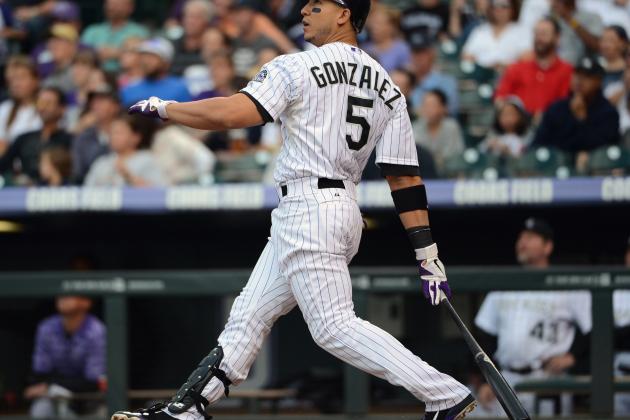 Doug Pensinger/Getty Images

30-Day Stats: 10 HR, 20 RBI, 18 Runs, 6 Steals, .322 BA

Skinny: The word "hot" does not even begin to describe Gonzalez right now. His fantasy dominance is working at every level...and from every angle.

For May 30-31, he belted four consecutive homers, while collecting seven hits and seven RBI. On May 28, he tallied four hits, and one day before that he crushed two homers against the Reds.

From a 15-day perspective, CarGo has seven homers, 14 RBI, 17 runs, two steals and a .397 batting average.

And from a National League-only standpoint for the season, Gonzalez (14 HR, 44 RBI, 44 runs, eight steals, .332 batting) boasts top-10 rankings in runs, hits, homers, RBI, batting average, slugging and OPS.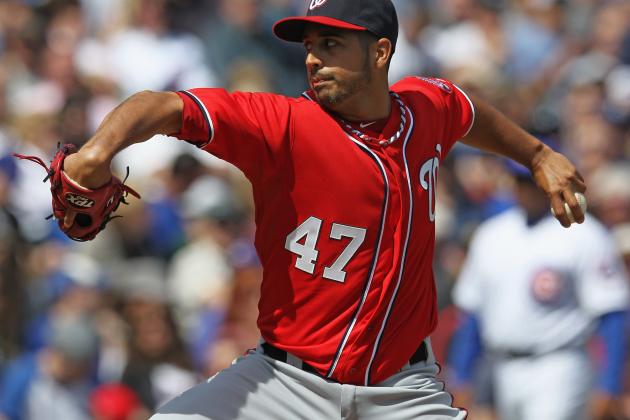 Jonathan Daniel/Getty Images

30-Day Stats: 5-0, 2.25 ERA, 0.94 WHIP, 45/13 K-BB

Skinny: Where should we begin with Gio, a top-five southpaw in the Senior Circuit, aside from praising the Nationals for their stealth offseason acquisition?

In his last nine starts, Gonzalez has allowed two or fewer runs eight times, and the ninth outing yielded only three runs.

In his last four outings, Gio recorded 38 strikeouts, with double-digit Ks on two occasions.

From a victory perspective, Gonzalez has won seven of his last eight decisions, averaging 6.45 innings during that stretch.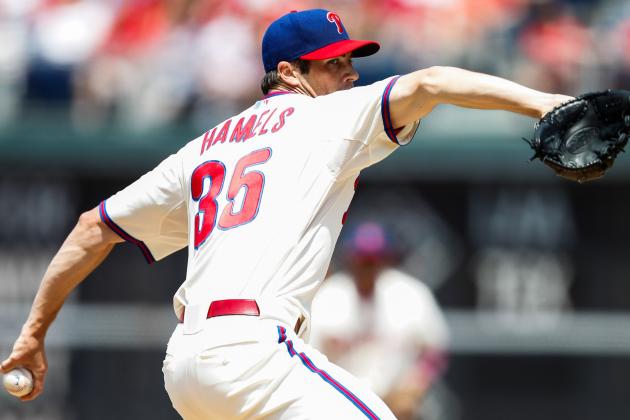 Brian Garfinkel/Getty Images

30-Day Stats: 5-0, 2.13 ERA, 0.95 WHIP, 36/9 K-BB

Skinny: As of June 1, Hamels ranked among the elite in wins, ERA, innings pitched, strikeouts and WHIP—yet there seems to be some debate over whether Hamels is a top-five fantasy asset among starting pitchers.

My take: Not only is Hamels the best fantasy pitcher on the Phillies right now (ahead of Roy Halladay and Cliff Lee), his only peers in baseball are Justin Verlander and Clayton Kershaw.

There's no need to clutter that statement or compartmentalize Hamels' fantasy impact with bite-sized stats. With eight straight wins (over nine outings), no more than four runs or three walks allowed in all 10 starts and a scintillating strikeout-to-walk ratio (72/14), the body of work speaks for itself. From the season's opening bell, Hamels has been an unstoppable force.

Now, we're left with one pressing (rhetorical) question:

What kind of trade market exists for a top-three pitcher...who's just as valuable as a top-eight hitter?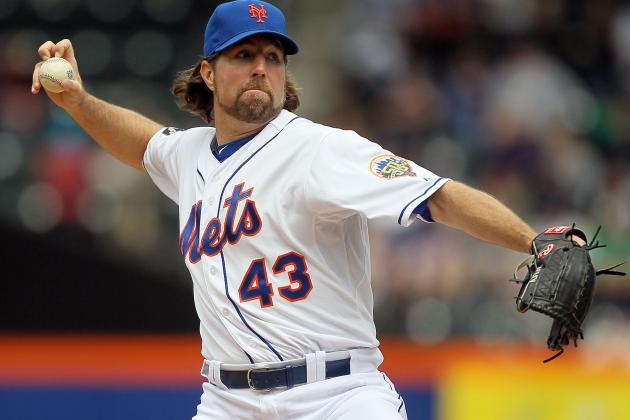 Jim McIsaac/Getty Images

30-Day Stats: 4-0, 1.83 ERA, 0.96 WHIP, 33/7 K-BB

Skinny: From what I gather, Dickey is the only top-30 starting pitcher to register zero strikeouts in one six-inning start...and then roll for 11 Ks just 10 days later.

Then Dickey followed that up with a 10-strikeout gem against the Padres (May 27).

But his success extends beyond schizophrenic strikeout totals.

Dickey allowed only six runs and three walks during his perfect May.

He also captured unofficial honors for the "best undrafted fantasy free agent of the month."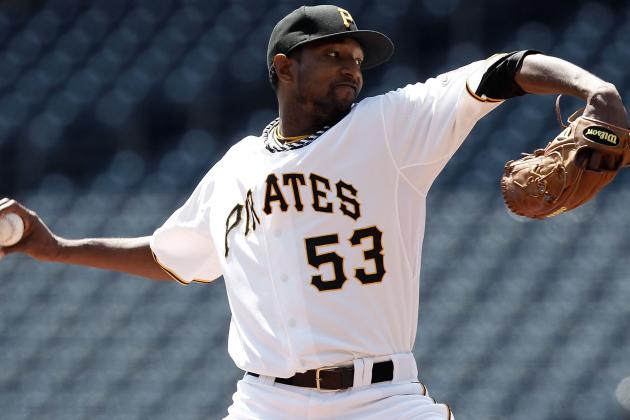 Jared Wickerham/Getty Images

30-Day Stats: 3-1, 1.54 ERA, 0.89 WHIP, 39/8 K-BB

Skinny: Speaking of undrafted stars...McDonald's greatness for May doesn't immediately stand out.

He didn't rank among the top 20 in victories or strikeouts—even though his monthly marks in both categories were above-average.

Plus, it can be debated that A.J. Burnett has been the Pirates' best starting pitcher since May 3 (the 12-run meltdown came the day before).

But when factoring in the entire month, it's impossible to find many pitchers that could match McDonald's across-the-board success.

My favorite May factoid: Four outings of one run or less.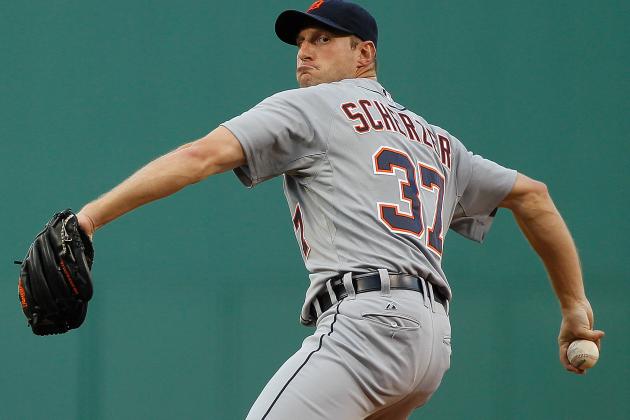 Jim Rogash/Getty Images

30-Day Stats: 4-0, 4.04 ERA, 1.18 WHIP, 51/8 K-BB

Skinny: Scherzer obviously missed the mark in ERA and WHIP for May honors, but when you rank third in victories (four), first in strikeouts (51) and boast the greatest K/BB ratio of the 40-plus strikeout pitchers (51/8)...it's easy to see how the Detroiter squeezed into the countdown.

On the strength of his 15-strikeout gem against the Pirates on May 20, Scherzer has also emerged as a coveted asset in trade talks. The 15-K outing (which included only one walk) was already Scherzer's second double-digit strikeout effort and fourth of nine or more K's since April 13.

There's also an ERA angle to consider: Before his May 5 start against the White Sox, Scherzer and Tigers pitching coach Jeff Jones apparently closed a hole in the pitcher's delivery.

Since that tutorial, Scherzer has surrendered just 16 earned runs in six starts.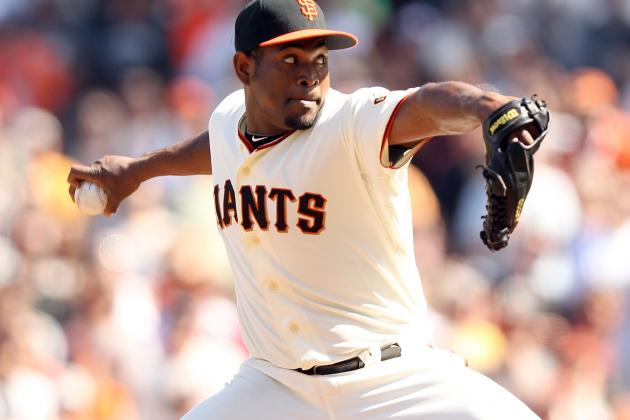 Ezra Shaw/Getty Images

30-Day Stats: 1-2, 1.26 ERA, 0.98 WHIP, 10 Saves

Skinny: Back in early April, after reliever Brian Wilson went down with a season-ending injury, I backed Sergio Romo—and not Casilla—for the interim closer position.

In lieu of his superb seasonal stats (2-0, 0.61 ERA, 0.89 WHIP, 20/5 K-BB ratio), I was hardly wrong to characterize Romo as San Francisco's top option at that crucial spot.

But over time, Casilla has proven to be a worthy adversary to Romo's pitching gifts, converting on 10 of 10 May save opportunities, while holding batters to a .193 average for the month.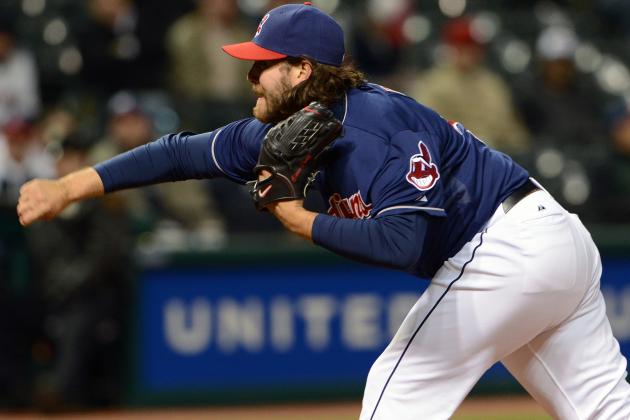 Jason Miller/Getty Images

30-Day Stats: 0-1, 1.59 ERA, 0.79 WHIP, 10 Saves

Skinny: As stated many times in this blog, I only care about saves and WHIP with closers...which should explain why I'd never take one in the first 10 rounds of a 12-team roto draft.

If ERA was a concern, I would have likely dumped Perez immediately after his opening-day meltdown against the Blue Jays (four runs allowed). If strikeouts were my sole focus, I would have reached for Craig Kimbrel in every March draft.

Instead, I'm thrilled with Perez's low-key progress in his last 21 appearances—17 saves (in 17 chances), two runs allowed and a 0.68 WHIP.