NHL: The 20 Dumbest, Accidental, Needless or Undeserved Injuries Caught on Video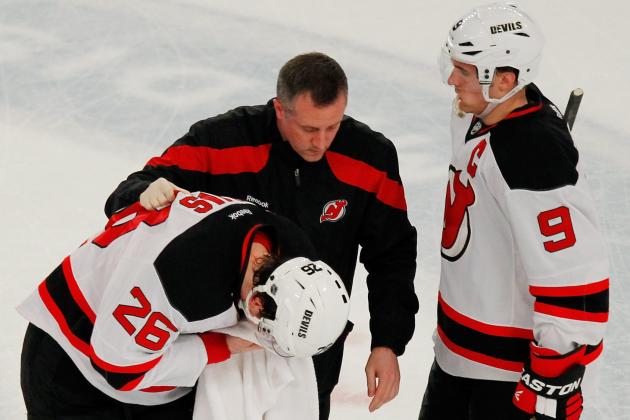 Paul Bereswill/Getty Images

Injuries and hockey seem to go hand in hand.
When you have very large men skating very fast trying to check each other, injuries are bound to happen.
Some injuries over the course of NHL history, however, do not seem to fit the mold of being just a part of the game.
Sometimes, the injury is the result of a dumb play or decision by one or more players.
Sometimes, it is a fluke, like a skater catching a blade and crashing into the boards.
On other occasions, the injury is just completely needless or undeserved.
On other occasions still, the injury is the result of what can only be described as a cheap shot inflicted by one player on the other.
This article will explore what are, in my opinion anyway, the 20 dumbest, accidental, needless or undeserved injuries that were actually caught on film, or video or a web-cast, etc.
The fact that the injury had to be available on video will likely make this list a bit different from other ones in the past.
For instance, Jaromir Jagr dislocating his shoulder trying to take a swipe at Scott Gomez has to be one of the dumbest injuries ever in the NHL. But I did not locate a video for it. So, it is not here.
Also, I did not include the throat slash injuries suffered by Clint Malarchuk or Richard Zednick. Some people do not react well to the sight of blood and if you have seen either of these injuries before, they are both rather gruesome. Both men, thankfully, survived to skate again.
Also, I did not really make any attempt to rank these as I found trying to come up with criteria to rank them to be very, very difficult. Do you base it on the extent of the injury? Is intent to injure a bigger factor than the injury being the result of people being stupid? I found it really hard to answer those questions—so I decided not to.
What follows, then, is a listing, with video footage, of the 20 dumbest, accidental, needless or undeserved injuries in NHL history.
If you know of others, and you find video footage, please do not hesitate to leave a comment. I make no claims that this list is somehow all inclusive. Far from it.
In any event, let the carnage begin.
Begin Slideshow

»
We will start things off with a particularly nasty hit that Flyers defenseman Randy Jones laid on the Bruins Patrice Bergeron very early in the 2007 season.
This one definitely qualifies as undeserved and needless.
Certainly, it was a dumb move by Jones.
You can also call it a cheap shot if you like.
Jones would end up being suspended for two games for this hit.
Bergeron, on the other hand, would not play again in the 2007-2008 season having sustained a broken nose and a grade three concussion.
But Bergeron was far from finished. He would go on to score two goals in the Bruins Game 7 victory over Vancouver last year to bring the Cup back to Boston for the first time since 1972.
This one is clearly in the accidental category. Mike Knuble and Brendan Shanahan just caught each other going in opposite directions.
It was a very scary collision between two big guys from February of 2007.
Certainly, the injury was undeserved, as this was just one of those fluky sorts of plays you see every so often.
It is hard to say who got the worst of the collision.
Several reports indicate that Shanahan was actually unconscious for up to 10 minutes after the collision. He would end up missing 15 games after this incident.
Knuble would miss a month due to the injuries he sustained here.
This one is still fresh in the minds of many, as it happened a little more than a year ago.
There has been much debate as to whether Zdeno Chara riding Max Pacioretty into the glass extension (stanchion) between the benches in March of 2011 was an intentional act on Chara's part, or more the case of Pacioretty being in the wrong place at a really bad time.
As is often the case, probably a bit of both.
It certainly qualifies as a bonehead maneuver on Chara's part. Yes, by all means, finish your check. But have some awareness of where you and your opponent are on the rink.
That is not to say that Chara is a dirty player, because he is not. But Pacioretty could have been killed by this incident— it was so bad the Montreal police actually started an investigation to determine if criminal charges could be brought against Chara.
The incident, quite clearly, was needless and avoidable.
In the end, Pacioretty would suffer a severe concussion and a fracture of the fourth vertebrae in his cervical spine. In other words, he technically suffered a broken neck.
Pacioretty would be back for the start of the 2011-2012 season, so apparently no permanent damage was sustained.
Chara received only a five minute major and a game misconduct.
File this one in the accidental and, quite obviously, undeserved category. A combination of bad timing, bad angles and, in general, bad luck.
This is also one of the more serious injuries contained in this collection.
When Calgary's Daymond Langkow was struck in the back of the neck by a teammate's slap shot, the initial reaction on the ice belied the severity of the problem.
Langkow was hurt, but he seemed all right for a while.
In reality, he had sustained spinal cord damage.
He would miss a total of 378 days of action and 88 games due to the injury he sustained in this game, which took place March of 2010.
The fact that he ever played again is a testament to the courage and toughness of Daymond Langkow.
Tony Granato was never a dirty player.
This is a player who in 1997 won the Bill Masterton Memorial Trophy. That is the trophy that is frequently awarded as the man who demonstrates great sportsmanship throughout the season. While that is not the only factor (perseverance and ability to overcome injuries seem to be the other ones), it is a big one.
But as evidenced by this video, Granato had a huge lapse in judgment in a game against the Blackhawks in February of 1994.
His vicious two handed slash of Chicago's Neil Wilkinson earned Granato a well-deserved 15 game suspension.
Somewhat ironically, a couple of years later Granato would deal with his own serious injury, suffering bleeding in his brain's left temporal lobe after sustaining a hard hit. It was Granato's heroic recovery from that injury that earned him the Bill Masterton Trophy.
But there was nothing heroic about the cheap shot in this video.
From simply watching this video, you would have to say that Matt Cooke's head shot to Marc Savard on March 7, 2010 was a cheap shot. Plain and simple, just a nasty hit by Cooke to the head of an unsuspecting Savard.
Savard would sustain a serious concussion and would miss two months—at least initially. He would return in the playoffs series against the Flyers, but would unfortunately endure a historic playoff collapse along with the rest of the Bruins.
But in January of 2011, Savard would suffer another concussion.
He has not played since. It is likely he will never play again.
Despite all of this, Cooke was not penalized for the hit and was neither fined nor suspended.
In 2010, the NHL did not have rules in place prohibiting these types of head shots. Just 17 days after this incident, however, rules prohibiting this type of hit were implemented.
This is one that qualifies as a real dumb move by Cooke and a completely needless, undeserved and, quite likely, career ending injury for Savard.
This one is equal parts dumb, accidental and undeserved.
It is a rather odd play, but it is one that proponents of eliminating the NHL's touch icing rule have added to their dossier of evidence.
And it is a strong piece of evidence.
It is simply a case of the Wild's Eric Nystrom trying to beat out an icing, racing for the puck and getting his stick caught in Taylor Fedun's skates.
Without question, Nystrom had no intention, whatsoever, of injuring Fedun.
As you can see though, Fedun slammed into the boards and suffered a fractured femur—in a pre-season game no less.
In another ironic twist, it was Minnesota defenseman Kurtis Foster who suffered a similar injury back in 2007, on a similar looking play.
Fedun did not play the rest of 2011 and apparently still needs to use a walker.
In the meantime, the NHL's touch icing policy remains.
As a Capitals fan, I am supposed to harbor a deep hatred for the Pittsburgh Penguins and for Sidney Crosby in particular.
But what happened to Sid after this hit by David Steckel was absolutely undeserved.
I have heard many, many people call this a cheap shot by Steckel and I have always disagreed.
Was it a blind side hit? No question.
Was it cheap shot by Steckel with the intent to injure the best player in the world? I do not believe so.
The video evidence really just shows Steckel going up ice after the puck and slamming into Crosby with his shoulder.
Steckel has repeatedly said the hit was unintentional and even after being traded to New Jersey, he remained remorseful about the incident.
Crosby, meanwhile, has battled post-concussion symptoms ever since the 2011 Winter Classic (with a lot of help from the hit laid on him by the Lightning's Victor Hedman, of course), although it looks like he may have rounded the corner and, hopefully, has fully recovered.
Crosby's case, however, has brought a lot of attention to the issue of concussions in the NHL—and the bigger issue of the possible prevalence of chronic traumatic encephalopathy (CTE) in the NHL.
Many believe that CTE is what led to the recent suicide of Junior Seau. If Crosby's situation can bring enough attention to this issue that similar incidents can be prevented, then his injury may prove to be one of the most important in NHL history.
This one needs to go in the "that hurts to watch" category.
Obviously, this one was an accident. The Blues Andy McDonald is racing in and trying to get to the puck. He loses his balance and goes head first into the boards.
It is an incident that looked very scary when it happened.
But while McDonald's night was done after this incident, which occurred in Halloween of 2009, he did not miss any significant time as a result of it.
After such a head first blow to the boards, McDonald was very fortunate indeed to not have sustained a much more serious injury.
There is not a whole lot you can say about this one.
Indeed, a picture is worth a thousand words.
What exactly possessed Chris Simon to try and pretty much decapitate Ryan Hollweg on March 8, 2007?
No one really knows for sure.
What is really amazing about this incident is that Hollweg only needed two stitches and he actually returned to the game.
Simon was not nearly as lucky—he was hit with a 25 game suspension.
That suspension would serve as the precursor for an even longer suspension (30 games), that was imposed about nine months later when Simon tried to step on the leg of Jarkko Ruutu.
The two incidents would effectively end Simon's NHL career, although he continues to play in the KHL.
While this wipeout looks very similar to the Andy McDonald injury, it actually ended up being a bit more serious.
With tremendous speed, Ryan Johnson tried to get around the very recently retired Nicklas Lidstrom. Unfortunately, Johnson lost an edge and crashed back, neck and shoulder first, into the boards.
Luckily, the collision looked worse than it actually was.
Johnson sustained a concussion and missed five games but was otherwise alright.
Another accidental injury that could have been much worse than it eventually was.
During the 2010-2011 Stanley Cup playoffs, Nathan Horton became the clutch player for the Boston Bruins.
He scored the winning overtime goal in Game 7 against Montreal, and would also score the game winner in Game 7 against Tampa Bay.
But his playoffs would be cut short when Aaron Rome delivered this devastating check to Horton in Game 3 of the Stanley Cup Finals.
Horton would suffer a severe concussion and would miss the remainder of the Finals.
Rome ended up being suspended for the rest of the Finals.
Horton would return for the 2011-2012 season but would only play in 46 games before suffering another concussion. He did not play in the Bruins opening round upset loss to the Capitals.
There has been much debate over whether Rome's hit was clean or not. But most people have come down on the side of this one being a cheap shot.
Whether it was clean or not, Rome should have known better. Horton had gotten rid of the puck a full second earlier and never had a chance to defend himself from what was coming.
It was certainly an injury that Horton did not deserve.
Whether Horton ever fully recovers from his concussions remains to be seen.
As far as dumb, needless and unnecessary injuries go, ladies and gentlemen, we have a winner.
It is one thing to be frustrated over giving up a goal. Showing emotion is to be expected.
It is quite another thing entirely to swing your hockey stick like you're a samurai warrior and strike your goalie in the head.
Yet, that is what happened in November 2009 when Florida's Keith Ballard nailed Tomas Vokoun in the head as he angrily swung his stick, following a goal by Atlanta's Ilya Kovalchuk.
Ballard has said numerous times he meant to break his stick.
I don't think he meant to break Vokoun's head along with it.
Luckily, Vokoun escaped with an ear laceration and nothing more serious.
Nevertheless, as far as bone-headed plays and truly dumb injuries, Keith Ballard pretending he was Darth Vader and using his goalie's head as a substitute for Obi-Wan Kenobi ranks number one.
We are now to the section of this article where the final seven incidents and injuries involved can all be arguably called cheap shots, or dirty hits or flat out illegal hits.
Whatever you want to call them, pretty much all of these are emotionally charged responses by one player or another.
They all easily qualify as dumb plays by one player, and the injury sustained by the other clearly unnecessary and undeserved.
This first one is a prime example of this.
Retaliation is almost as big a part of hockey as injuries are—and sometimes things just go too far.
In February of 2004, Colorado's Steve Moore injured Vancouver's Markus Naslund with what many considered to be a cheap shot even though no penalty was called. Naslund suffered a concussion and since he was the Canucks captain, retribution seemed inevitable.
What happened on March 8, 2004, though, went well beyond retribution. Several players tried to goad Moore into a fight and Moore obliged against Matt Cooke (remember him from earlier?).
With the game out of hand in the third period, Todd Bertuzzi tried to get Moore to fight but Moore refused. As the two skated up ice, Bertuzzi grabbed Moore by his jersey and then sucker punched him from behind.
The blow crashed into the right side of Moore's face and knocked him out. As Moore fell, Bertuzzi rode his face and head into the ice.
To make matters worse, Moore's teammate, Andrei Nikolishin jumped into the fray and fell on him too. Bertuzzi's teammate Sean Pronger also jumped onto the pile. Everyone came crashing down on Moore, who was already unconscious.
Moore suffered three fractured vertebrae in his neck and a concussion.
He would never play again.
Bertuzzi was essentially banned from playing hockey anywhere in the world until the start of the 2005-2006 season.
Moore has sued Bertuzzi for civil damages and that case is still pending in Ontario Super Court.
On many occasions Bertuzzi has expressed remorse over the incident.
Naturally, it does not change what happened.
There is little question that an incident that took place more than eight years ago changed the lives of two men forever.
Continuing on with our collection of cheap shots, we get this incident from the 2001 Stanley Cup playoffs.
In the closing moments of Game 4 of the Eastern Conference Semifinals, with the Maple Leafs well on their way to evening the series at 2-2, the Devils Scott Niedermayer was skating towards his bench.
Tie Domi then leveled an unsuspecting Niedermayer with a vicious elbow to the head.
Niedermayer was knocked out and Domi would be suspended for the remainder of the playoffs.
Niedermayer would get the last laugh though, as the Devils would go on to eliminate the Leafs in seven games.
New Jersey would advance all the way to the Stanley Cup Finals before falling to Colorado in seven games.
Niedermayer would be a consistent contributor for the Devils while Domi could do nothing but watch on TV.
This is a very recent incident as it just took place about a month and a half ago.
In the first period of Game 3 between the Phoenix Coyotes and Chicago Blackhawks, the Coyotes Raffi Torres leveled the Blackhawks Marian Hossa with a shoulder shot to Hossa's head.
Although Torres was not penalized for the play, the disciplinary czar of the NHL, Brendan Shanahan (remember him from earlier?) felt as though Torres hit was an illegal blow to the head.
Torres' prior conduct, previous disciplines and prior suspensions, did not help his cause. He was suspended for 25 games, effectively ending his playoff run with the Coyotes, who advanced all the way to the Western Conference Finals but had no real answers for the Los Angeles Kings once they got there.
Some felt the suspension was too stiff, especially since no penalty had been called on the play.
Others felt the suspension was justified, particularly since it looks like Torres launched himself at Hossa and went head hunting.
As for Hossa, he was hospitalized and did not play the rest of the series. Without him, the Coyotes were able to dispatch the Blackhawks in six games.
Whether this was a cheap shot or not, it is another example of a reckless play, this time by a repeat offender, that resulted in a significant injury to a marquee player.
An argument can be made that the February 2000 incident between Marty McSorley and Donald Brashear was the low watermark for the NHL.
If not for the Steve Moore incident discussed previously, I would wholeheartedly agree.
Nevertheless, this is one of the dumbest plays in NHL history and one of the all time worst cheap shots ever.
There were only three seconds remaining in the game when Marty McSorley swung his stick and connected with the head of Donald Brashear.
Brashear fell backwards and as his head struck the ice. His helmet came off, making the situation even worse.
Brashear suffered loss of consciousness and a concussion.
McSorley was suspended for the rest of the 1999-2000 season—but his legal troubles were just beginning.
He was actually charged and convicted of assault with a weapon and sentenced to 18 months probation.
The entire sordid incident effectively ended the career of McSorley, as he never again played in the NHL—or pretty much anywhere else for that matter.
Brashear would play in the NHL through the 2009-2010 season. He would earn a reputation as an enforcer by many and a goon by others. He was definitely a tough guy.
In a real head-scratcher, he would be suspended for a blind side hit on the Rangers Blair Betts during Game 6 of the Capitals Eastern Conference Quarterfinal series against the Rangers.
That incident proves beyond a shadow of a doubt that horrible judgment and stupidity are indeed contagious conditions.
As we have seen repeatedly, they are spreading.
Jesse Boulerice's crosscheck to the face of Ryan Kesler in October of 2007, with his team already ahead 7-2, is another example of a player letting his emotions get the better of him.
The end result is a dumb, needless and undeserved injury sustained by an NHL player.
Thankfully, Kesler was not seriously hurt by this incident, suffering only a sore jaw.
Boulerice was not so fortunate, as he received a 25 game suspension for this sketchy move.
Of all the plays and injuries visited thus far, this is the only one that can truly be said to have ignited a rivalry.
Claude Lemieux's check from behind that drove Kris Draper's face into the dasher in Game 6 of the 1996 Western Conference Finals resulted in Draper's face, literally, being rearranged.
Draper sustained a broken nose, jaw and cheekbone. I could not find the video evidence for the injuries he sustained, but a decent photo of those injuries can be found here:
https://encrypted-tbn0.google.com/images?q=tbn:ANd9GcTL721sJ6JaxHh5IB7eKpeCzmqtpK4C0tpHLfjssESDwiiGC8a4
Lemieux would end up being suspended for the first two games of the Stanley Cup Finals for his actions.
The fallout of the incident, however, would be felt for years to come.
One of the fiercest rivalries of the mid-1990's was born because of this incident, highlighted by several more epic playoff confrontations between the two teams and one of the biggest on-ice brawls ever seen, in March of 1997.
Draper would go on to play more than 1,000 games for the Red Wings, unquestionably a great accomplishment.
Lemieux would end up winning four Stanley Cups and, despite this incident, is regarded by many as one of the better playoff performers in recent NHL history.
I have saved one of the worst for last.
As a Capitals fan, this is one of the more embarrassing moments in franchise history.
As mentioned previously, it is one thing to be frustrated over losing or allowing a goal.
It is quite another to slam someone into the boards so hard, as he is celebrating a goal, that you end up separating his shoulder and significantly damage another team's playoff chances.
Dale Hunter's blasting of a celebrating Pierre Turgeon in Game 6 of the 1993 Division Semifinals is one of the most condemned plays in NHL history for good reason.
There is just no way to justify what Hunter did on this play, and he more than deserved the 21 game suspension he received, the longest suspension ever at the time.
Turgeon would miss almost all of the ensuing series, where the Islanders shocked the defending champion Pittsburgh Penguins, although he would play in the Conference Finals against Montreal.
Despite the incident, Hunter is regarded by Caps fans as one of the greatest players ever for the snake bit franchise.
Still, this incident demonstrates one of the dumbest, needless and most unnecessary injuries ever in NHL history.
I wanted to take an extra slide to acknowledge and thank Wikipedia (http://en.wikipedia.org/wiki/Main_Page) for a great amount of the information I used to find out the extent of injuries and/or the length of the suspensions for many of the players noted in this article.
One of the best things about Wikipedia is the ease with which a writer can seamlessly link between references and obtain a wealth of information. That made several aspects of this article much easier to complete.
So thanks again to Wikipedia.