Danny Ainge Must Rebuild Post-Big Three Boston Celtics to Keep His Job
June 1, 2012

Elsa/Getty Images
As great as Paul Pierce, Kevin Garnett and Ray Allen have been, Danny Ainge knows the time has come.
It may pain Celtics fans to have to hear it, yet in order for Danny Ainge to continue as the team's President of Basketball Operations, he must start the rebuilding process for the post-Big Three era.
The Celtics have put forth an impressive run in the 2012 postseason, however, there is no question they are lacking what it will take to get back to competing for NBA championships.
These are the reasons why Ainge must rebuild the post-Big Three Celtics in order to maintain his position with the team.
Winning is Everything in Beantown
Whether it's the 30-plus Hall-of-Fame inductees, the 17 NBA championships or the simple fact that the Celtics have posted five consecutive winning seasons, there is no question that winning has become the norm in Boston.
The Big Three were tremendous in their five years as a unit, yet it is clear that roster adjustments must be made if the Celtics expect to win another NBA championship. The team is much too slow and offensively inconsistent to compete with the likes of the Chicago Bulls and Miami Heat in the East.
With the legacy that Boston has made in its time in the league, make no mistake about it, Ainge will have to win readily and quickly.
Injuries Have Become An Issue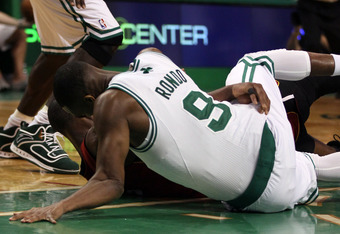 Elsa/Getty Images
Especially the case with Ray Allen, the Boston Celtics are that much less of a threat in the league as a result of their top players failing to be at full health.
In this 2012 postseason, Rondo has had back issues, Pierce is dealing with a banged up knee and Allen continues to suffer from the bone spurs in his ankle. 
If injuries begin to prevent the Celtics from winning in the future, Ainge must reconsider who he brings back next season and understand his team must be at top form and healthy to compete.
Rajon Rondo Needs the Change
It is clear Rondo is as supportive of the Big Three as any player on his team, as the chemistry he boasts on the floor with Allen, Pierce and Garnett is something to watch to say the least.
Yet in order to grow as a point guard and become an NBA-elite player, he will need to take on more of a scoring role. As great as he is as a point guard, Game 2 against the Miami Heat was a significant indicator of just how great this talent really is.
Rondo has already proven he is a tremendous floor general and easily the top passer in the game today, yet with a scoring ability as well, he becomes the best point guard, period. Make no mistake about it.
If Rondo can develop as a player and improve his game it will be good for Celtics fans, his career as whole and undoubtedly the future success of this team going forward. Ainge must consider Rondo's potential in deciding how to construct the post-Big Three team.