Usain Bolt: What We Learned from the Diamond League
June 1, 2012

Paolo Bruno/Getty Images
One week ago, Usain Bolt was upset.
Last Friday, he ran his slowest time in the 100-meter race since 2008. Back then he was just starting to take the race seriously.
Bolt is the guy to beat in London in the 100 this year. He's the world record holder and won gold at Beijing four years ago. His 10.04 in Ostrava last week told the rest of the field in London that anything was possible. It gave all the other runners a chance.
Bolt's race yesterday in Rome took away that chance.
At the Diamond League yesterday race in Rome, Bolt ran a 9.76, good enough for the best time in the 100 all year.
After his disappointment at Ostrava, Bolt was perplexed and defeated, even though he won the race.
After yesterday's race, Bolt was his usual showboating and boisterous self.
According to ABC News, Bolt credited the crowd, less fatigue, and a better start with his win and fast time in Rome.
As much ambiguity as the race is Ostrava created, the race in Rome took away all doubt.
Bolt showed that he is still the best. Honestly, no one should have ever doubted the cocksure Bolt. 
Look at the NBA playoffs this season. The Boston Celtics game into the postseason as the four seed. People were doubting them. People didn't even think they could make it out of the first round.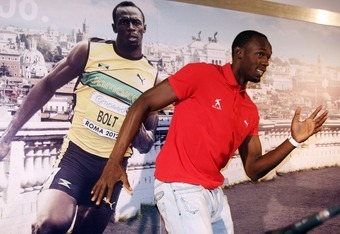 Paolo Bruno/Getty Images
The wily veteran Celtics taught all the doubters a thing or two.
They are currently playing in the Eastern Conference finals and although they look a little overmatched against the Heat, they still have a shot to make it to the NBA finals.
For the Celtics, this could be their last shot, with this team, to go to the finals for a while.
Let's give Bolt some credit. This year is nowhere near his last shot to break his own world record or win gold again.
Bolt is 25 years old. He's young and he still has a lot left to show.
He is the fastest man ever. No one has ever run faster than Usain Bolt.
So what if he had a bad race last Friday? Yesterday's race proved that Bolt is still the head honcho in the 100 meters and that he is the obvious favorite going into the Olympics.
Asafa Powell is still killing it, but he just isn't quite at Bolt's level.
There are still some races to go before London so we will have to wait and see if Powell can close the gap, but until then, Bolt is the man and no one should doubt him.