2012 NBA Mock Draft: Biggest Steals of the First Round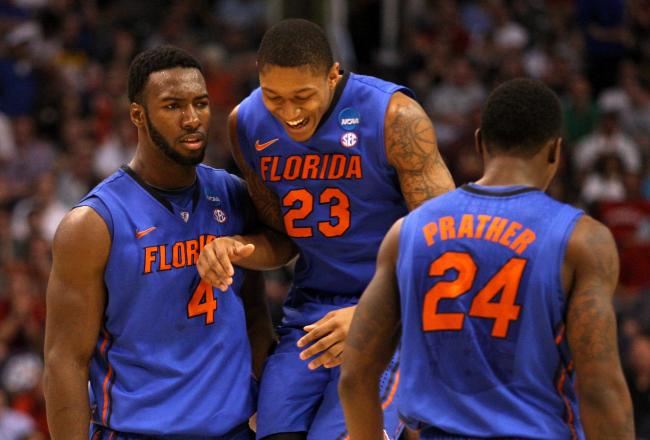 Christian Petersen/Getty Images
The New Orleans Hornets won the lottery on Wednesday, giving them the option of first pick in the 2012 NBA Draft. With such deep talent, effective picks will be made all the way into the late first-round.
Teams will find answers to their needs later in the draft, allowing them to focus on other players early on.
Here is a mock draft of the first 30 picks, using the current lottery order.
(The biggest first-round steals are in italics.)
1. New Orleans Hornets: Anthony Davis
Davis is the clear-cut best player in this class, and the Hornets struck gold by earning the first pick. The first pick should be unquestioned. The Hornets will fill their center spot with Davis, who led Kentucky to a national title in March.
2. Charlotte Bobcats: Michael Kidd-Gilchrist
While I believe that Harrison Barnes is the better choice for the Bobcats, it is hard to see them passing on Kidd-Gilchrist. His strong work ethic and high motor allow him to make an impact on a team, even if he doesn't dominate the offensive end.
Their lack of a small forward will be solved with this pick, as they look to put their franchise back on track by selecting Kidd-Gilchrist second overall.
3. Washington Wizards: Bradley Beal
With John Wall, the Wizards' point guard spot is filled, as is their frontcourt with Nene and Jan Vesely.
While both the small forward and shooting guard positions could use an upgrade, with Kidd-Gilchrist already selected, they will go with the best available in Beal.
His flawless shooting ability will allow him to be a great scorer for Washington, who will look to pair Beal with Wall and create a bright young backcourt to turn the franchise around.
4. Cleveland Cavaliers: Thomas Robinson
Thomas Robinson is, in my opinion, the second best college player available in this draft. However, the Bobcats' and the Wizards' priorities will shift them away from Robinson and towards players of other positions.
After falling to the fourth pick, the Cavs will scoop him up and finalize a core that could potentially bring Cleveland back into the playoffs.
Rookie Tristan Thompson will move to the center spot and, with Robinson on board, they will combine to make one of the youngest and most talented big man tandems in the league.
With Rookie of the Year, Kyrie Irving running the point, the team could eventually be a title contender. Their talented youth would form a core that could amount to greatness in later years.
5. Sacramento Kings: Perry Jones III
Adding a power forward to help DeMarcus Cousins should be the Kings' top priority.
Jones is an athletic big man whose range of talents complement Cousins better than any remaining big men. He can rebound and score, while his biggest flaw is his lack of motor.
His ability to also play the small forward position will come in handy in Sacramento, as they were forced to start Tyreke Evans at the three spot last year.
6. Portland Trail Blazers (via Brooklyn Nets): Andre Drummond
Portland has had little success in the past with athletic centers, but Andre Drummond is worth the gamble. Portland is in need of a center, and Drummond will answer their prayers.
His athletic abilities give him the potential to be one of the league's best centers, and with LaMarcus Aldridge, Portland could eventually sport one of the best big man tandems in the league.
Robinson
Ronald Martinez/Getty Images
7. Golden State Warriors: Harrison Barnes
Golden State's starting lineup is filled at every position, excluding the three. That is why Harrison Barnes is the ideal prospect for them, and their seventh pick will be used to take him.
As a natural born scorer and leader, Barnes will make a quick and smooth transition into the league. He can even lead the team through rough patches if they are plagued by injury again in the 2012-2013 season.
With Stephen Curry and Klay Thompson manning the backcourt, and David Lee and Andrew Bogut taking up the middle, no player is better suited to contribute to the Warriors' offense than Harrison Barnes.
8. Toronto Raptors: Terrence Jones
Demar DeRozan and Jose Calderon lead the offensive attack in Toronto, so an offensive oriented player is not their top priority.
With the eighth pick, they should look to Terrence Jones. His diverse style of play allows him to play either forward positions. He can score when needed, rebound and distribute, making him the ideal pick for the Toronto Raptors.
9. Detroit Pistons: Jared Sullinger
Sullinger's draft stock decreased over the past year, but his talent is enough to land him a spot in the top 10.
Detroit needs a partner for Greg Monroe, and Sullinger's talents complement Monroe's nicely. He can play on the post, or a bit extended, so he is sure to keep defenses busy in Detroit.
10. New Orleans Hornets (via Minnesota Timberwolves): Kendall Marshall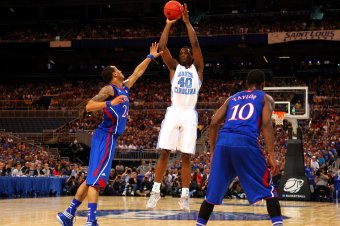 Dilip Vishwanat/Getty Images
While many will argue that Damian Lillard is the superior point guard in this years' draft, I will disagree until I am out of breath. Marshall is undoubtedly the best pure passer in this draft, with Lillard's scoring topping Marshall.
However, if Eric Gordon remains in New Orleans, another scorer is not what they need. With Anthony Davis controlling the paint, New Orleans will need someone to distribute down low to Davis, or out to Gordon.
After seeing a franchise player in Chris Paul leave this year, New Orleans desperately needs a point guard to tie the links together.
11. Portland Trail Blazers: Damian Lillard
Lillard is a bit overrated in this year's draft, but Portland needs a point guard very badly.
After the Raymond Felton experiment failed, the team will need a new player to grab hold of the reins of Portland's offense. With pick No. 11, the Blazers will take the best point guard off the board—Damian Lillard.
12. Milwaukee Bucks: Tyler Zeller
Drew Gooden is aging, and Ersan Ilyasova may be gone after this summer. The Bucks will need someone to help Ekpe Udoh fill the front court. By selecting Zeller, Udoh can move down to the four, his natural position.
13. Phoenix Suns: Austin Rivers
With Steve Nash on his way out of Phoenix, the team will need a new face of the franchise.
Rivers can be that guy, and his scoring ability will allow the the team to rely on him to carry the offense. He can also distribute and can play the point, which is vital considering Nash's situation.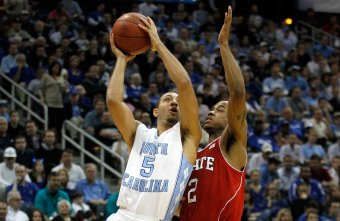 Marshall
Streeter Lecka/Getty Images
14. Houston Rockets: Arnett Moultrie
A young, developing center is Houston's biggest need in this year's draft, so selecting Moultrie makes perfect sense.
With Scola being a great offensive player, they need a big man whose focus is not on offense, but on defense and rebounding. Moultrie fills that role perfectly, making him the ideal pick for Houston.
15. Philadelphia 76ers: Meyers Leonard
Elton Brand is aging, and the Sixers need someone else to lead the frontcourt. Meyers Leonard is a great player. He can either be placed into the mix immediately or used off the bench, allowing him to develop.
He is a good scorer and passer, so he would fit in perfectly with Philly's offense.
16. Houston Rockets (via New York Knicks): Jeremy Lamb
While the shooting guard spot is not the Rockets' biggest weakness, a player like Lamb is too good to drop this far.
Kevin Martin is a black hole, but can be used as a key trade piece if the Rockets want to upgrade at another position.
By selecting Lamb, Martin is even more replaceable. Lamb matches Martins talents and surpasses them. He can also integrate into the offense slower and be used off the bench behind Martin, if Houston sees that as a better fit.
17. Dallas Mavericks: John Henson
The Mavericks are in need of a defensive big man, and Henson is one of the best shot blockers in this class. With many power forwards entering free agency, the Mavericks need someone to fill their bench.
Henson may not be the greatest pick, but he fits Dallas' needs, which is why they will target him with the 17th pick.
18. Minnesota Timberwolves (via Utah Jazz): Terrence Ross
Kevin Love and Ricky Rubio provide the Timberwolves with a solid core, but they could use a talented small forward to contribute.
Ross is a good shooter, who can score in multiple ways. He can also move down a position if needed. However, he can rebound as well as any other three in his class.
This makes him a good replacement for Michael Beasely, whose Minnesota career does not look very long.
19. Orlando Magic: Moe Harkless
Harkless is a solid player who can contribute in many ways. His scoring, both driving and shooting make him a strong offensive player.
He can also control the boards, which is crucial if the team loses Dwight Howard. He is a strong option who, despite not being a star, can be a solid player.
20. Denver Nuggets: Dion Waiters
Waiters will have an easier time than anyone adjusting to the NBA, as his role in Denver will be very similar to that in Syracuse. He will come off of the bench, and provide an offensive spark in the second unit.
He is a talented scorer with a good jump shot, as well as good moves to get inside the paint.
With both Andre Miller and Rudy Fernandez looking to leave this summer, a shooting guard like Waiters is ideal for the Nuggets.
21. Boston Celtics: Fab Melo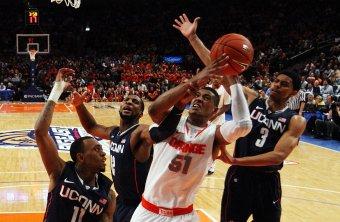 Lamb
Jim McIsaac/Getty Images
Boston was faced with a dilemma this season, when the team experienced a shortage of centers due to injury.
Kevin Garnett was forced to play up a position, but he isn't even guaranteed to return next season. The Celtics need a true center who can stick with them for the long run.
Melo does not need to be incredibly involved with the offense, but his rebounding and defense will be especially valuable his potential suitor.
22. Boston Celtics (via Los Angeles Clippers): Doron Lamb
With Ray Allen's return questionable, the Celtics may look for a replacement shooting guard to take his spot. Lamb has an excellent midrange game, but can also be proficient from behind the arc.
23. Atlanta Hawks: Tony Wroten
Wroten's athleticism makes him a great potential backup for the Hawks, who could use a point guard or shooting guard off the bench.
24. Cleveland Cavaliers (via Los Angeles Lakers): John Jenkins
With Cleveland taking Thomas Robinson earlier in the draft, the Cavs still need to fill the missing role of a swingman.
A great shooter is missing from the Cavaliers roster, and someone to compliment Irving's ability, as well as Thompson and Robinson's post efforts, is needed to make the team elite.
He scored 19.9 points per game in college, and is one of the best scorers in the country. He can shoot the three from fantastic range, something that could make him almost unguardable in the NBA.
Waiters
Elsa/Getty Images
While he may be a bit of a reach, his talent makes perfect sense for Cleveland, making him one of the biggest late first-round steals.
25. Memphis Grizzlies: Marquis Teague
With Grevis Vasquez in New Orleans, the Grizzlies are in need of a point guard to back up Mike Conley. Teague is a nice player, whose defensive ability allow him to be a solid backup in Memphis.
26. Indiana Pacers: Quincy Miller
Danny Granger needed a backup this year, as it was evident that taking him out of the game left a hole in Indiana's team. He got into foul trouble multiple times, and having a solid backup three would have been key to helping them stay in the playoffs.
Quincy Miller has a long body. His defensive talents allow him to be a great player. While he has an underdeveloped offensive game, it will come along, but it won't be relied on early in his career.
What they will ask for from him, will be that he hustles and performs well defensively, something he is more than capable of doing.
27. Miami Heat: Andrew Nicholson
The Miami Heat were exposed when Chris Bosh first went down with injury. They lacked a productive big man who could contribute on the offensive end as well as he defensive end.
Nicholson's rebounding, scoring and defensive abilities make him a solid backup for Bosh, as his skills reflect that of Bosh. If an injury were to happen again, they would be in a far better position than now.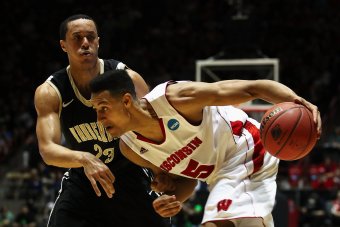 Jenkins
Christian Petersen/Getty Images
28. Oklahoma City Thunder: Royce White
Royce White is so multi-talented that he can play any position on the court. He can handle and distribute the ball, score and rebound, while also being an excellent defender.
White would probably be a much higher pick, had it not been for anxiety issues. However, if he can manage to control them, then he becomes the biggest steal of the draft.
The Thunder need a backup small forward, and White gives them a great option who can produce during any situation.
His diverse talent is similar to LeBron, as he can run the break and be a distributor, or take over the game offensively when needed.
29. Chicago Bulls: Evan Fournier
Fournier is the most talented foreign player in this year's class. He would probable be higher on this list, had his talent been exposed in an American college.
Few know the magnitude of his talent, which will allow him to drop far into the first round.
The Bulls need a shooting guard desperately, and Fournier is a great late option. His young age (19) and good size (6'6'') further make this a solid pick.
Even if he doesn't come over immediately, expect Fournier to make a splash in the NBA at some point in his career.
30. Golden State Warriors (via San Antonio Spurs): Festus Ezeli
With Andrew Bogut's history making it impossible to fear injury for the big man, drafting a solid backup a the five would be huge for them. This would make sure that they are set if Bogut went down for an extended period of time.
His size and defense allow him to be a solid backup, helping Golden State if they were to run into some injury problems.
This article is
What is the duplicate article?
Why is this article offensive?
Where is this article plagiarized from?
Why is this article poorly edited?