French Open 2012: Tournament Favourites and Challengers After Day 5
June 1, 2012

Clive Brunskill/Getty Images
We are a third of the way through the second major of the year, Roland Garros, and it's fair to say we've already had a whole tour-level tournament's worth of news and upsets.These are some of the perks of having a 128-strong field in both the men's and women's draws, which means more tennis is played in just the first three rounds than in some minor events.
There is also the intriguing challenger versus master dynamic as qualifiers and journeymen take their biggest cuts at the biggest stars. At the 2012 French Open we've already lost the Williams sisters, and that in itself has made headlines for weeks after in the past.
On the men's side, the upsets have been less titanic, but nonetheless significant. Former world No.1 Lleyton Hewitt lost at the first hurdle, alongside former semifinalist Nikolay Davydenko. The most brilliant lights are still out and shining, thankfully, with the Big Four—Roger Federer, Rafael Nadal, Novak Djokovic and Andy Murray—still very much in the hunt.
Much hope had been placed on these favourites, and those on the womens' side—Victoria Azarenka, Maria Sharapova and Serena Williams (now defunct). All of them have won at least two matches by this stage (save for Williams), draws have opened up for them, opportunities loom ahead; here its time to look at their standings in the race to the Roland Garros crown.
Men's Draw: Djokovic, Nadal, Federer, Murray
No. 1: Rafael Nadal
No surprises here, as the six-time champion has warmed nicely into some stellar form in the first two rounds. The 2012 Monte Carlo and Rome champion is beginning to play ominously well at Roland Garros, having dropped but nine games in six sets in trouncing Simone Bolelli and Denis Istomin.
Possibly his biggest tormentor—John Isner, whom he beat in five sets last year—is now out too, which seems to forecast an even smoother road to the final.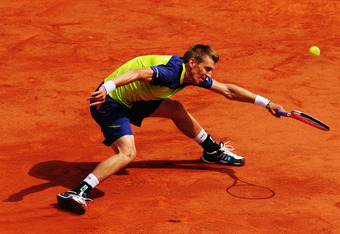 Mike Hewitt/Getty Images
No. 2: Novak Djokovic
Djokovic has also gone through the first two rounds unscathed, having defeated Potito Starace and Blaz Kavcic in straights. 
His haven't been as convincing as Nadal's wins, as Djokovic dropped serve a couple of times and revealed some of the strain of being a tournament favourite, world No. 1 and the hopes of winning a fourth straight slam. His recent form and losses to Nadal put him as a clear second favourite at this stage.
No. 3 - Roger Federer
It has been said that Federer might only win the French this year as the scavenger-without-par—ie. with Nadal and Djokovic upset. He verified some of these expectations in dropping his first set to Adrian Ungur, and showing the some cracks—might we say even wrinkles—in his focus and intensity.
No. 4 - Andy Murray
Murray is a clear No. 4 at this point, and some way behind Federer. Having not enjoyed anything of a fruitful clay season entering the French, he has both lost a set to Jarrko Nieminen, and a continuing back injury. He might not make it to the quarterfinals.
Frenchman Most In With A Chance: Jo-Wilfred Tsonga
He dropped a set to Cedrik-Marcel Stebe, but still possesses the sort of weaponry and grand slam experience to outshine his fellow countrymen.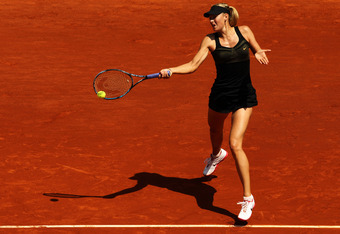 Matthew Stockman/Getty Images
Women's Draw: Azarenka, Sharapova and the two women most likely to threaten them—Li Na and Ivanovic
No. 1 - Maria Sharapova
With titles at Stuttgart and Rome, Sharapova already entered the French as a favourite, alongside nemesis Serena Williams. But with the American now out of contention, and Sharapova having played two dominant matches already, she seems set to soar at Paris.
No. 2 - Li Na
Li Na, perhaps unexpectedly, sits at No. 2 on this list. As the defending champion she has begun her title defense in splendid fashion, losing no more than six games in two rounds. Her recent showing at the Rome final, where she was several times a point from victory (potentially overturning Sharapova as favourite thereby) also cemented her reputation as a formidable clay-courter.
In all, based on recent form, history and confidence, Na is second best at the 2012 French Open at the moment.
No. 3 - Victoria Azarenka
Despite having lost at Stuttgart to Sharapova, and made little noise throughout the clay season, world No. 1 Azarenka is still a hot contender for the title.
For 1) her loss to Sharapova was suffered through an injury, 2) she's beaten her twice already this year, and 3) she has proven her grand slam mettle at the Australian Open. More locally, she already seems to have found her footing on the clay in her 2012-dominant style.
No. 4 - Ana Ivanovic
Ivanovic comes in here a bit out of her reputation as a former champion (2008), but also out of her recent form, and her relatively open draw (unlike other former champion Francesca Schiavone, or Caroline Wozniacki, whose draw is too loaded and form too uncertain).
She has a huge chance to reach the semifinals, should she continue to elevate her play, and carry on from her dominant victories thus far, to ignite the fire in her long suppressed.
Danger Women: Francesca Schiavone, Sam Stosur, Svetlana Kuznetsova, Caroline Wozniacki
The first three are a collection of two past champions and a former finalist, and all have proved their success at Roland Garros—Schiavone with the variety and movement, Stosur with the kick serve and forehand and Kuznetsova with the solid groundies.
Wozniacki's presence here may be questionable—she isn't exactly someone you could "never count out," as it were—but she has played strongly so far, and has a big test against Sharapova looming. All four are still potentially draw-shakers at the moment, although Schiavone has lost a set already.