8 New York Jets Who Could Drop Down Depth Chart in 2012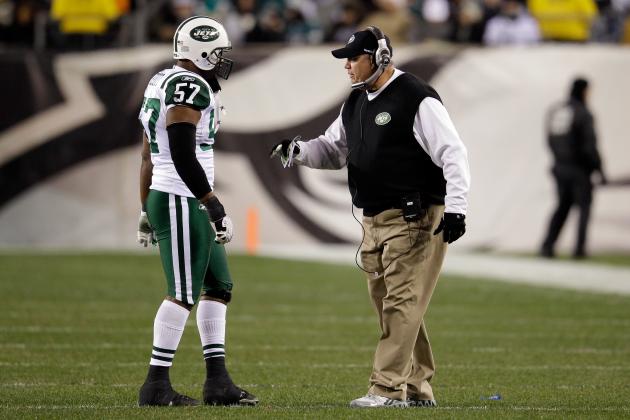 Rob Carr/Getty Images

While there are changes in a team's roster every year, after a disappointing 8-8 campaign, the 2012 roster will look vastly different from its 2011 counterpart.
In particular, aging veterans will begin to lose their job security, and experience slips down the depth chart as younger and more exciting players emerge in training camp and throughout the season.
Here are some Jets who could suffer a cut in playing time in 2012.
Begin Slideshow

»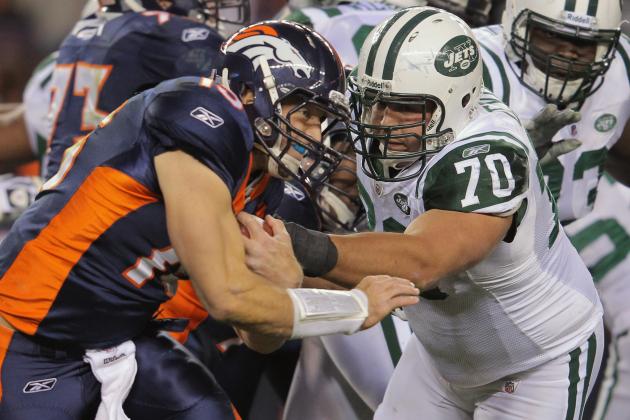 Doug Pensinger/Getty Images

To be honest, I have always been a huge DeVito fan since the middle of the 2010 season. For all of the credit Sione Pouha gets in the middle of the defensive line, DeVito can be a dominant player against the run.
One area DeVito lacks in, however, is rushing the passer, which prompted the Jets to draft Quinton Coples 16th overall in April's draft. Coples is a versatile player that can provide the Jets with an interior pass-rush that they have been lacking.
While DeVito will still see plenty of time in run situations, his status as a starter is in grave danger. Coples is already working with the starters in OTAs and will soon officially replace DeVito as the starting defensive end opposite Wilkerson.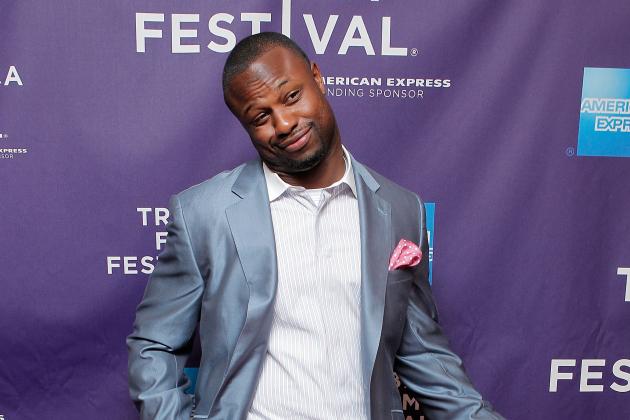 Jemal Countess/Getty Images

Despite the fact that Scott has ironed things out with Rex Ryan, he needs to improve on the field if he wants to retain his starting job.
Last year, one of the biggest reasons for his drop in playing time was because he could no longer play coverage in nickel and dime packages. Now, he will face some serious competition from Demario Davis, the team's third-round pick.
The Jets probably had envisioned Davis taking over for Scott within a year or two, but if Scott continues to decline, it could be sooner than that.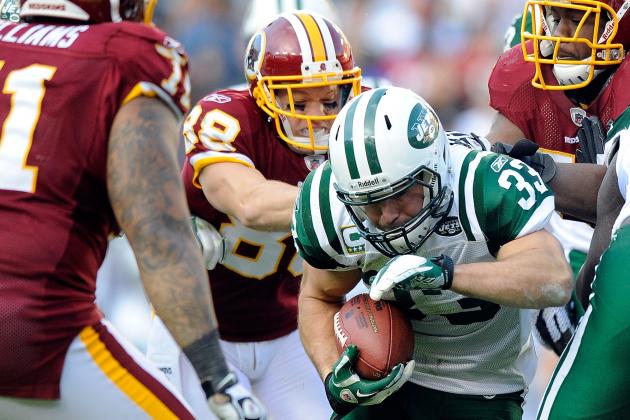 Patrick McDermott/Getty Images

Few players were more scrutinized last year than Eric Smith, as the Jets were consistently torched by tight ends and slot receivers taking advantage of Smith's ineffective coverage skills.
The Jets responded to Smith's lack of ability by bringing four safeties through free agency and the draft. Yeremiah Bell and LaRon Landry are the logical starters, leaving Eric Smith to be a auxiliary player, which is a role where he can be more effective.
However, if Josh Bush and Antonio Allen are impressive in camp, there may be a further drop down the totem pole for Smith. There is also the slight possibility of a return of Jim Leonhard, which would give the Jets far more safeties than they need.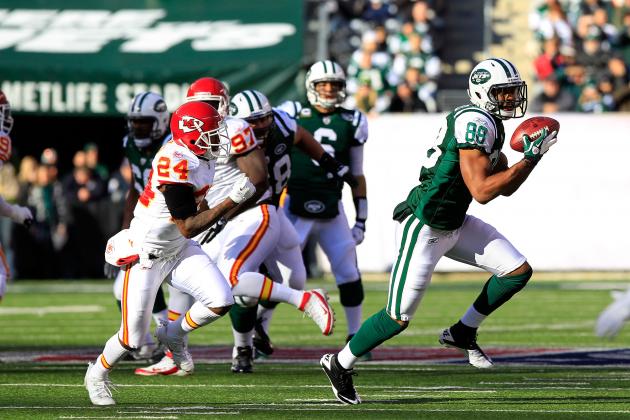 Chris Trotman/Getty Images

The former Dolphin really cam on toward the end of 2011, making several timely catches and being utilized as a blocker.
However, the Jets have added too many bodies at receiver for Turner to keep his job as the fourth receiver. Rookie Stephen Hill seems to be the favorite to start opposite Santonio Holmes with Jeremy Kerley in the slot.
Before the draft, the Jets added Chaz Schilens to provide them with insurance in case they did not add a receiver in the draft. Now that Hill is on the team, Schilens immediately becomes the fourth receiver, putting Turner's spot on the team in jeopardy.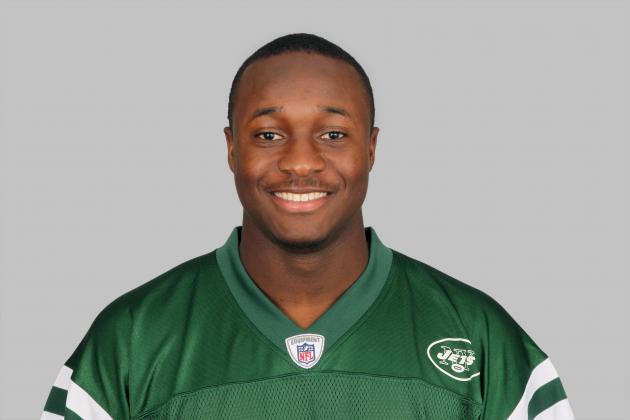 Handout/Getty Images

Powell saw limited action in 2011, only getting into a regular season game against the Broncos because of injuries to other runners. He looked slow and indecisive, and Jets fans were just about ready to give up an any hope that he could be a valuable player.
The Jets also took Terrance Ganaway late in April's draft, who is a larger, more powerful back that fits the Jets' power running style.
If Ganaway impresses in camp, Powell could take a tumble down the depth chart.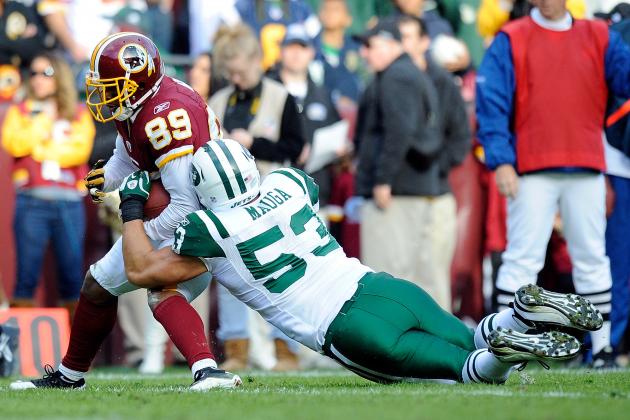 Patrick McDermott/Getty Images

While Mauga did an admirable job filling in for Scott in select packages, he will be the first casualty of the Demario Davis selection.
Davis is far more athletic and physical that Mauga is, making him an ideal candidate to be the Jets' new nickel linebacker. What Mauga does have going for him is the fact that Rex Ryan trusts him and he knows the defense in and out.
With Davis taking over all of the roles that Bart Scott is unable to do, there is simply no room for Mauga to contribute on the regular defense.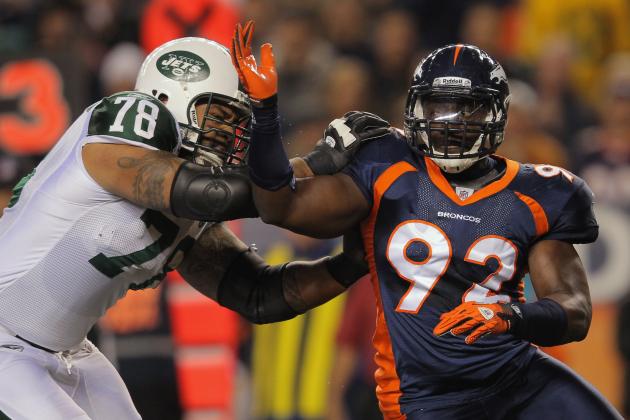 Doug Pensinger/Getty Images

Wayne's shortcomings as a tackle are well-documented, but for one reason or another, the Jets seem ready to go into 2012 with him as the starting right tackle. The Jets' new offensive line coach, Dave DeGugliemo, actually praised Hunter for looking sharp.
However, after bringing in two veteran tackles this week, the Jets will at least want Hunter to earn the job in camp. Even if he does earn the job, there will be experienced players sitting on the bench waiting their turn.
If Hunter fails to improve upon his miserable 2011 outing, it will not be long before the coaches turn to the bench for help and regulate Hunter back to swing tackle, where he can still be effective.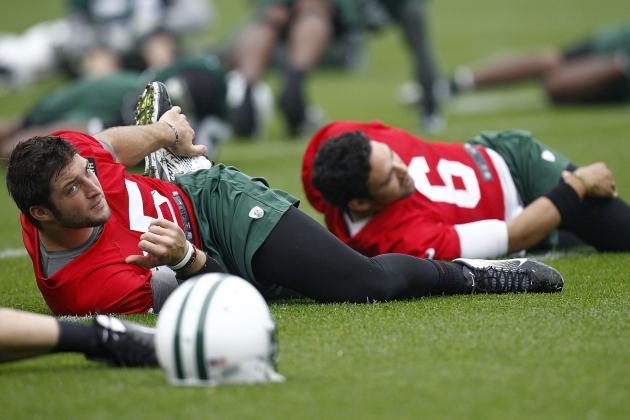 Jeff Zelevansky/Getty Images

Personally, I think the odds of Tim Tebow taking over Sanchez's job are slim, but the possibility still exists.
If Sanchez struggles early, the calls for Tebow will be loud and clear, and the organization will start to wonder why they bothered to bring in this huge distraction in the first place.
The key for Sanchez to avoid any kind of quarterback controversy is to play with a quiet confidence, or a "me-against-the-world" mentality. Who knows, the presence of Tebow may actually turn out to make Mark a better quarterback in the end; it all depends on how he handles the situation.