MLB Draft 2012: What the Nationals Can Learn from 2011 Top Pick Anthony Rendon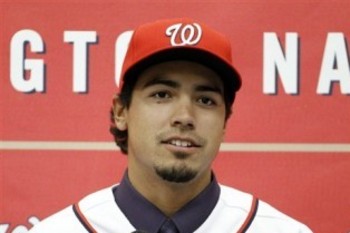 dcprosportsreport.com
The Washington Nationals selected Anthony Rendon with the sixth overall pick of the 2011 MLB draft. The third baseman from Rice was named the 2011 Rawlings National Player of the Year and is currently considered the 19th-best prospect in the country by Baseball America. The Nationals rewarded Rendon with a $6 Million signing bonus.
But Mike Rizzo and the Nationals took a risk on Anthony Rendon, a risk that other teams were unwilling to take. Rendon had preexisting shoulder and ankle injuries when he was drafted, causing his stock to drop. The start of his promising career was subsequently delayed, as he missed the first few games of the minor league season due to his shoulder problem.
Rendon's promising career suffered another major setback in April of this year, when he suffered a freak injury of his left ankle while rounding third base during a game. Originally thought to be sprained, Rendon had actually suffered a fractured ankle. He has not played since and has only played two games for the Class-A Advanced Potomac Nationals.
Was Anthony Rendon worth the risk? Only time will tell. But the Washington Nationals can learn from this experience in case they encounter a similar challenge in the future. Here are five lessons to be learned.
5. Beware of Injury History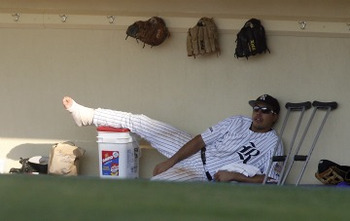 Anthony Rendon nursing his injured right ankle while at Rice. (cbssports.com)
A reputation for being oft-injured is easy to catch, and difficult to outrun. The Washington Nationals need to take this injury history into consideration.
More importantly, they need to adjust accordingly, especially when the player in question is a high draft pick like Anthony Rendon. It doesn't matter if a player is considered the best in the draft if he's never healthy enough to complete an entire season.
4. Use Bonus Money Wisely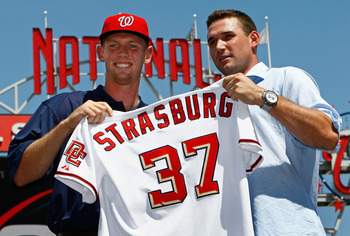 Stephen Strasburg (l) introduced by Ryan Zimmerman (r) at Nationals Park in 2009.
Win McNamee/Getty Images
The amount of bonus money a team can award to any one draft pick is based on where he is drafted. High draft choices such as Rendon, Stephen Strasburg and Ryan Zimmerman can earn a large bonus. Being the first overall pick, Strasburg earned the largest bonus of these three players.
But this bonus money needs to be used wisely, as each team has a predetermined pool of bonus money they can use on all of their draft picks for that year. This system provides added motivation to avoid selecting a player of questionable durability. Spending a large bonus—or any bonus—on such a player would be a waste of money and would limit the money available for other, healthier draft picks.
3. Not All Draft Picks Are a Success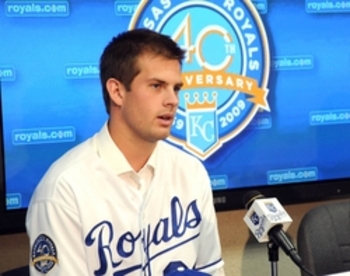 Aaron Crow, introduced by the Kansas City Royals in 2009. (royals.mlblogs.com)
It's a harsh reality: not all draft picks are successful, including those in the first round.
Four years ago, the Washington Nationals selected Aaron Crow from Missouri with the ninth overall pick of the 2008 draft. But contract negotiations broke down, and Crow was not signed by the August 15th deadline. The Nationals lost the opportunity to sign Crow, and he reentered the draft the following year, where he was drafted by the Kansas City Royals. The Nationals received a compensation pick.
Anthony Rendon may be another unsuccessful draft pick for the Washington Nationals, although for a different reason than Aaron Crow. The only problem for the Nats is that they won't receive a compensation pick for losing Anthony Rendon, if that is to be their fate.
Coincidentally, the Nationals used that compensation pick to draft Drew Storen in 2009. So, the Aaron Crow saga worked out well for the Nationals in the end. The Anthony Rendon saga may yet have a happy ending as well.
2. Better to Be Lucky Than Good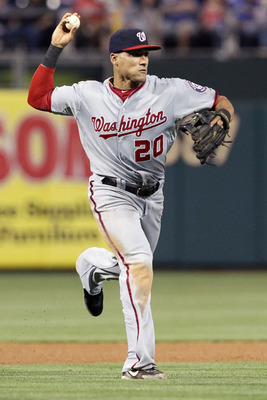 Ian Desmond.
Hunter Martin/Getty Images
The Washington Nationals were extremely unlucky when Anthony Rendon severely injured his left ankle this April. The injury was unrelated to the previously documented injuries to his right shoulder and right ankle, which were stable at the time. In addition, the latest injury turned out to be a fracture.
But the Nationals have not always been unlucky. Top prospects of the recent past were able to safely navigate the minor leagues and emerge unscathed to make their major league debut, including Ryan Zimmerman, Ian Desmond and Bryce Harper.
The Nationals had a little less luck, however, with Jordan Zimmermann and Stephen Strasburg. Both pitchers breezed through the minors and broke into the major leagues before rupturing their Ulnar Collateral Ligament (UCL) in their pitching arm during their rookie seasons, necessitating Tommy John surgery.
Maybe the Nationals' luck has finally run out. The injury bug has stung Anthony Rendon before he even made his major league debut.
1. Be Patient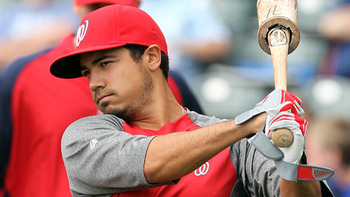 Anthony Rendon at 2012 spring training. (milb.com)
All is not lost for the Washington Nationals. This is Anthony Rendon's first season as a professional baseball player, and it's only the first of June. It is too early to throw in the towel, especially considering the marvels of modern medicine that are currently available to elite athletes.
After Anthony Rendon recovers from this latest injury, he can still become the sweet-swinging stud the Nationals were expecting when they drafted him.
Keep Reading

Washington Nationals: Like this team?