Steve Nash and the 10 Best Veteran Free Agents Available This Summer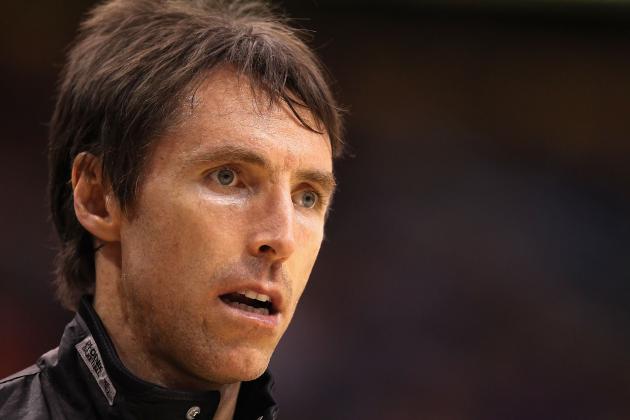 Christian Petersen/Getty Images

Steve Nash and a horde of other famous veteran NBA players are set to become free agents this summer. Along with Nash, this year's crop of veteran free agents is vast. It's not often teams can find talented players with playoff experience in free agency. This year, teams can.
Starting July 1, teams may begin negotiating with free agents. On July 11, teams can officially sign free-agent players to contracts. Unlike the last free-agency period, teams won't be rushed to sign players because of the sudden lifting of the NBA lockout. Things are back to normal, except now, teams will have considerably less to work with.
The teams that progress year to year make smart offseason moves. Here's a list of the 10 best veteran free agents this summer. If the right teams sign these players, it could be the difference between a second-round playoff elimination and an NBA championship.
(Note: This list features veteran, unrestricted free agents only. If the player is a restricted free agent, he will be absent from the list. The same goes for the younger free agents. e.g. Goran Dragic.)
Begin Slideshow

»
Chris Graythen/Getty Images

One of the best backup power forwards in the NBA could be available for the right price.
Carl Landry is an effective scorer, but needs to improve his rebounding skills to justify giving him a lucrative contract. In the right situation, Landry could be the piece that separates a team from being good and being great. The worst-case scenario for Landry would be taking the money and squandering his talents on a bad NBA team.
On the outside, Landry looks like this year's free-agent candidate most likely to be grossly overpaid. Just ask the Toronto Raptors if they regret giving Amir Johnson a five-year, $34 million contract. Johnson, who averaged 7.1 points and 6.4 rebounds per game in 2011-12, will make $6 million next season. Whoops—wonder if the Raptors wish they could have a mulligan.
This is what NBA teams need to realize about Landry. He is a good, reliable NBA post player. If a team can get him for the right price, Landry's a great piece to build with. But if a team expects to pay Landry starting power forward money, it's going to be disappointed.
Rule No. 1 about NBA free agency—never pay an above-average player like an All-Star when he's not.
Best Fit: New Orleans Hornets or Boston Celtics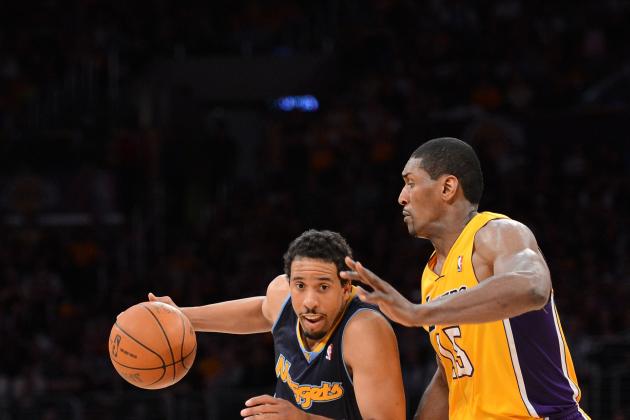 Harry How/Getty Images

You know that older guy at the local gym who shows up every day to hoop? He looks out of shape, and everyone hopes he's on the opposite squad when they're shooting for teams. Then you watch him play and instantly recognize he's a natural-born baller.
That's Andre Miller. Some guys are just meant to play basketball.
Miller could be a mammoth upgrade at point guard for numerous title contenders. Following the Denver Nuggets' postseason elimination by the Los Angeles Lakers, Miller said he would keep his free-agent options open:
I'll keep my options open. At this point in my career, if I'm going to be a backup, I'm going to be a backup on a championship-caliber team. Obviously, this team is a good team that's going to get to the playoffs, but the thing is if they are committed to getting to that next level to compete for that championship.
On May 18, Benjamin Hochman from the Denver Post reported that Nuggets executive Masai Ujiri said, "Andre Miller told us plain and simple that he wants to come back and play here."
Sounds optimistic.
The Nuggets have made smart moves to rebuild their roster following the departure of Carmelo Anthony, but they're still a few years away from becoming one of the elite teams in the Western Conference.
Miller will realize this once he begins to test free agency. Miller still has the ability to take over games, a rare skill. Expect him to sign with a contender that he can start for.
Best Fit: Miami Heat
Chris Chambers/Getty Images

Forget everything you know about Kris Humphries. Forget how he was used as a publicity tool for Kim Kardashian's "famous for being famous" career. Forget all the jokes and recognize this: Humphries is beast in the low post, and he'd be a great addition to any team that struggles to get rebounds.
Humphries finished the 2011-12 season averaging 13.8 points and 11 rebounds per game. The point total may be deceiving because Humphries played on a terrible New Jersey Nets team. But you can't fake rebounding stats. Rebounding averages are the most accurate and reflective of all the basic NBA stats. Eight players averaged double-digit rebounds this year. Humphries was one of them.
Unlike Landry, Humphries could start for an NBA title contender. If the Lakers decide to trade either Andrew Bynum or Pau Gasol, Humphries would be a great player to add to their roster. Humphries works hard and has a real NBA skill that will keep him in the game for a long time—rebounding.
Best Fit: Los Angeles Lakers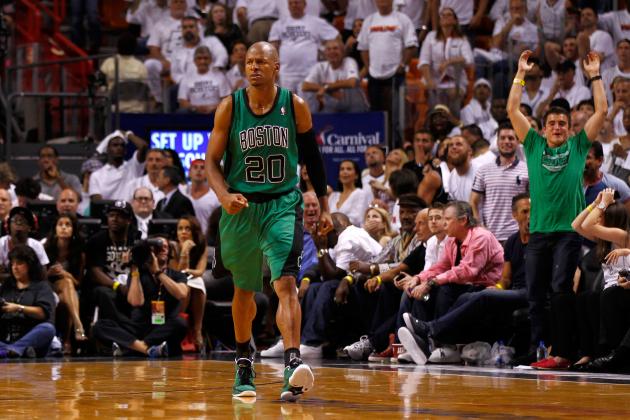 Mike Ehrmann/Getty Images

Imagine if the Oklahoma City Thunder had a sharpshooter like Ray Allen. The Thunder could spread the floor with Allen's range, making them nearly impossible to guard.
Allen's shooting ability is something every team needs. A sharpshooter can spread the floor, keeping defenders on their toes and opening up driving lanes. Teams that are weak at shooting guard will jump all over Allen in the offseason.
That is, if Allen can fully recover from his right ankle injury that's been hobbling him in the playoffs. Allen's bum ankle is preventing him from getting the lift necessary in order to consistently sink jump shots. Who knows if it's a long-term problem, but an Allen with no jump shot is a player that may be out of the league in a year.
Teams should be wary of offering Allen a contract longer than two years. Allen could recover and become a key player on a contender. If he fails to recover fully, Allen's ability to be a game-changer could be more of a pipe dream than a reality.
Best Fit: Los Angeles Clippers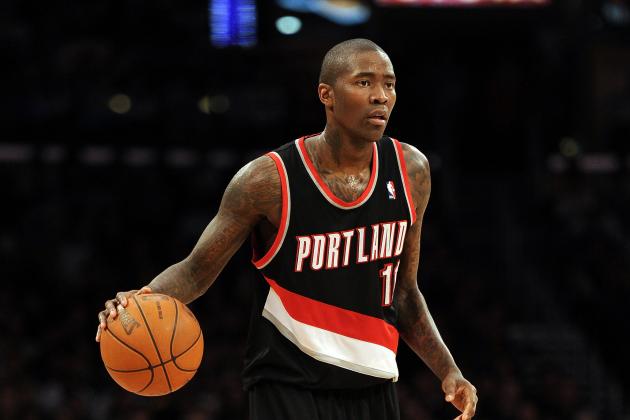 Harry How/Getty Images

Jamal Crawford joined the Portland Trail Blazers hoping to be Brandon Roy's replacement. He was anything but. Crawford failed to shoot consistently for the Blazers, making just 38.4 percent from the field, but led the NBA in free-throw percentage, shooting 92.7 percent.
Crawford has a $5 million player option. If he chooses to become a free agent, it's unlikely he'll get the same type of money elsewhere. Crawford is an 11-year NBA veteran and could decide that winning is more important than the money.
Of course, staying in Portland could be the best option for Crawford. The Blazers netted the sixth and the 11th picks in the upcoming NBA draft and could retool quickly.
Crawford is best as an energy guy off the bench at this stage in his career. Like Jason Terry, Crawford can get hot at any time. That type of player is dangerous come playoff time. They're the wild cards.
The most important thing to remember when signing a wild-card player—don't overpay.
Best Fit: Chicago Bulls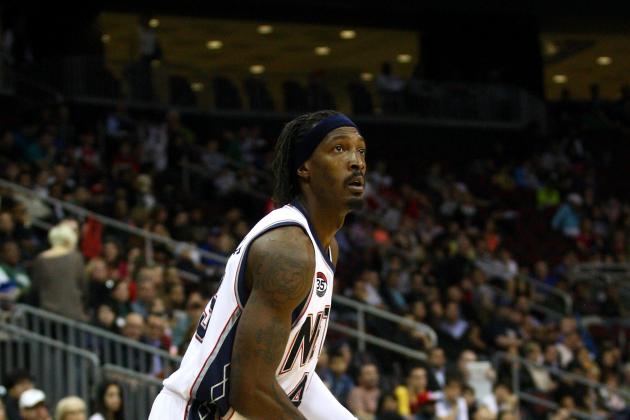 Chris Chambers/Getty Images

Best-case scenario for Gerald Wallace: a contender where he's the fourth option. That way, if it's not Wallace's night, the team doesn't have to rely on him to carry it to victory.
Wallace is a hustle guy who relies on his supreme athleticism to be effective. If a team expects Wallace to be a reliable scorer, it's looking at the wrong player.
Like Allen, teams should be cautious about signing Wallace to a long-term contract. Next season will be Wallace's 11th year in the NBA, and because of the way he plays, he could lose his effectiveness overnight. Once Wallace's spring is gone, he'll be a significantly less impactful player.
That being said, Wallace is a glue guy. If Wallace is willing to take less money to play for a title contender, he could be the key piece in some team's championship run.
Best Fit: Utah Jazz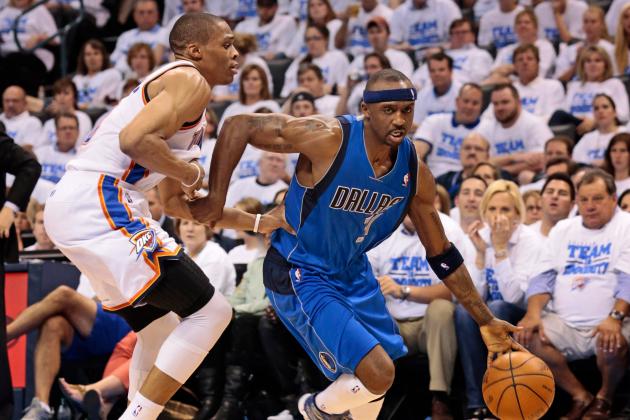 Brett Deering/Getty Images

There aren't many players in the NBA who have hit more big shots than Jason Terry.
Terry reeks of NBA playoff experience. Just a year ago, he was one of the key players for the NBA champion Dallas Mavericks.
It's unlikely that Terry will end up back in Dallas. After letting Tyson Chandler bolt following their improbable NBA championship run, the Mavericks appear to have their eyes set on the holy grail that is Deron Williams.
Whichever team does land Terry will not only get a clutch performer, but a leader in the locker room. It's rare to find veterans with playoff experience who can still ball at a high level. Wherever Terry ends up, you're going to hear his name come playoff time.
Best Fit: Miami Heat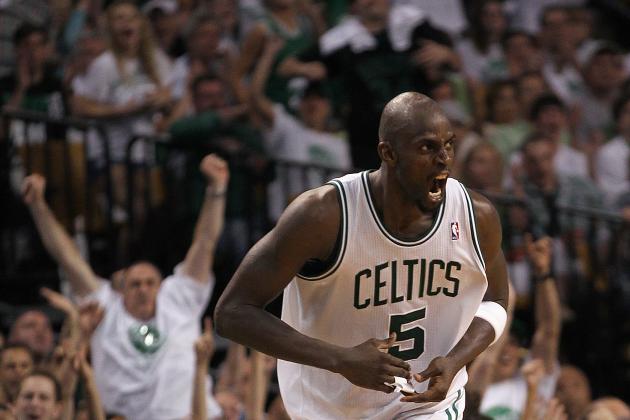 Jim Rogash/Getty Images

How much does the "Big Ticket" have left in the tank? With the way Kevin Garnett's been playing this season, he could continue to play at a high level for the next three seasons, barring an injury, of course.
Garnett averaged 15.8 points and 8.2 rebounds per game in the regular season. It's the best he has played since his first year in Boston.
Garnett's intensity is unmatched. Not only does Garnett bring toughness, but he's also an NBA champion and a future first-ballot Hall of Famer. You can't pick up someone like Garnett off the yearly waver wire.
The best thing about Garnett is, he's flexible. He can play either center or power forward because he has the ability to guard both positions. When he plays center, his ability to hit mid-range jumpers brings defenders out of the paint, opening up scoring lanes. Garnett would fit perfectly with on a team with slashers.
Overall, the best place to see Garnett end his career would be Boston. He's a true Celtic now. It would be special to see him retire with the team he helped lead to an NBA championship.
Best Fit: Boston Celtics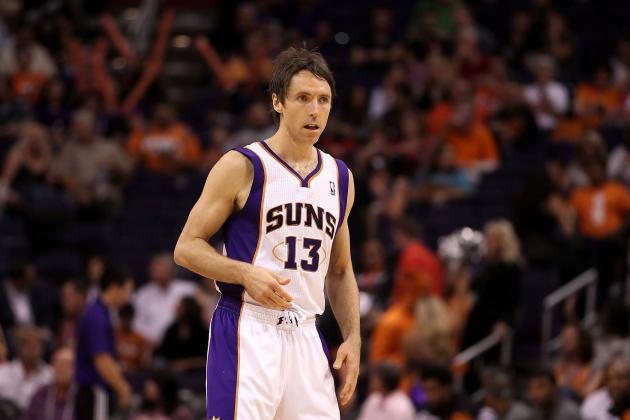 Christian Petersen/Getty Images

For the sake of the common NBA fan: Don't re-sign with the Phoenix Suns, Steve Nash.
Nash has been absent from the NBA postseason for the past two seasons. That doesn't seem right. The Suns have been one of the most exciting teams to watch in the NBA for the last eight years. Now, the Suns' days as contenders are officially over.
The roster is filled with glorified role players with no real building blocks. Nash, even in his advanced age, is one of the best point guards in the NBA. If he chooses a new team wisely, he could be playing in the conference finals a year from now.
Nash is this year's biggest free-agent wild card. Depending on his choice, he will impact next season's NBA playoffs one way or another.
Best Fit: Dallas Mavericks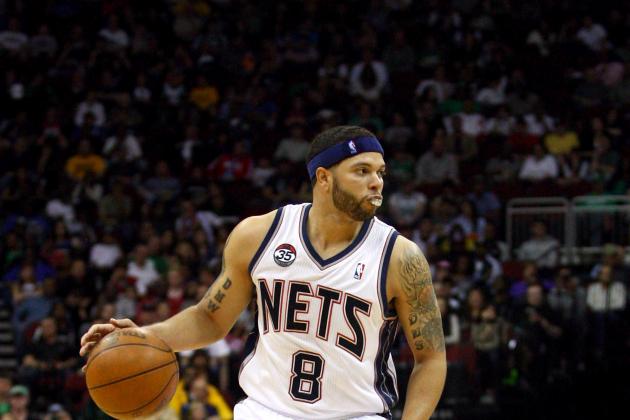 Chris Chambers/Getty Images

No Dwight Howard? No Deron Williams.
Williams denies the reports of him saying it's "Dwight or bust." On May 30, Williams tweeted:
I would love to know who Adrian Wojnarowski source is bc he knows more about what I'm thinking then I do😏 maybe they can help me decide?

— Deron Williams (@DeronWilliams) May 30, 2012
Despite killing the claims of "Dwight or bust," it's hard to see Williams re-signing with the Brooklyn Nets unless they somehow do a serious roster makeover. The odds seem unlikely.
The Nets lost their first-round draft choice in the Gerald Wallace trade. The Nets also have very little to offer in a trade. There's no way the Magic trade Howard to the Nets because the Nets don't have anything that comes close to the offers the Magic can get elsewhere.
Williams is the only perennial All-Star that's an unrestricted free agent. He doesn't want to waste his prime playing for a bad Nets team. If the Lakers can deal Andrew Bynum to Orlando for Howard and swap Pau Gasol out for other pieces, it'd be interesting to see if Williams would play for the purple and gold.
Best Fit: Los Angeles Lakers