MLB Needs "Real" Instant Replay ASAP
May 31, 2012

Brief flashback...The year was 1985. It was Game Six of the infamous I-70 World Series between the Royals and Cardinals. With no outs in the Royals' home half of the ninth and the Royals down 1-0, trailing in the series 3-2, Jorge Orta grounded the ball to Cards' first baseman Jack Clark. Clark tossed to reliever Todd Worrell who tagged first base to retire Orta. First base umpire Don Denkinger inexplicably called Orta safe. The Royals went on to score two in the inning, winning the game and ultimately the series four games to three.
This game represents one of the more memorable blown calls in Major League Baseball history. Being a lifelong Kansas City resident and Royals fan, it has always tainted my favorite baseball memory ever—the Royals' lone World Series title. To this day, I maintain that, regardless of "the call," the Royals would have still won the game and the series. Unfortunately, we will never know.
Blown calls have always been a part of the game. But with the technology we have available today, they don't have to be. In fact, there is no longer any reason whatsoever for a bad (reviewable) call to influence the outcome of a MLB game.
In 2008, Major League Baseball introduced limited use of instant replay to aid in overturning select plays. And when I say "select," I mean almost none. Nevertheless, I was excited to see MLB catching up to other sports, albeit in a very small way. I anticipated that the owners, players, and umpires would realize the benefits and possibilities of using instant replay to improve the game and quickly implement an expanded form of its use.
Simply put, that has not happened in the least. Yes, there has been discussion of MLB expanding its use of replay to confirm or overturn certain plays, but even the changes that have been proposed are clearly not enough.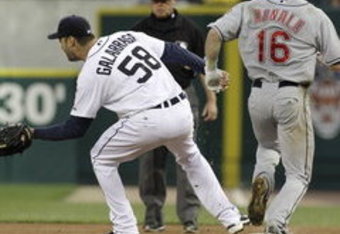 In June 2010, Jim Joyce's awful call at first base wrecked the perfect game bid of Detroit starter Armando Galarraga. In retrospect, it was Galarraga's one shot at "fame" as a ball player. This play may have had a lasting impact on his life and career. It could easily have been corrected through the use of instant replay.
On May 3 of this season, baseball witnessed what might have been the worst call in the history of the game. The Dodgers' Jerry Hairston Jr. was called out at first when the throw from Rockies' third baseman Chris Nelson pulled first baseman Todd Helton off the bag by over two feet. It was clear that the umpire Tim Welke had missed the call but nothing could be done. In one of the greatest quotes ever, Helton provided further evidence by saying, "Neighborhood? I wasn't in the same area code."
Just a few days ago, on May 23, when asked about instant replay, MLB commissioner Bud Selig stated that he has felt "very, very little pressure from people who want to do more." Who is he talking to? Umpires? Seriously, who else would be opposed to getting calls right? And I'm tired of hearing the "human element" BS. Why is that more important than determining the right outcome of a game, or more significantly, the right outcome of a league championship or a world series?
That quote from Selig was five days prior to what I consider to be one of the worst umpiring days in MLB history. Ironically, I had already picked my topic for this week's post—as if I needed more convincing that MLB should implement expanded instant replay. On Memorial Day, we saw a few of the most outrageous calls I've ever seen.
Three horrible calls in one day: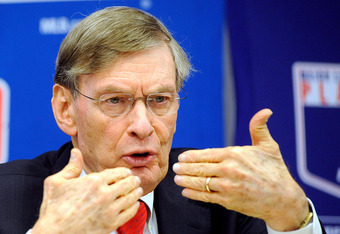 Patrick McDermott/Getty Images
The Royals' Mike Moustakas clearly tags Cleveland's Jason Kipnis, but it is somehow deemed he missed the tag.
Boston's Mike Aviles's foul tip on a two-strike count was obviously caught by Tigers' catcher Gerald Laird, but it is ruled the ball was not actually caught. Aviles subsequently reached base, and the Red Sox went on to score three in the inning.
Norichika Aoki was ruled safe at first in the Brewers game vs. the Dodgers. Umpire Todd Tichenor ruled that LA first basemen James Loney had been pulled off the bag, but it was Tichenor who was "way off base" in his judgment.
So what now? What is the solution? Is there one? As the great 80's musical act, The Alan Parsons Project, wondered, "Where do we go from here?" 
Well, there are many options. The lazy answer would be for me to suggest that MLB "just do something." Apparently, they are.
Baseball officials met this week to offer some solutions to the umpiring dilemma. One possible course of action would include a "group" of umpires at a "central location" viewing all games simultaneously, who would alert on-field umpires of calls that were clearly incorrect—certainly a step in the right direction. Not exactly what I had in mind, but a step nonetheless.
If you're asking what I would suggest (I've been told not to complain if you don't have a solution), I have a few thoughts I will try to briefly summarize.
Mainly, I see no reason to reinvent the wheel. While the NFL's replay system certainly has its flaws, I think most would agree that there are very few who would like to see the pro football ranks get rid of its instant replay system. For the few of you who are unfamiliar, the NFL reviews all scoring plays for accuracy, and offers coaches a limited number of "challenges" per half. Once exhausted, the coach cannot challenge any further calls, regardless of how awful they may be. There is no reason baseball couldn't adapt a similar policy: review all scoring plays and coach's challenges.
One element I would like to add to the above proposed format is reviews requested by umpires. I think (if they're being honest), any ump would admit to not being positioned perfectly to accurately make a call. Not that they were in the wrong position, but that the way the play occurred put them in a place where they couldn't fully ascertain the correct call. There's no shame in them admitting, "Hey, I didn't get a good view of what happened. Let's check the replay."
Finally, back to the "human element." While I did refer to it as "BS," I believe there is a place for it. There are several calls in baseball that boil down to personal judgment: balls and strikes, balks, check swings, etc. I like the fact that the strike zone varies slightly from umpire to umpire, and I believe that judgment calls should be a part of the game. However, when a call is black and white, the right call should be made. The outcome of games should not be decided by blown calls.
Baseball has long been a game of tradition, and I have great respect and love for that tradition. I consider myself to be a baseball purist. Umpiring (good and bad) is certainly a part of that tradition and a part I do not want to see abandoned. At this point, though, I have seen enough blown calls determine outcomes, and I want a change now.
Just don't replay the 1985 World Series.