5 Philadelphia Eagles Who Could Drop Down the Depth Chart in 2012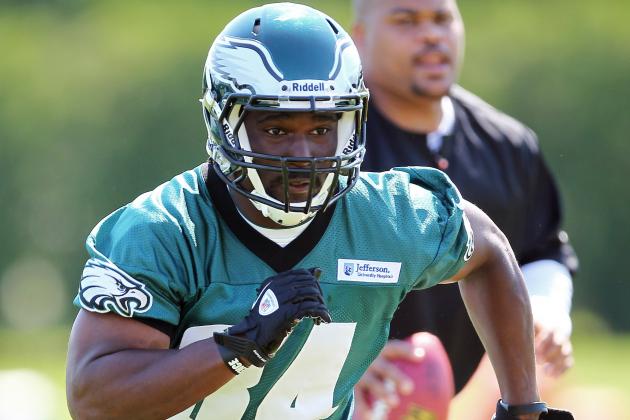 Rich Schultz/Getty Images

The Philadelphia Eagles' organized team activities are starting to bring out the best in everyone.
The depth on the Eagles roster is deep enough so that very few players are guaranteed as starters heading into training camp.
Training camp is going to be incredibly competitive this summer. The amount of depth isn't an insult to the talent level of the starters.
It speaks volumes towards the ability of the team to find this much talent at so many positions.
The difference between being a backup player and third or fourth on the depth chart is huge. It's the difference between making the team and the active roster and not making the final roster altogether.
This summer is going to be huge for the careers and futures of these five Philadelphia Eagles.
Begin Slideshow

»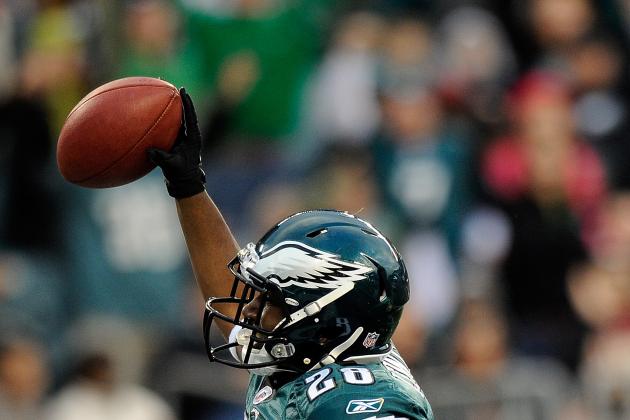 Patrick McDermott/Getty Images

Dion Lewis is a good young running back prospect who would make about every NFL roster as a second or third string running back.
The problem Lewis faces this summer is the amount of unknown competition he will go up against.
Bryce Brown, the Eagles' recent seventh-round draft pick and Chris Polk, an undrafted free agent, will both be competing with Lewis for the final two running back spots on the roster, behind LeSean McCoy.
One of those three players will be cut.
Which player it will be is a mystery right now. Either of these three backs could get the boot.
Lewis isn't a big back. He is one of the shortest backs in the NFL at 5'8". He still has a great deal of lower body strength and quick feet.
He has the ability to be a really good player. He hasn't shown a lot of ability as a receiver or in pass protection.
Coaching can fix that, especially in his first full offseason in the NFL.
Brown and Polk have the talent to be first or second round draft picks, but they also have issues that kept them out of the first two days of the draft. They kept Polk out of the draft altogether.
Brown is comparable talent-wise to Adrian Peterson, but his commitment to football has been comparable to Maurice Clarett or JaMarcus Russell.
NFL teams had enough concerns about Polk's durability to not draft him last April.
That has to mean something. He gets to prove that he is healthy this summer.
Outside of Trent Richardson, Polk might be the most versatile back in the draft when healthy. He is a big back who catches the ball out of the backfield with ease. He had over 1,800 total yards this past season at Washington.
It's a matter of potential versus reality this summer at running back.
The Eagles have a good idea of what they have with Dion Lewis and what he could turn in to.
Polk and Brown are the mysteries, as they are both wild cards in camp.
They could be spectacular or they could be just so-so.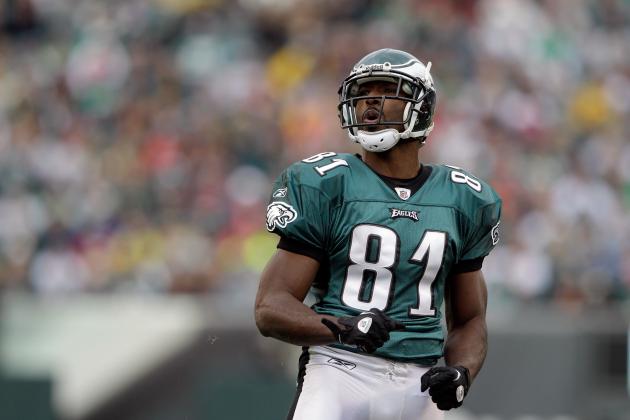 Rob Carr/Getty Images

The veteran Eagles wide receiver thought to be most in jeopardy of losing his job is Riley Cooper.
Cooper has a couple things working for him that could save his job, regardless of how he looks this summer. He has starting experience and he has a cap figure of just under $600 thousand.
Jason Avant is one of the best slot receivers in the game, but his cap figure will be over $2 million this season. It will go up to $2.7 million in 2013 and $3.9 million in 2014.
If the Eagles want to sign Jeremy Maclin and Dominique Rodgers-Cromartie long-term, they will have to cut ties with a player like Avant somewhere down the road.
Avant doesn't need a monstrous performance in training camp to keep his job. He does need to prove he is worth the amount of money he will be making over the next three seasons.
He is a quality No. 3 receiver, but he has reached his ceiling as a player. Players like that are never safe when there is young talent surrounding them.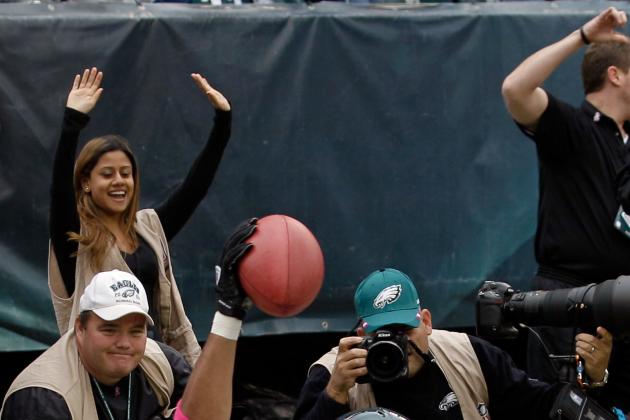 Rob Carr/Getty Images

Clay Harbor was selected in the 2010 NFL Draft to give the Eagles a second athletic tight end to stretch the field with.
He has just 11 first downs and two touchdowns in his first two seasons combined.
Season three is always a "make it or break it" year for NFL players who haven't been able to crack the starting lineup.
Harbor has to become that solid No. 2 tight end in the Eagles offense. They pass the ball enough for a player like Harbor to haul in at least 40 catches this season.
Brett Brackett is the key to Harbor keeping his job, regardless of how he plays in camp.
Brackett is a former wide receiver at Penn State who has put on weight to make the transition to tight end in the NFL. He went undrafted in 2011, but managed to finish the season on the Eagles' practice squad.
Brackett will get his chance this summer. Maybe the Eagles will keep three tight ends, and the position battle will be less meaningful.
They haven't keep three tight ends recently, but a good performance from both players could change that.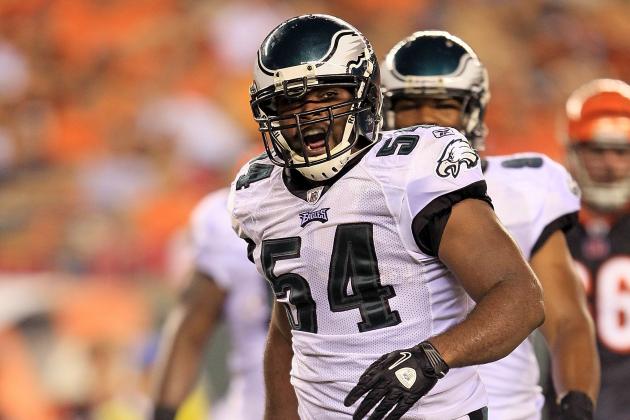 Andy Lyons/Getty Images

Every Eagles defensive end not named Trent Cole has to be somewhat worried about his roster spot this season.
There are six talented defensive ends on the Eagles roster, and only five will make the final cut.
The smart money is on Darryl Tapp to get the axe. He has just 5.5 sacks the past two seasons. The one thing Tapp has going for him is his health.
Brandon Graham's health and durability is in question at this point. He tore his ACL late in the 2010 season and was not the same player in 2011.
Now, in 2012, he is expected to be back at 100 percent.
All the pressure in the world is on Graham this summer. He will make $2.5 million this season. He is also a former first round draft pick that the Eagles had to trade up in 2010 in order to acquire.
This season he will have to perform well in camp just to be a part of the active roster.
Vinny Curry is a pass rushing specialist. He was unstoppable in his final two college seasons at Marshall, despite getting very little help around him.
He racked up 77 solo tackles and 23 sacks in the past two seasons. He figures to be a key part of the Eagles' rotation at defensive end right away.
Phillip Hunt, Graham and Tapp will be battling for the final two roster spots at defensive end. The two winners of that battle will be fighting for one active roster spot.
Curry and one of these three players will be a big part of Jim Washburn's defensive line rotation.
Hunt has added both weight and speed this offseason. He played in just nine games last season and had just two sacks.
He didn't see a lot of action in his first season removed from the CFL, but he will get a chance to see more action this season.
Graham, Tapp and Hunt will all be battling for two big roster spots and a key reserve spot as well. Training camp and preseason will be everything for these players. There isn't much of a dropoff between any of these players right now and the potential for Hunt or Graham going into 2012 is still unknown at this point.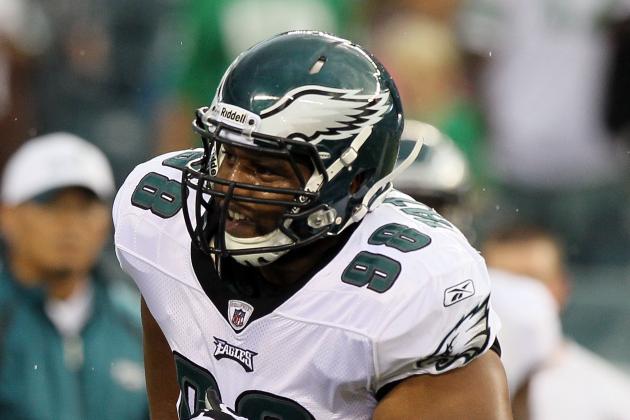 Jim McIsaac/Getty Images

It's a really bad year to get off to a slow start this summer if you're a defensive end or tackle.
The Eagles' depth is tremendous.
They have experienced veterans like Mike Patterson, Cullen Jenkins and Derek Landri. They also have some good young prospects on the inside, like Fletcher Cox, Antonio Dixon and Cedric Thornton.
Mike Patterson has been a solid player on the Eagles' defensive line since 2005. His numbers have decreased in each of the past two seasons, and he hasn't reached three sacks in one seasons since 2007.
He is still a quality player on the line, but that doesn't cut it on Washburn's unit anymore. He won't get released this summer, but he could see a reduction in his role for the 2012 season.
Fletcher Cox and Cullen Jenkins are the best inside pass rushers on the line. They will get plenty of opportunities to make plays on passing downs.
Derek Landri had a knack for getting into the backfield and making plays last season. He had 17 solo tackles and two sacks in 12 games while playing in a reserve role on the rotation.
Antonio Dixon and Cedric Thornton will also figure into the mix in training camp. But, one of these players will miss the 53-man roster.
Both are more of physical, run-stuffers than they are pass rushers. Both could be a major part of the line rotation.
The defensive tackle spot is loaded with talent and versatility.
A veteran player like Mike Patterson won't have his starting spot waiting for him as he recovers from his offseason brain surgery. He has to look great in camp in order to maintain his starting job.